In a hotelier's dream world, every website visitor's journey would end in a direct booking. In reality, we know this isn't exactly the case (yet!). So, it's important to make the most of every interaction with users on your direct channel, even the ones that aren't quite ready to complete their reservation. Collecting contact information to keep an open line of communication with potential guests is key in fostering connections and boosting your future conversion rates and revenue.
Harnessing forms to gather visitor data is an invaluable tool for hoteliers looking to craft an optimized direct channel strategy. Forms offer a simple yet effective way to enhance the website user experience, establish connections with target audiences, and broaden communication opportunities with potential guests. The best part? The seamless integration with your CRM, which streamlines processes significantly. Plus, you can customize each field to personalize the messaging and information collected specifically for your target audience. Today, let's explore the best ways to put this feature to work on your hotel's website.
Reach your target audience with engaging personalized content
To stand out in the crowded online landscape, hotels must provide a captivating user experience that resonates with their target audience. Tailoring the content of the forms to different customer profiles ensures that each guest feels acknowledged and understood, increasing the chances of conversion. Based on the selected stay dates or properties selected, hoteliers can create targeted forms, only visible to the most relevant viewers. This personalized approach not only captures the attention of potential guests but also entices them to take action. By highlighting your direct booking perks, such as airport transfers at specific destinations, you can ensure that only travelers selecting one of those properties receive the offer, tailoring the extra service to enhance the stay of specific guests at select locations.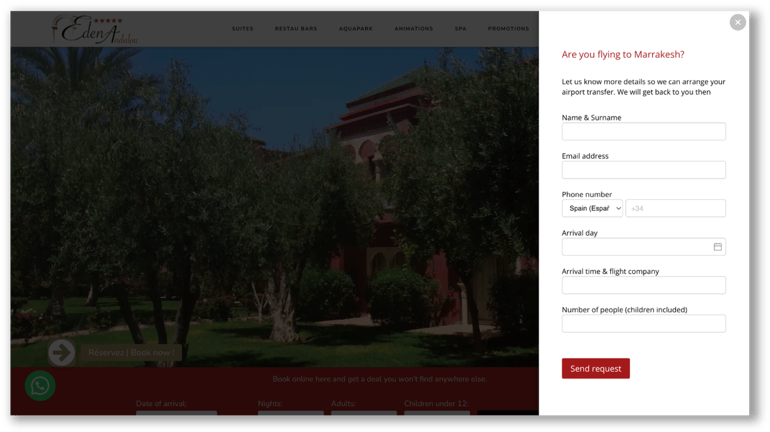 Form builder offering airport transfer when a specific destination is selected
Tailor forms to your property's offering
By capturing this valuable guest data depending on their website user behavior, including stay dates or number of nights stay searched, hotels can seize the opportunity to reach out with personalized messaging, offering exclusive rates and tailored conditions. This strategic approach allows hotels to establish a direct line of communication with these potential guests, enabling them to showcase enticing packages and additional perks, elevating the overall guest experience. For example, if a guest searched for a stay longer than seven nights, a form can be triggered to display prompting the visitor to share information, which allows hotels to then personalize outreach and create a sense of exclusivity and attentiveness. By fostering this stronger connection with their target audience, hoteliers increase the likelihood of direct bookings.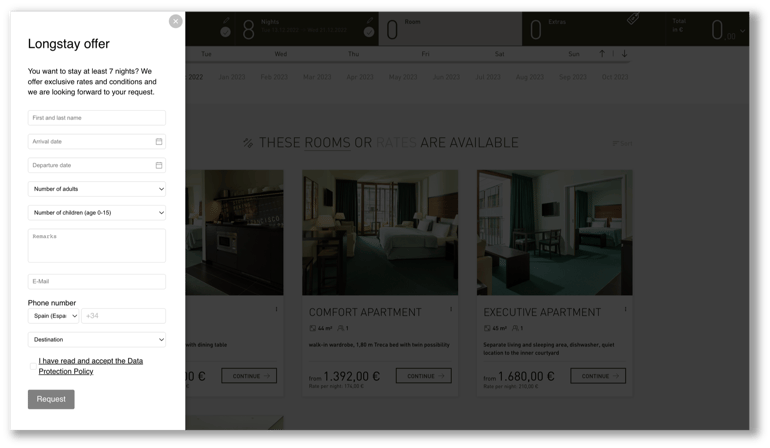 Form triggered when guests search for seven or more nights stay
Get creative and inspire guests to share contact information
A unique approach and setting your online messaging apart from your competitors can arouse the curiosity of your visitors and lead to a higher likelihood of them sharing contact information to communicate with your brand in the future. The following message was shown to visitors coming from an Instagram campaign, looking for hotels with additional amenities. When visitors were detected attempting to exit the page, an Exit Form appeared inviting them to bid on specific dates and win a stay. The 5 highest bids won a stay at that price in the superior rooms. Not only did this result in direct bookings for the Amerikalinjen, but they also managed to expand their marketing database as well.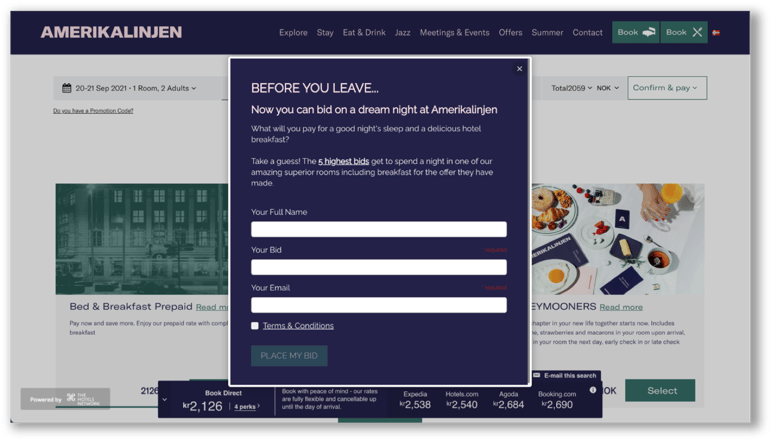 Targeted form Exit offering to bid for a superior room and win a stay
Attract more MICE business directly through your website
A meeting planner searching for a venue for their event sees little value in the booking engine. They are looking for specific information about the facility. Just as the booking engine is critical for the leisure traveler, the Request for Proposal (RFP) form is the digital equivalent as a first step to secure the space for an event. When website visitors are planning an event, whether it's an important corporate meeting or a dream wedding, collecting contact information becomes a crucial step in establishing a successful relationship and increasing the likelihood of completing a reservation.
The power of personalization and effective communication during these pivotal moments cannot be overstated. By gathering contact information and specific event needs, hotels can initiate tailored follow-ups and manage the RFP process more efficiently. Through personalized interactions, hotels can demonstrate their genuine commitment to making each client's dream event a reality. From initial inquiries to the final celebration, a dedicated team stands ready to provide attentive service, ensuring that every aspect of the special day reflects their unique vision and exceeds expectations. This personalized approach ensures a memorable and unforgettable experience.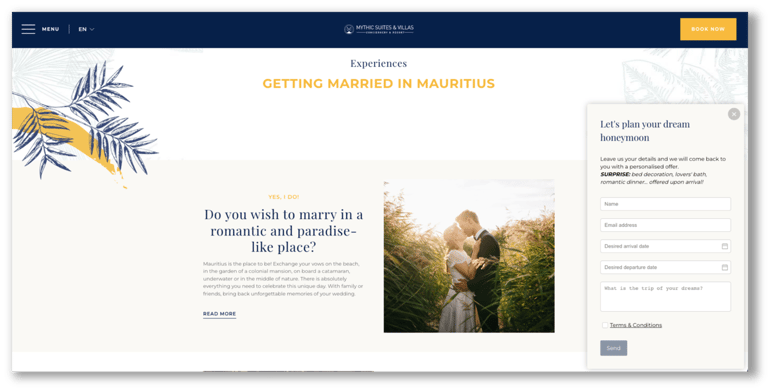 Form feature on displayed on experiences page
In the digital era, personalized and targeted marketing approaches are essential for hotels to thrive in the competitive landscape. Form Builder provides a comprehensive solution for hotels to capture website visitors' contact and stay details, generate potential for future direct bookings, drive traffic, and present personalized content. Seamlessly integrated with the hotel website, hoteliers can create a unique and engaging online experience that converts more visitors into leads.