Throughout the past decades of modern hospitality, we've witnessed a great rise in stunning hotels with exemplary service, properties, and concepts. Within today's niche for luxuriousness within modernity, luxury hotels around the world are being recognized for their impressive approaches to hospitality. One of the systems giving these magnificent brands the recognition they deserve is the World Travel Awards, serving to "acknowledge, reward and celebrate excellence across all sectors of the global travel and tourism industry."
With the 2020 World Travel Awards having been announced a few weeks ago, we at The Hotels Network (THN) are proud to see a number of our luxurious hotel clients shining bright on the list. Using our tools and guidance, these properties have been able to bring the excellent guest experience they provide for visitors on property to the online experience as well.
We strongly believe that personalized marketing tactics are now a must for the success of each and every hotel. The process of giving your guests the ultimate award-worthy adventure includes them having a hyper-personalized experience, and this all starts from the moment they land on your hotel website. With that said, let's take a look at four of these successful World Travel Award-winning properties, and how they've been able to optimize the online user experience for each and every guest.
1. The Thief, Norway
The Thief Norway geo-targeted Layer
The Thief hotel located in Oslo, Norway, is the epitome of luxurious hospitality. With stunningly elegant rooms and a sumptuous exterior, the hotel presents an even further lavish and boutique concept with a beautiful spa and an in-house restaurant of Nordic cuisine with a global twist. Named Norway's leading boutique hotel of 2020 by the World Travel Awards, The Thief's modern and elegant approach towards hospitality has created the impressive hotel it is today.
The Thief, like many astounding and successful hotels, understands the importance of optimizing their hotel website for providing guests the perfect online user journey. Using THN's personalization tools, the property has enabled a Layer featuring their winter initiatives. In the Layer, The Thief promotes two exclusive food and beverage events for their website visitors. With a night-stay package including a Christmas-themed 5-course dinner, and a New Years Eve night-stay package of a bottle of Prosecco on arrival and 6-course meal, The Thief tempts their website visitors with irresistible offers available only for a limited time.
Furthermore, The Thief understands that within today's global context, many foreign tourists may still not be able to travel and roam the world just yet. With this in mind, the hotel uses THN's extensive set of targeting options to always display the most relevant messages to their website visitors. Using geo-targeting to only display this Layer to locals, The Thief advocates the notion of staycations and adapts their offering to the current situation.
2. Hotel At Six, Sweden
Hotel at Six email capture
Moving on to Norway's neighbor, let's take a look at the Swedish hotel of Hotel At Six. This 5-star hotel, located in the beautiful city of Stockholm, boasts an elegant yet modern property and a stunning hotel website. With a THN Reviews Summary on the bottom right corner of their site, guests can see immediately the excellent reviews and ratings of the property.
As the leading Swedish business hotel of 2020, Hotel At Six desires guests to stay connected with the property and its latest endeavors. Using THN's Email Capture tool featured on a Layer, the hotel encourages website visitors to submit their email and subscribe to the property's newsletter to access insider offers. With this tool, the hotel can now generate a higher number of email opt-ins and, in turn, build a strong community of potential guests to engage with via email in the future.
3. Arbatax Park Resort, Italy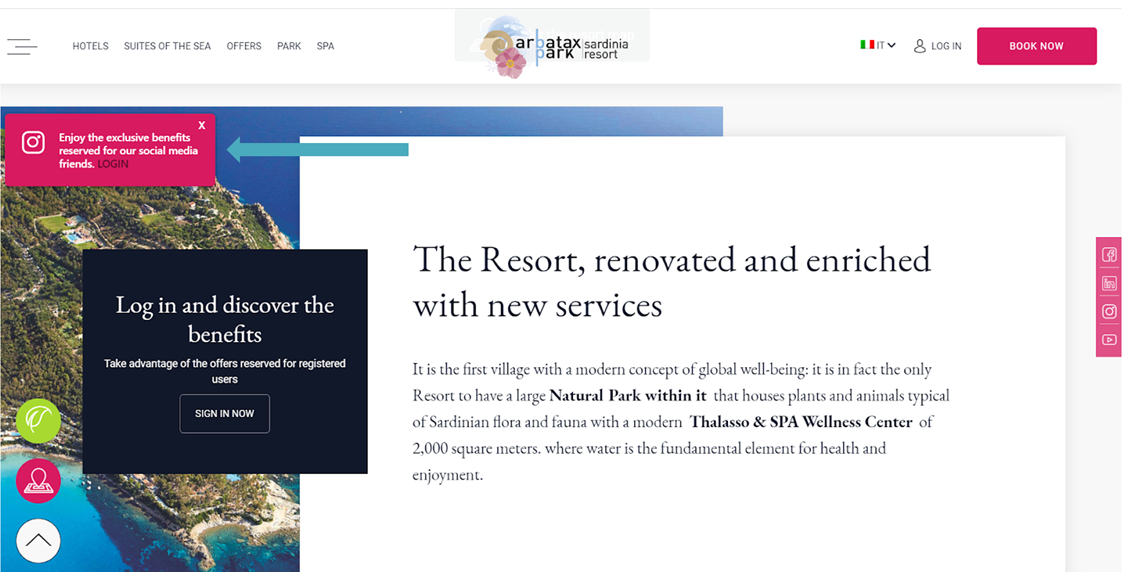 Social media promotion Smart Note
In today's digital age, a massively increasing number of hotels are using the popular social media platforms Facebook and Instagram to increase their engagement and recognition to potential guests. With a large population of Millennials and Generation Zs using these platforms, both Facebook and Instagram serve as great tools for hotels to attract younger generations in particular. Why not follow the example of Arbatax Park Resort and expand your awareness and following of your social media pages by promoting them on your website?
Located on the edge of the beautiful Capo Bellavista peninsula in Italy, Arbatax Park Resort promotes their social media pages in an interesting and interactive way. By portraying the content on a THN Smart Note, the property informs guests that following their social media accounts brings special and exclusive benefits. The Smart Note then links to their login page, where website visitors can create their own Arbatax Park Resort account. This Smart Note allows the property to not only grow their number of social media followers but also encourages more website visitors to create a membership account, helping to foster an enduring relationship with the brand.
Due to today's uncertain situation, Arbatax Park Resort showcases an additional Smart Note that displays their care for guests amidst COVID-19, and a link to their dedicated COVID measures page. On this page, the resort covers all the safety measures, their reassurance for guests, and even health and safety information within the local region. The property recognizes the potential concern of visitors, and eases their minds by presenting the COVID Smart Note as one of the first messages they see when landing on the web page.
4. Malmaison Edinburgh City, Scotland (UK)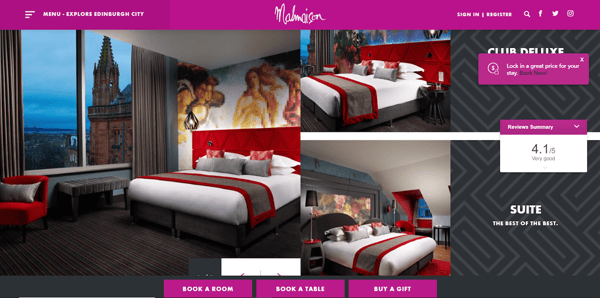 Malmaison Edinburgh Reviews Summary and Smart Note
Another of the magnificent World Travel Award winners of 2020 using our THN tools is none other than the famous Malmaison Edinburgh City. Located in the heart of the city's stunning Old Town, the property boasts an elegant modern interior design within a traditional and beautiful exterior. While their hotel maintains the lavish qualities of a traditionally-styled southeastern Scottish structure, their rooms and website accentuate their embracement of contemporary style.
Using THN's conversion tools, Malmaison Edinburgh City is able to show guests their high ratings based on different OTAs and over 2,000 reviews with a simple click. Appearing immediately upon landing on the hotel website, the property's Reviews Summary is available for all website visitors to view and gain a great first impression of the hotel.
In addition to their Reviews Summary, the property has enabled a THN Smart Note to create a sense of urgency and encourage visitors to "book now to lock in a great price," with a link taking them directly to the booking engine. Blending in the colors and style of the Smart Note to the rest of its website, Malmaison Edinburgh City is able to assimilate its content perfectly into their website and engage more potential guests.
These impressive hotels are just a few of our luxury hotel clients who've been featured in the World Travel Awards 2020. We at THN are more than proud to be helping them ensure they not only offer guests an unrivaled guest experience on property, but also a unique and personalized online experience on their website.