As Skift pointed out in a recent article on the future of e-commerce, personalisation in the hotel industry has ceased to be a trend. Today it's an obligation, as more and more customers expect nothing less than a tailored shopping experience. While hoteliers are keeping up to speed with what website personalisation can do for them, personalisation itself is also evolving — as smarter software and more complex capabilities emerge to revolutionise the booking experience.
One such product is the launch of a new software called Oraculo.
The product, created by The Hotels Network, has created the first predictive algorithm for hotels. Complementing the company's existing suite of tools (that help hotels increase direct bookings), Oraculo is the first ever hotel product with predictive capabilities that marries together revenue management and personalisation to increase conversions on hotel websites. The algorithm was built using machine learning techniques by the company's data scientists, analysing behavioural patterns based on the data of millions of travellers globally.
So how does it work and what are the benefits?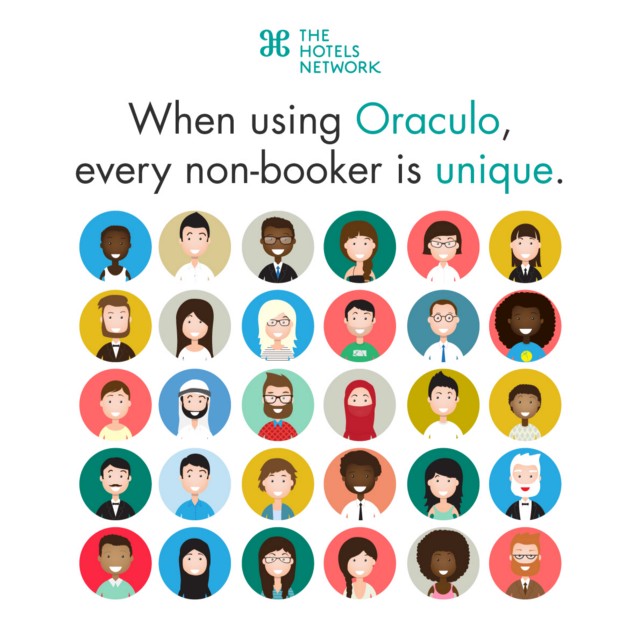 The key point is it enables user-driven personalisation. By predicting visitor behaviour, the product segments users in real-time and identifies the ideal offer for each one, allowing the hotel's website to be automatically customised for each individual user. While in the past hotels were able to personalise the experience of bookers based on their purchase history, website activity and preferences discovered during their stays, Oraculo's predictive capabilities also enable hoteliers to personalise the experience of those that haven't booked or stayed at the hotel at all.
The Hotels Network Founder and CEO Juanjo Rodriguez explains:
"Just as every booker is different, every non-booker is too. Oraculo is able to differentiate between low-intent and high-intent users, so the optimal message and rate can be shown to each visitor, just at the point where they are deciding on their reservation.
This results in a hugely positive impact on revenue, with a potential conversion uplift of up to 65% in the low-intent segment who otherwise may not have spent at all."

As our previous article on A/B testing suggests, integrated multivariate testing has been key to the success of this product, with The Hotels Network platform allowing hotels to test any type of message, offer or content. The Oraculo software is then able to automatically detect those that work best to fine-tune the process.
Why we're excited about it and why you should be too…
We're excited about this latest innovation as it goes beyond traditional revenue management (setting a price per room for each date) and brings the user into the equation for the first time. The revenue potential of improving the conversion rate of low-intent bookers is huge.
Hotels using The Hotels Network existing suite of tools will be offered a free 30-day trial of Oraculo to experience the significant benefits for themselves. If you are not already a customer, please contact info@thehotelsnetwork.com to find out more.