Valued at $720 billion in 2019, wellness tourism's economy is transforming nearly every aspect of travel. As we emerge from the pandemic, the Global Wellness Institute predicts an explosive annual growth of +21% in wellness tourism. Offering wellness-minded travel represents a real added value for hotels as international wellness tourists spend on average 35% more than the typical international tourist, and 177% when we look at domestic wellness tourists.
In need of a little reminder of what wellness tourism is? Wellness travel is associated with the pursuit of maintaining or enhancing one's personal well-being. However, personal well-being itself has evolved and is now less of an indulgence and more of a non-negotiable essential. This shift presents a huge opportunity for hotels to win over more customers by offering the lifestyle and values that are at the forefront of their travelers' needs.
How are hotels taking advantage of this global trend?
We have been keeping a close eye on wellness travel and how hotels around the world have been incorporating it into their offerings and direct channel strategies. Take a look at five hotels who have fully embraced this flourishing trend and taken it to the next level.
1. Hotel Manapany
Located in the transparent waters of the Caribbean, Hotel Manapany offers its clients the "Mind, body, and the spirit of St. Barth". No matter your mood, Hotel Manapany has a specific service to propose. From a facial and body treatment, to yoga and pilates classes, or a fitness center, they have it all. They level up their wellness offerings by including a massage with every stay for any reservation made on their direct channel, such as their "Romantic Parentheses,'' including breakfast and round trip airport transfers to sweeten the deal. As the icing on the cake, their Signature Rituals weave a sensory journey towards well-being, as well as a complete range of beauty treatments.
By showcasing this offer within the booking engine, Hotel Manapany is giving website visitors that final nudge they need to complete their reservation and begin their wellness journey.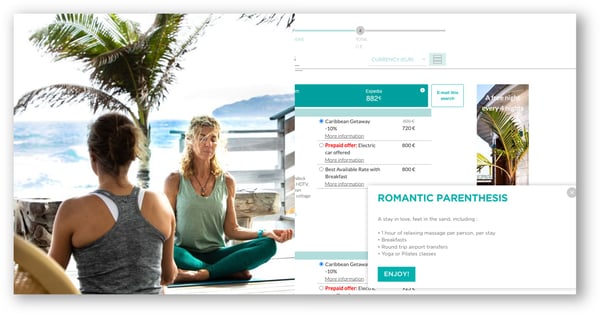 Layer encouraging users to book a package
2.

Comwell Borupgaard
Recognizing that travelers may be looking for an escape from work-related stress and worries, Comwell Borupgaard offers its customers a complete package focused on relaxation for both body and mind. Its features include a welcome drink, access to AquaSpa and fitness, a three-course dinner composed by their chef, and a breakfast buffet with a large selection of organic and local specialities. Making the most of Denmark's beautiful landscapes, Comwell is the perfect option to get away from working life's stress.
By offering a full package to their SpaDelight when entering their Spa website page, Comwell is tempting more guests to make a booking, while at the same time showcasing everything the establishment has to offer.

Layer displaying all of the SpaDelight offer perks
3.

Hotel Raphaël Paris
Surrounded by genuine antique furniture, hand-carved wood paneling and a hand-painted wall mural, visitors of the Hotel Raphaël Paris are offered a rejuvenating getaway in a luxurious setting. In addition to a fitness center, sauna and hammam, Hotel Raphaël differentiates itself by providing a unique and timeless experience with luxurious bath amenities and their rooftop featuring a stunning view of the Eiffel Tower and the Arc de Triomphe.
Hotel Raphaël found a clever way to combine the Parisian dream with the wellness trend, allowing them to stand out from the crowd. By specifically targeting users that were making a returning visit to their hotel website, they personalized a message welcoming them back to the page and making sure guests are aware of the various wellness amenities available during their stay, aiming to move them that much closer towards completing the reservation.

A special offer for returning visitors showcased on the homepage
4.

Abama Hotel
Abama Resort Tenerife organizes dedicated wellness weekends to bring clients' body and mind back into balance. Through a series of events, the hotel offers weekend activities themed to the five elements (earth, water, fire, air, and ether), each emphasizing a different aspect of wellness to renew energies and bring customers back to their roots.
What's more, as Abama Hotel is aware of the environmental challenges and the increasing importance that guests give to it, they provide their guests with extra peace of mind by ensuring that their trip isn't impacting the surrounding environment.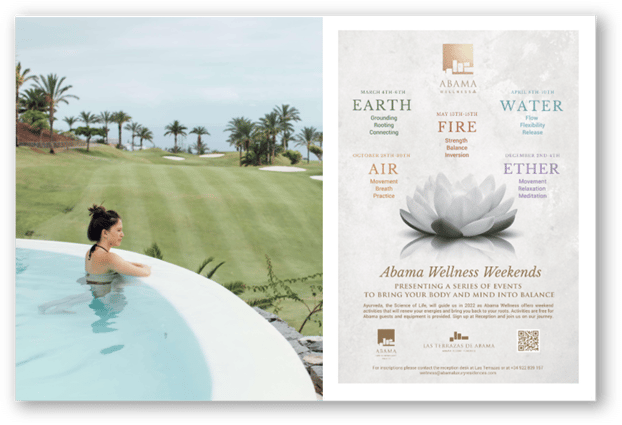 Message informing clients of the upcoming wellness weekend activities
5.

Avila Beach Hotel
"No Worries, Feel Great & Live Healthy", such is the motto of Avila Beach Hotel. On the service menu: a jacuzzi to reduce stress, improve blood circulation, and relax muscles and joints, a luxury spa to stimulate the body, mind and soul, and a fitness center with spinning classes, yoga and Aqua Chi yoga, and pilates. In addition to the different packages available, Avila Beach hotel even offers a "Diva-Diva" hairdresser service, because to love yourself you need to love your hair.
To satisfy clients that prefer privacy to large group activities, the hotel also offers not one, but two private white sandy beaches. The calm ocean of Curaçao is a tantalizing alternative to relaxation on the beach, while still being family friendly. Avila Beach Hotel uses Inliners on the website to encourage their visitors to navigate to the amenities page, a clever way to display the various wellness features that could ultimately lead to a direct booking.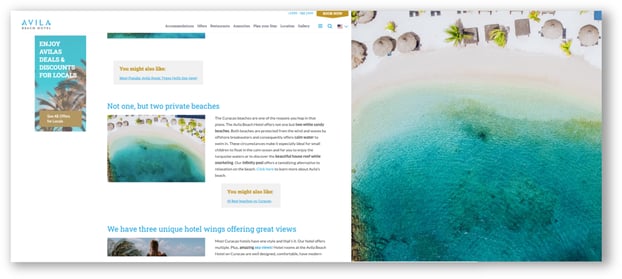 Inliners encouraging users to browse other pages on the website
By creating powerful campaigns centered around the idea of health and wellbeing, these hotel brands were able to capture the interest of this sizable segment of the market. As the trend of wellness travel continues to thrive, there is clearly an opportunity to find the right positioning and communication of relevant packages on your hotel website in order to attract new guests and ultimately boost your direct bookings.