When looking within the autonomy of any hospitality business in today's world, it's clear that what defines success is having a powerful hotel marketing strategy. However, it doesn't just stop there.
While competition increases at a daily rate and new ideas are constantly being thrown out, upselling makes it one of the top actions for hotels to enhance performance in today's challenging environment, and to emerge stronger campaign after campaign.
At the end of the day, upselling and cross-selling offer an irresistible chance for hoteliers to boost the hotel's overall revenue. Arguably the most effective strategies to generate more revenue from your guests, upselling and cross-selling ultimately help your property to:
Boost guest expenditure on an upgraded product offer
Personalize the guest experience and augment internal marketing creativity
Generate more versatile use of hotel amenities, rooms and services
Increase loyalty and the desirability of your property to your guests
Now that we've gone over the efficacy of these techniques and their increasing prominence within our industry, let's take a look at 7 clever hotel strategies to help you market your hotel like never before.
1. Display personalized upsell messages at key points in the booking funnel
The essence of hospitality relies on providing guests with an unforgettable experience, both online and onsite. Hence, personalizing the website experience and giving your guests the wow factor they need is an absolute must.
When aiming to upsell online, personalization plays a big part by being able to identify how to communicate your upsells to the right guests at the right time. Carefully curating special and personalized offers towards a specific audience and making them aware of it will ensure they feel valued and special, and thus creates a ripe time for you to demonstrate your upsell amenities and services. Once you've captivated your visitors through personalized messages, bring it further by creating personalized offers that will increase the average booking value for these guests, and perhaps even push for a higher number of nights or more expensive room category.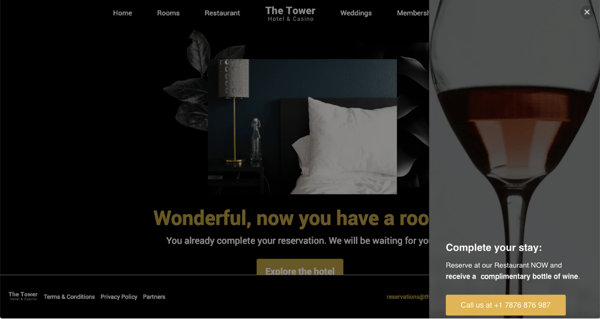 Booking confirmation page with a personalized cross-sell service message
Above, the hotel displays a confirmation page to a user who has just completed a reservation on the brand website. On the right side, a Layer is cleverly added, tempting the booker with additional services to enjoy during the stay. Labelling it as "complete your stay," the hotel encourages the guest to reserve a spot at their restaurant and receive a complimentary bottle of wine. By showing this attractive and relevant offer in a timely manner, there is a good chance that visitors who have just confirmed a booking will take interest in this extra service, and may very well participate in this cross-sell.
Managing how and when your visitors see your messages and highly personalizing them is key to boosting your upsell or cross-sell effectiveness. To effectively promote these offers, be sure to communicate them across your website – you want all relevant visitors to know about them! Be sure to target your offers not only based on behavioral criteria, but also based on your CRM information to ensure your messages hit the right spots. Dates of stay, user location, room type, visitors' interests… any targeting option is valid, it all depends on your upselling strategy and promotions.
2. Target high-intent users with tempting upsell offers
This is when knowing how to identify the purchase intent of your different users comes in handy; when upselling, it's imperative to know who to prioritize. Different guests will have different levels of interest in staying at your hotel, so be sure you know which ones are the guests or potential guests who display a higher intent to book and engage with your hotel more than others. Thanks to today's new technologies, it is possible to determine this using a system or algorithm that helps you identify the level of purchase intent of your users.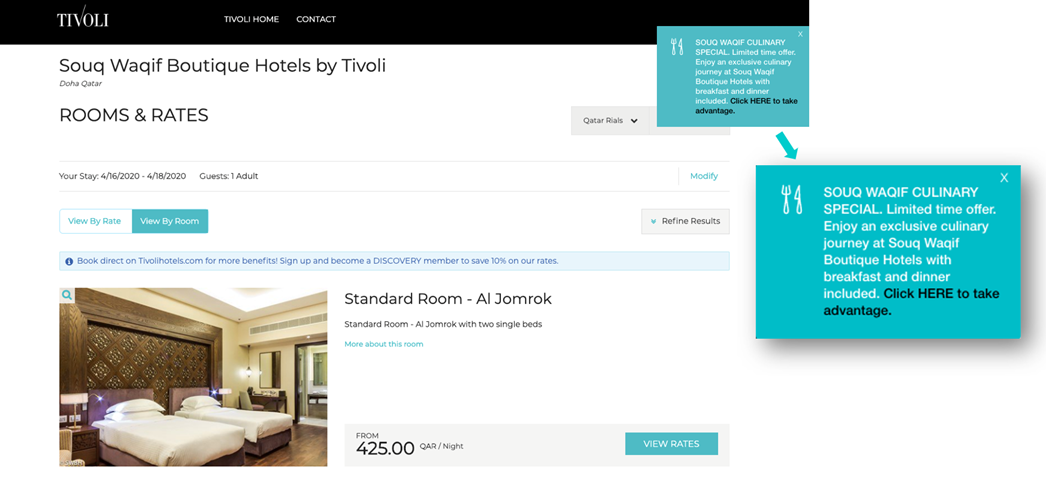 A message upselling a limited time offer to high-intent users
At The Hotels Network, we've developed a predictive personalization tool, Oraculo, that harnesses machine learning techniques to optimize campaigns for each and every user. With this product, hoteliers can decipher their high and low intent users, and make sound direct channel decisions based on their visitor profile and behavior.
In the example above, the hotel has used Oraculo to identify and segment their high-intent users. Knowing that the guest here is keen on making the booking, the property aims to generate additional revenue by upselling their exclusive culinary experience. Using the Oraculo campaign manager, a Smart Note highlighting the luxury package is automatically displayed to this visitor. Being able to identify your high-intent users and capitalizing on their interest in your property can help drastically improve the visibility and prowess of your upsells.
3. Craft exclusive deals and add-ons around special dates
Welcome Layer promoting a romantic dinner with a built-in CTA button
A sound upselling tactic to put into practice is by focusing on an upcoming holiday or occasion. Take Valentine's Day, for example: with this special holiday, you can cater your offers to a specific demographic and provide something special for the guests desiring a more romantic ambiance. Capitalizing on the opportunity of this holiday, in the above example the hotel has created a special package; a Valentine's weekend at the property including romantic dinner and music. With this offer, guests who were only planning to spend a night are now encouraged to live a true romantic experience for just a bit extra. This package allows the hotel not only to boost guest expenditure but also to increase the desirability of staying at the property among potential travelers.
4. Promote vouchers and gift cards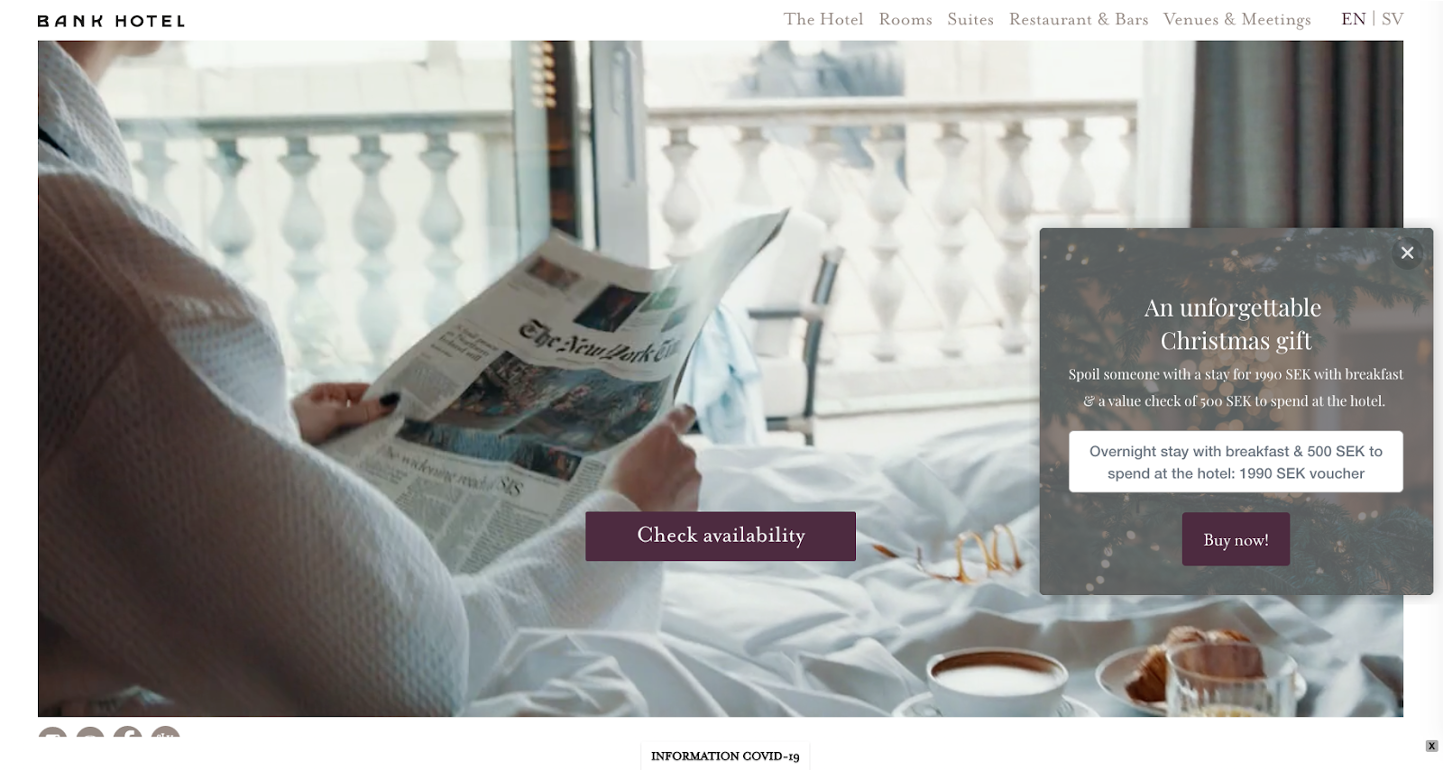 Promoting to users searching for a stay for the Christmas holidays
If you'd want to take it a step further, an easy yet immensely effective cross-selling technique is the use of vouchers and gift cards.
Around these special holidays, you could create special vouchers catered for these dates and offer guests a unique experience; promoting vouchers and gift cards is not only a great way to market out your additional events, but also a sound cross-selling tactic in itself. For Valentine's Day for example, there are plenty of ways to come up with different promotions at your hotel. Whether it be a romantic dinner, a special room-for-two service, or a purchasable package of champagne bottles and chocolates, the options are entirely in your hands.
However, don't forget that almost each and every holiday has their own theme; for Halloween, you could match the spooky season with perhaps a haunted house event, and for the winter holidays, why not a Christmas party room available for guests to book and party? With Easter coming right up, it'd be a fun and effective idea to cater your upsells around this special holiday as well by theming a special dinner or event; perhaps a spring and bunny themed dinner, or a fun and interactive Easter egg hunt for the children of your guests or attendees - with a voucher or gift card for each!
5. Encourage additional room nights with special weekend offers
Weekend offer displayed on the booking engine as a Layer
Another approach that has proven to be effective among thousands of hotels worldwide when aiming to upsell is offering special weekend packages. By carefully curating packages towards people looking to spend a weekend at your property, you will be able to increase the average booking value of short stays while guaranteeing guests make the most out of their stay.
In the example above, the hotel is offering an extra discount to guests who are willing to extend their stay. Focusing on visitors searching from a 1 to 3 night stays on weekends (from Thursday to Sunday), those who meet the targeting conditions are encouraged to book a longer stay. With this strategy, the hotel aims to increase the length of stays for weekends while generating extra revenue from shoulder dates.
In the current climate, it's likely that most people looking for weekend outings are locals, so be sure to craft your weekend packages accordingly. Include relevant amenities such as free parking, discounted rate on an extra night or late check-out, and target these towards local visitors who are searching for stays between Thursday and Sunday. Displaying relevant offers will help you bolster your local visitors' attention and make those reservations go up.
What's more, if your hotel has a convenient location, spot the opportunity and create special weekend packages around events taking place in the city. By following this strategy, you will be able to offer more personalized and relevant packages, as well as to reach a wider audience and offer them small touches that will help create a memorable stay.
6. Partner with local businesses and attractions
Layer promoting local partnership
Undoubtedly, your hotel is there to provide an unforgettable experience to guests. However, it's equally important to understand that many times, the main motivator for a booking is based on the location of your hotel and its local attractions. With this in mind, you can partner with your local businesses and use it as an advantage when wanting to upsell a service or amenity.
If your hotel is near a local restaurant known for its excellent local dishes, you can offer guests a food and beverage deal that includes a reservation at that restaurant; if it's a well-known tour association within your city, offer guests a special tour opportunity. In these deals and promotions, it's just as important to create packages that include additional amenities in your property itself. For example, let's say you're promoting a local restaurant and dish within a package; in this package, you could also include special after-dinner drinks at your hotel bar, to generate additional revenue.
7. Promote cross-selling through social media
Once you've got a solid portfolio of cross-sells to offer to your guests, it's equally important to find the best approach to market these options and engage with the relevant target audience. As the world becomes more and more digital, chances are that most of your guests will be accessing one or more social media accounts. So, be sure to include social media in the picture and promote your different cross-selling initiatives there.
Mondrian Hotels "Virtual Taste" session
Here, we see Mondrian promoting their clever "Virtual Taste" session across Instagram. "Virtual Taste" is a prime example of a cross-sell done right. Bringing in world-renowned chefs and marketing it as an unforgettable experience, the brand invites potential and loyal guests, and even those who haven't set foot in any Mondrian property, to partake in a pristine culinary adventure by buying tickets. Through promoting it on social media at a high rate and with elegant eye-catching images, Mondrian Hotels is able to widen their audience to this great event, and further assimilate them into their offer.
Ultimately, upselling and cross-selling have proven in today's world of hospitality that the opportunities are endless, versatile and profitable. We hope these few tips, examples and strategies serve as an inspiration for your hotels as you plan future campaigns at your hotel to drive additional revenue while improving the all-important guest experience!