The Hotels Network (THN), has released its latest BenchDirect Insights Report which provides valuable insight into the current direct channel performance of hotels in the UK & Ireland, including a special focus on London. Comparing the monthly evolution in the region from April to September 2021, the study examines the key metrics essential to an effective direct booking strategy, from website conversion rates to frequency of price disparities.
The aim is to highlight the trends identified by the THN team while analyzing data from BenchDirect, the company's recent product launch and the industry's first benchmarking platform for the direct channel. The report shows aggregated data from hotel websites and is independent of what technology they employ, as it is based on anonymized data from THN's network of hotel clients.
What does the data show?
Looking at the evolution from April to September in 2021, there are some encouraging signs of recovery for the UK & Ireland hotel industry, particularly in London. The complete study can be found here, while some key findings are highlighted below:
Despite decreasing during the summer months, hotel website conversion rates in the UK & Ireland started to recover in September (see above chart). The uplift was higher in London hotels, with conversation rates peaking at 4.6%, driven by a steep increase in the Visitor to Booking Engine conversion rate.

The average booking value for direct bookings also gradually improved during the months of this analysis.

Following a worldwide trend, Mobile is still the top device when it comes to traffic acquisition. But with higher conversion rates, Desktop is still the preferred device when completing the booking process.

For hotels in the UK & Ireland, traffic acquisition is driven by Search, a channel which is also performing well in terms of conversion rates.

Frequency in price disparities spiked again in September 2021, while Disparities Amount improved slightly, resulting in a low of 9% difference in rates. London hotels showed much higher frequency of price disparities than the rest of the UK & Ireland.

Looking at the full funnel, the average length of stay searched on hotel websites in the UK & Ireland is consistently higher than what is finally booked.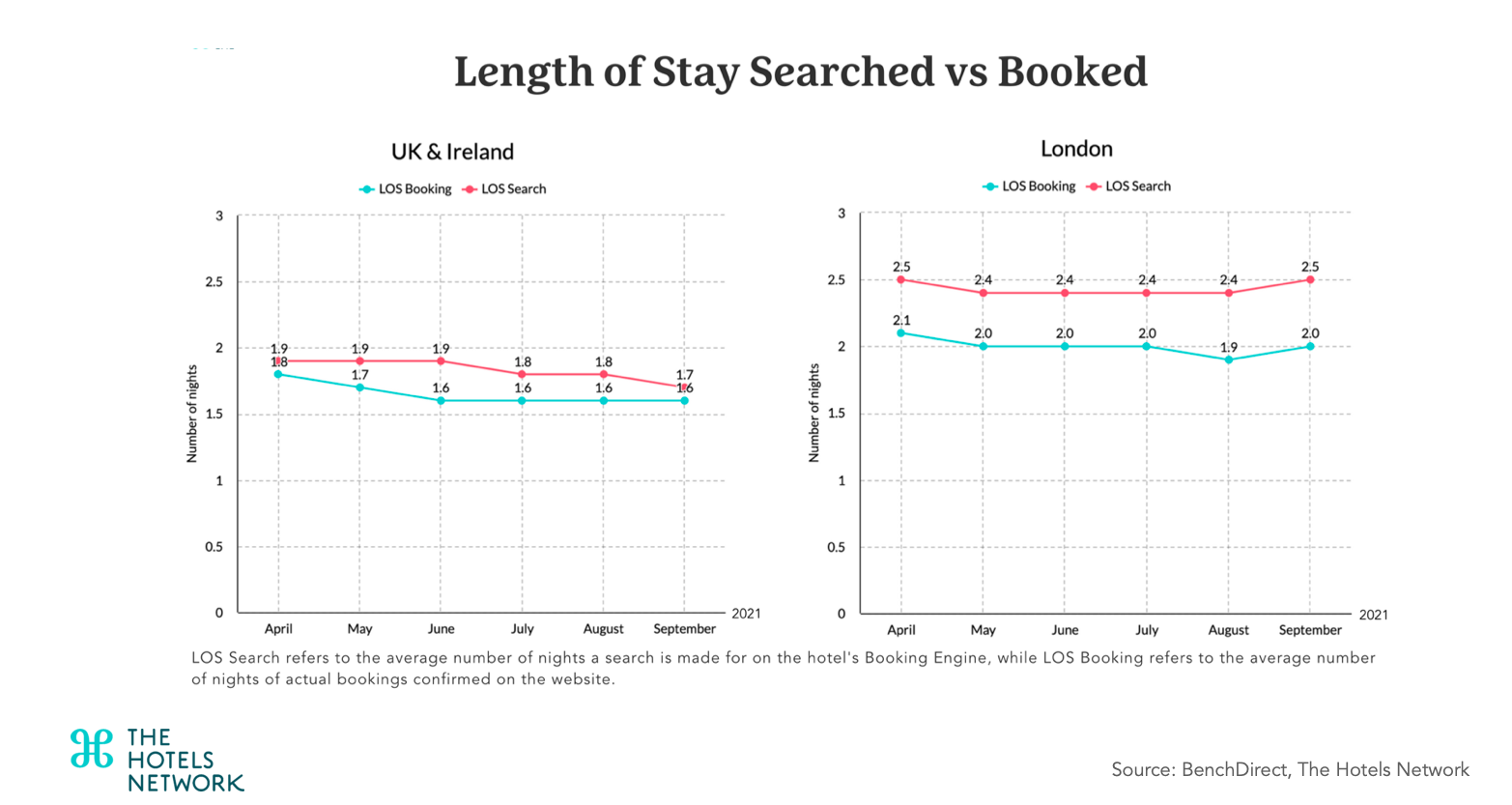 Opportunities for hotels in the UK & Ireland to further boost direct bookings
Although there were positive indicators in terms of recovery in September, there is still significant potential for hotel brands in the region to identify where they are underperforming compared to the market and to implement some quick wins to improve their direct channel performance:
With an average 96% of visitors still leaving the hotel website without booking, there is a huge opportunity for hotels in the region to drive additional direct revenue by focusing on improving conversion rates.

Looking at the booking funnel in more detail, specifically Visitor to Booking Engine conversion rates have declined steadily in the UK and Ireland since May 2021. By using techniques such as website personalisation to improve the user experience on the hotel homepage, it is possible to drive more visitors to the booking engine and improve overall conversion rates.

Lower conversion rates on mobile suggest that it makes sense for hotels in the UK and Ireland to focus more resources on optimizing the mobile user experience as well as creating mobile only offers.

Since price disparities continue to be an issue in the region and knowing that this negatively impacts direct booking volumes, hotel brands can encourage more guests to book directly by monitoring price disparities, reassuring users that they have the best price available, and offering a price match if prices are undercut.
Understanding how your properties perform compared to the market should be a key piece of any brand's direct channel strategy, and BenchDirect is a free platform that offers you just that. If you don't have an account yet, be sure to request yours today and join a global network of 12,000+ hotels that are already benchdirecting.