Hoteliers are constantly looking for ways to set their properties apart from their competitors to attract more guests, but it can be difficult to find a true differentiator. The good news? Travel assistance insurance is poised to significantly enhance direct channel conversion rates. When communicated effectively on your hotel's website, this game-changing tactic not only captures the attention of online visitors but also guarantees a substantial upswing in revenue.
THN's insurance service, SafeDirect, provides your guests with comprehensive travel assistance throughout their stay at your property. What makes this product unique it that this added benefit is an exclusive perk available for all customers booking directly through your hotel's website, providing peace of mind as well as a unique and compelling reason to choose that property for their upcoming trip. With the insurance conveniently integrated within the booking process, guests can book their stay with confidence knowing that their needs are fully taken care of. Make your hotel the clear choice by offering this extra value to your guests, ultimately boosting your direct channel conversion.
To gauge the impact of SafeDirect, THN conducted a comprehensive analysis of its effects on web conversion and direct revenue. The study included an A/B test carried out at a hotel chain in the Canary Islands, aiming to evaluate three key aspects: the impact on overall web conversion, its effect on families, and its influence on international visitors. The hotel's web traffic was split into two groups: Group A and the control group. Group A were shown promotional messages about travel insurance being included in their booking, while nothing additional was shown to the control group.
The Experience of a Canary Island Hotel Chain
Visitors navigating the hotel's website from Group A were shown a Layer highlighting the unique advantage of booking directly with the hotel: a travel assistance insurance policy that is already included in their stay, and encouraged them to advance to the booking engine.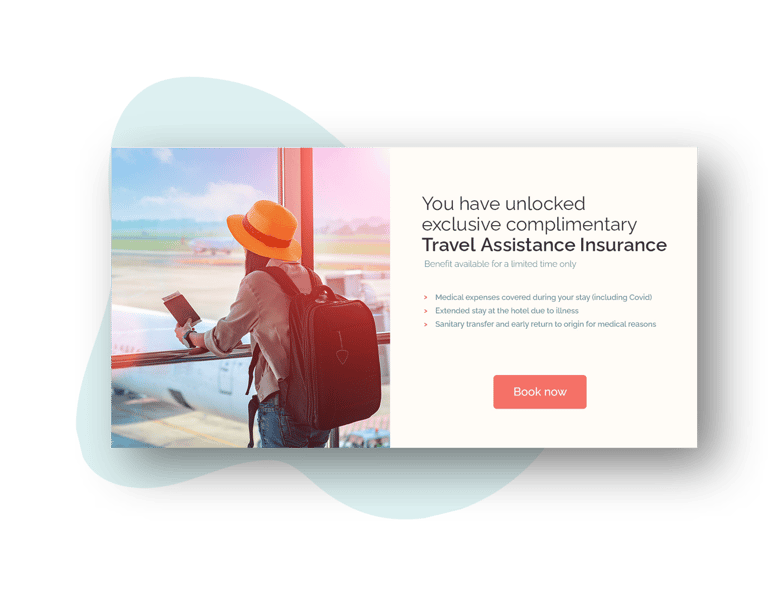 Layer displayed on the hotel's homepage
The messaging displayed to Group A provided details on the insurance coverage, including a compelling call-to-action that highlighted the full offer and directed users further through the booking process.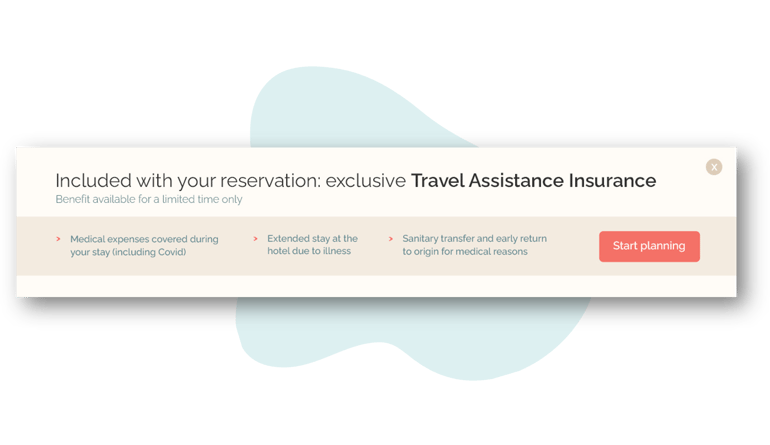 Layer displayed in the booking engine
As an additional aspect of the experiment, a Smart Note was strategically placed within the booking engine to attract the user's attention and highlight the appealing benefit of travel assistance insurance. Optimized for all search devices, the message helped to create a sense of urgency and reaffirm to website visitors that the hotel was the ideal choice for their upcoming trip.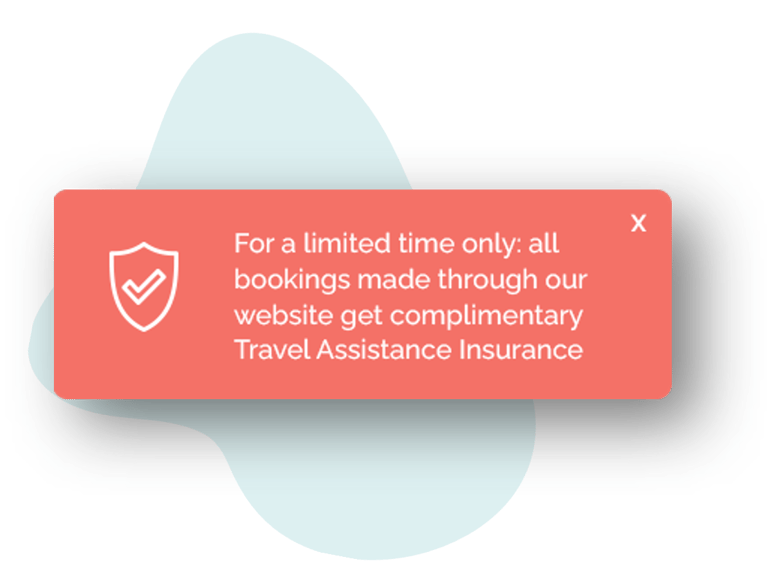 Smart Note displayed in the booking engine
The Results
The trial results were analyzed to understand the impact travel assistance insurance had on different user groups. In addition to total conversion, family traffic was examined by looking at travelers searching for stays including one or more children. The results were also analyzed to determine how persuasive travel assistance insurance is on international traffic.
Following a one-month A/B test, SafeDirect demonstrated its ability to enhance website conversion across all categories of travelers, with particular notable effects in the international market and among families. By offering travel assistance insurance, the Canary Island hotel chain witnessed a substantial 10% uplift in overall direct sales, with an impressive 20% surge in sales from international travelers and a remarkable 22% upswing from those searching for hotel stay for the whole family.

Ready to increase your hotel's direct channel conversion while adding value and protecting your customers? Read the complete case study to discover the full power of SafeDirect.