While you may not be directly looking to target millennials (generation born approx. from early 1980's to early 1990's) it's important to consider why this generation is so important if you are part of the many hotels looking to increase direct bookings.
All you have to do is think about when OTA's really became popular (and who drove this) for the importance of this group to become clear. According to a 'real time' article by property giant Jones Lang La Salle (JLL), OTAs first rose to popularity in 2008 during the economic downturn. During this time, hotels viewed them favourably for their ability to fill hotel rooms, (that otherwise may have remained empty), helping throughout years of uncertainty when customers tightened their belts.
We now know that the majority of the time the hotel has the best rate, but the OTA's aggregate tools combined with large marketing budgets have enabled them to dominate online customer share, drawing travellers in like moths to a flame with the promise of 'best rates' and 'discounts' guaranteed.
Adding weight to this, JLL'S article also states that in 2016 OTA bookings in the U.S. outnumbered hotel website bookings for the first time in history. And that more than a third of OTA's primary customers are between the ages of 25 and 39.The first is important just to put the power and draw of OTA's into perspective, but the second is important as it clearly shows that a large proportion of the people using them are from a certain demographic.
As the first generation to become completely familiar with digital technology, this is not surprising. As a millennial, myself I've been drawn in many times by the convenience of an OTA (booking.com was my go to), as it provided me with a one stop shop for aggregating offers, reviews and amenity details all in one place. There was also little awareness presented by the hotels themselves to let customers know that the best rates could be found through booking direct. I genuinely thought I was getting a steal through booking through an OTA.
Now however, having worked in the hotel industry I would always book direct — guest experience is superior and rates are the same and offers plentiful.
When I talk about guest experience being better I mean this. My last booking through an OTA was in 2015 when I booked a country house hotel in the United Kingdom. Yes it was convenient, yes I got a good rate but the service stopped there. I arrived only to find that the majority of the hotel had been bought out by a wedding party for the entire duration of my stay. I was told we're sorry madam, if you had booked direct then we could have told you this. I was then offered a free two-night stay which I used the following year when I booked direct and checked there were no weddings that weekend…
So what can hotels do about this convenience factor?
Using the right tools hotels can also aggregate data, show price comparisons and reviews on their own websites. This way like OTA's, customers will not need to leave your website to compare prices or look up traveller reviews — as they'll be right there on your website. You may well still get some of your guests through OTA's in the first instance, but the next time you'll be armed with the right tools and incentives to get them booking direct.
The Hotels Network offers such tools and here's two hotels that used them with great results.
Vi Vadi Hotels is a family run business with three hotels in Germany in the country's capital of Munich, and one property near the town of Miltenburg. Like many hotels, the small hotel group was eager to take back better control of their customer's bookings, by increasing direct bookings on their website. They were also facing several price disparities and so needed to regain customer trust on their site — to subsequently prove that direct is best and that they offer the best rate guarantee. A strong need to increase ROI via marketing spend was also paramount.
The Hotels Network recommended a price match tool on Vi Vadi's site as part of a price comparison widget. The tool would be the solution to stop them being undercut by disparities, by matching the hotel's direct price with OTA prices to avoid losing customers. The price match appeared inside the price comparison widget, but only when OTA's were undercutting with lower rates up to a maximum percentage pre-selected by Vi Vadi.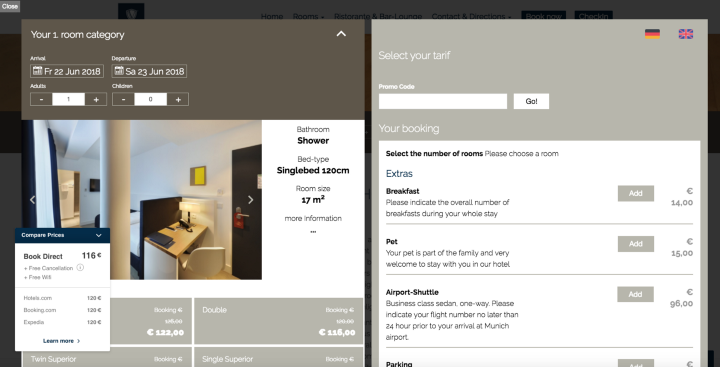 The price match adapted to the sites three languages (German, Spanish and English), and the discount offered varied on the disparity found and according to the hotels configuration. This tool in conjunction with promoting special offers, allowed Vi Vadi to build back customer trust and increase conversions by 18%.
And this wasn't a long journey — the price match tools were launched instantly and off they went!
Minor Hotels is an international hotel group operating globally with five in-house hotel brands under it's umbrella including Anantara, Avani Hotels and Resorts and Elwana collection. Tivoli Hotels & Resorts is also under Minor Hotels, offering stunning four and five star hotels with unique personalities.
Minor Hotels noticed that customers were leaving its sites at a certain point in the booking funnel — specifically to check reviews and price comparisons on OTAs. The solution from The Hotels Network was to add a reviews summary and price comparison widget on both Minor and Tivoli sites, to eradicate the need for guests to leave.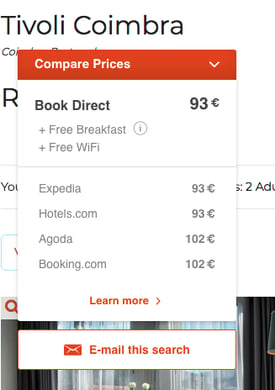 On the Tivoli website, the reviews summary was customised — selecting any Tivoli hotel, the summary appeared showing the overall average and score from popular review providers. Tivoli selected scores specifically from TripAdvisor, Booking.com, Hotels.com and Expedia using different types of reviews to target specific audiences with real reviews selected carefully.
By using the reviews summary and price comparison widgets guests did not have to leave the site to get the information they needed. It was all there as a one stop shop resulting in conversion uplift of 26%.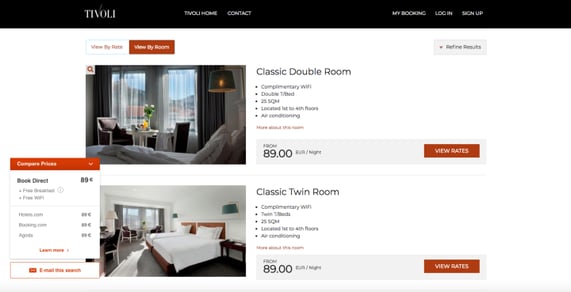 So if you're in the depths of despair worrying about how you'll be able to buy back bookings from third parties, perhaps spend a moment or two to check out The Hotels Network suite of tools.