Hungry for travel ideas after weeks of lockdown, consumers have their eyes glued to their screen in search for the perfect getaway. With over 20% of consumers visiting social media to research hotels prior to their trips, hotels can not only communicate relevant information, shaping a positive brand image, but can also connect with travelers around the world on an emotional level. By establishing a strong presence on social platforms, hotel brands are able to remain top of mind and inspire guests to book vacations with them in the future.
Learning from the best
A known market leader in social communication in the hospitality industry, Meliá Hotels International has worked hard to reach the position of one of the Top 10 most influential IBEX 35 companies (Spain's principal stock exchange) on social media. Keeping up relentlessly with the ever-changing digital landscape, the brand never ceases to reach new heights with their social communication.
Since we last checked in with Meliá Hotels, they have continued to build on their revolutionary social media strategy, constantly reinventing content to engage their many avid followers while reaching out to new audiences. Let's take a look at how this exemplary brand has evolved their approach to be able to excel across multiple platforms.
Meliá's lastest social media ventures
Communicating in the world of #hashtags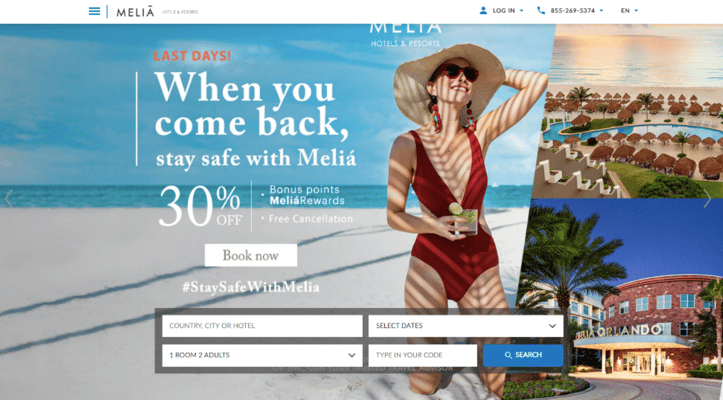 Spreading the word #StaySafeWithMelia
Set on adapting to the new paradigm and shifting customer needs, Meliá has been using the hashtag #StaySafeWithMelia to reassure guests by promoting their efforts in prioritising a positive customer experience within today's extraordinary situation. Fully maximizing the use of this campaign, the brand has used the hashtag in nearly all their recent social media activities, accumulating over 2,000 posts on Twitter alone.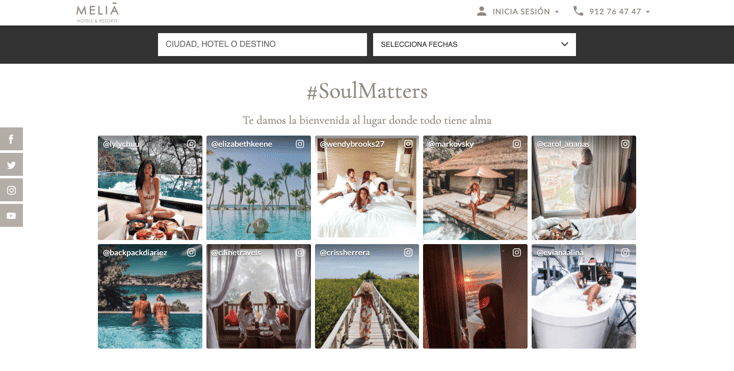 Encouraging travelers to share their experiences on their website with #SoulMatters
Proud of their roots, Meliá stands out through their genuine Spanish hospitality and their passion for service. Putting their souls into shaping the best travel experiences possible, the brand invites guests to discover the many places that have a soul, and to share their own experiences on Instagram using #SoulMatters. Even after two years since its inception, Melia's #SoulMatters continues to grow and attract new visitors, becoming a main contributor for the 32,000 posts using the hashtag on Instagram, building an exceptional pool of followers.
Bringing the Meliá experience to life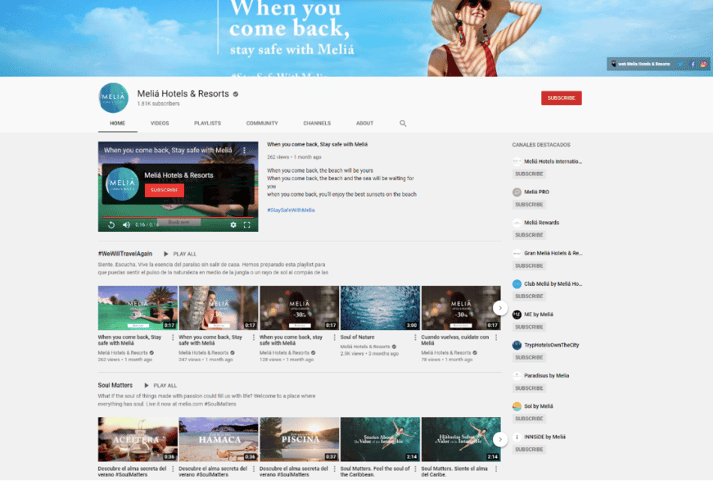 Meliá's portfolio of #WeWillTravelAgain and other videos on YouTube
Creating consistently high-quality videos is no simple task, yet Meliá makes sure that there is a constant stream of tantalizing content available on their YouTube channel. Within the channel, visitors are immediately welcomed by a short introductory film, and can easily navigate through the brand's well-organized page. Packed full of recently published videos, Meliá Hotels is able to not only document their growth but bring the true Meliá experience to life for viewers globally.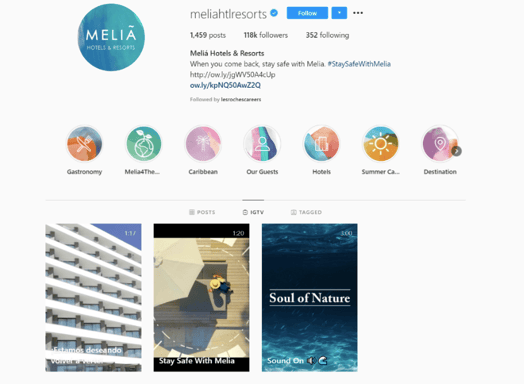 Delivering a sensory experience through IGTV
Nothing can be more immersive than a complete visual and auditory experience. Although many brands have taken to Instagram to share photos on their posts and on Instagram stories, not many have taken full advantage of the IGTV function Instagram offers. Starting to put together a creative collection of short videos featured on IGTV, Meliá brings the essence of their hospitality and the beauty of their coastal destinations to life.
Tapping into a new audience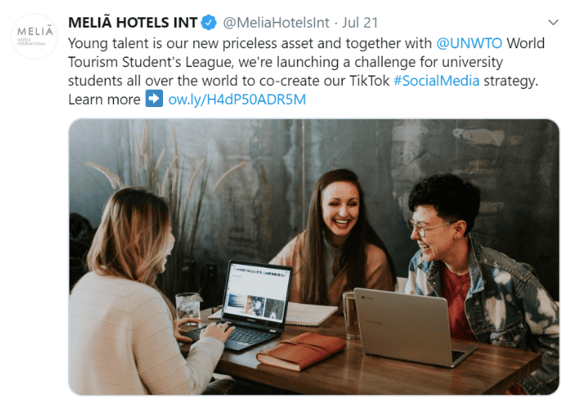 Connecting with students to kickstart Meliá's TikTok debut
From the very beginning, Meliá has been set on becoming the hotel chain with the greatest influence on social media. With Generation Z becoming increasingly prominent as consumers, a fresh strategy was clearly needed to be able to click with this emerging segment. For this reason, the brand has set their sights on TikTok, the popular social media app that has become all the rage for young people worldwide (for those who don't know, TikTok is a Chinese video-sharing social networking service, offering users a space to view and create short dance, lip-sync, comedy and talent videos). As Santiago Garcia, Global Director of Social Media at Meliá, commented, "For us TikTok is undoubtedly an opportunity to connect with the next generation of travellers."
In preparation of their upcoming debut on the platform, Meliá recently announced a challenge for university students all over the world to co-create the brand's social media strategy on TikTok. Reaching out to the users themselves to help with their launch on this emergent platform, not only are they able to empower the younger generation, but also ensure that their strategy is in line with the motivations and expectations of this new audience.
Understanding the importance of social media today in building brand awareness as well as supporting traffic growth and direct bookings, Meliá has made it a key component of their digital transformation. By closely following the evolution of the digital consumer landscape, the brand is able to adapt their social media strategy accordingly and pave their way to continued success within the international travel industry.
So, what are the next steps in your digital revolution?