Whether they revolve around sports, fashion, music or art, public events possess a unique power to bring together diverse crowds from across the globe. Amidst the excitement and anticipation that surrounds these gatherings, one critical aspect is certain: the attendees will be in search of a place to stay. This presents a golden opportunity for hoteliers to showcase their offerings as the ideal choice for travelers looking to enhance their event experience, through proximity alone or persuaded by additional direct booking incentives.
To position your hotel as the clear choice for these event participants, it's important to target your communication strategically, construct offers tailored to the preferences of your audience, and even involve yourself in the festivities! Let's explore some ways you can seize the moment and turn local event traffic into increased direct revenue.
Target your communication by search date
Drilling down on your audiences by presenting special offers to your target market is crucial, and providing all of the information that makes your package appealing and relevant to each specific user could be the final nudge they need to complete their booking. To identify event attendees within your overall web traffic, search dates are the perfect indicator. If the users are planning a stay during a period where a particular event occurs, the chances are it could be the reason for their travel in the first place.
Using THN's Personalization platform, The Standard London promotes their special package for Fashion Week with a Layer that is seamlessly activated when the user's selected stay dates align with the event's schedule. With the communication being triggered whenever an online visitor makes their search in the booking engine for the time period of Fashion Week, the hotel can show their potential guests targeted messages that are personalized to their preferences. Thanks to the relevance of the offer to these online users, The Standard is sure to increase their direct bookings during the Fashion Week timeframe.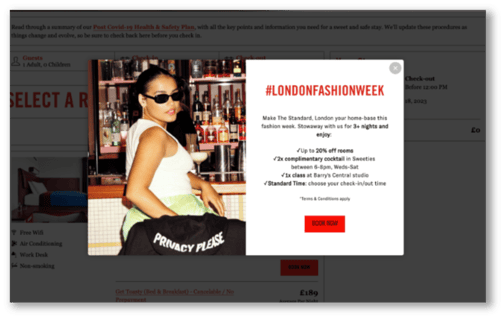 The Standard London's Layer for London Fashion Week offer
Tailor your perks to the guests' needs
After a long day of dancing and singing along to your favorite artists, what could be more enticing than a short walk to your hotel and leaving behind the hassle of attempting to flag down a taxi and sit in traffic? Given Austin Proper Hotel's close proximity to the ACL Music Festival 2023, their property's location is ideal for concertgoers. And they let them know just that!

Austin Proper Hotel's Festival Package for the ACL Music Festival 2023
Use stress marketing tactics to nudge users to book without delay
Creating a sense of urgency by communicating key event dates to your online users is a powerful strategy to boost occupancy rates and revenue. When potential guests are informed that their desired stay dates coincide with a major event, they are more likely to make an immediate reservation, avoiding the disappointment of sold-out rooms or soaring room rates. Our recommendation is to craft a series of tailored messages for the major events in your destination and subsequently apply targeting rules to trigger personalized messages when a user's search dates align with any of these event dates.
The Rugby World Cup message below, from Hôtel des 3 Poussins, illustrates a perfect example of instilling a sense of scarcity and adding just the right amount of urgency to guarantee a complete journey through the booking process, ultimately culminating in a reservation. While nudging guests to finalize their bookings, the brand cleverly offsets this stress marketing tactic with a lighter and friendlier image, incorporating a playful reference to their property's name, "poussins", which translates to "chicks" in French, their native language. Striking this balance is crucial in cultivating a well-rounded and welcoming brand image that appeals to prospective guests.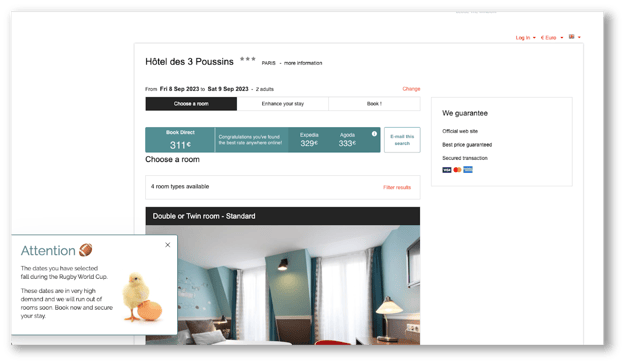 Hôtel Les 3 Poussins' using a popular local event to create a sense of urgency
Extend the event and make your property part of the venue
To attract more of the event's attendees to your hotel, why not incorporate yourself into the festivities to create a memorable experience for your guests beyond the scope of the actual event? That is exactly what Culloden Estate and Spa did by opening its doors to the International Art & Sculpture Fair 2023.
The hotel adapted some of its offerings specifically for the event, including a themed afternoon tea and a menu inspired by the art. They even created an exclusive package for the event's participants, which includes a luxurious overnight stay, a glass of Bollinger Champagne with two canapés, and a full Irish breakfast with tickets for the Art and Sculpture fair. Through this offer, the hotel becomes an integrated part of the guest experience. By offering these different reservation packages exclusively on its website, the hotel expertly leverages the local event as a stepping stone towards boosting its direct bookings.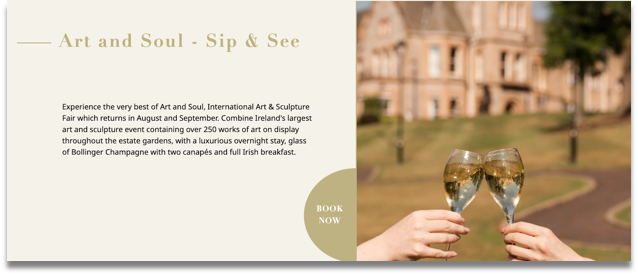 Culloden Estate and Spa for the International Art & Sculpture Fair
We've seen that local festivities offer a unique opportunity for hoteliers to attract a diverse audience in search of accommodation. To make your hotel the top choice for event-goers looking to enhance their experience, effective communication and tailored offers are crucial. By adopting these tactics, your hotel can stand out, win over event attendees, and boost direct bookings. Don't miss the chance to turn local events into direct booking victories!