Paris, also known as the city of lights, attracts almost 24 million tourists each year. Considered one of the most beautiful and romantic cities in the world, this urban destination has become the global center for art, fashion, gastronomy and culture with iconic landmarks such as the Eiffel Tower and the Notre-Dame cathedral.
In this metropolis, it often seems near to impossible to find decent accommodation at a rate that doesn't make your eyes pop. Aware of this fact, Serge, Jérémie and Benjamin Trigano, the family behind the renowned all-inclusive resort brand Club Med, found a gap in the market: to launch an affordable yet fashionable hotel where guests can enjoy being made a fuss of.
With the aim of offering more than just an urban refuge but a living space at reasonable prices, Mama Shelter started out its journey in 2008 with a property located in the working-class district in Paris, Bagnolet, not an area that's the first to spring to mind for tourists wanting to hang out in Paris.
Today, just over 10 years later, Mama Shelter boasts more than 1,660 rooms in 11 urban destinations. The brand has become a reference for design-oriented lifestyle hotels, with properties located in out-of-the-way corners in the most iconic cities around the world, guiding guests to discover hidden gems of neighborhoods.
It's easy to see how the brand has become a point of reference just by scrolling through their Instagram page. With more than 57.6k followers and 1,800 engaging posts, the account clearly demonstrates that the brand has successfully managed to reach icon status in the realm of authentically warm and cool lifestyle hotels.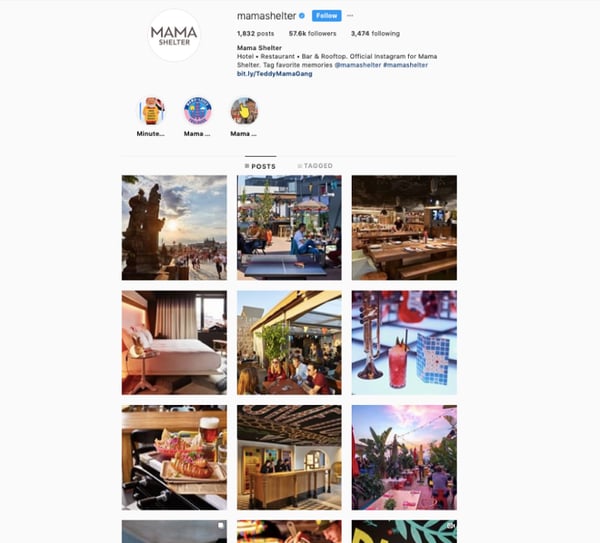 Mama Shelter Instagram account
Today, we will have a look at some of the key elements that have led to this success:
Outstanding design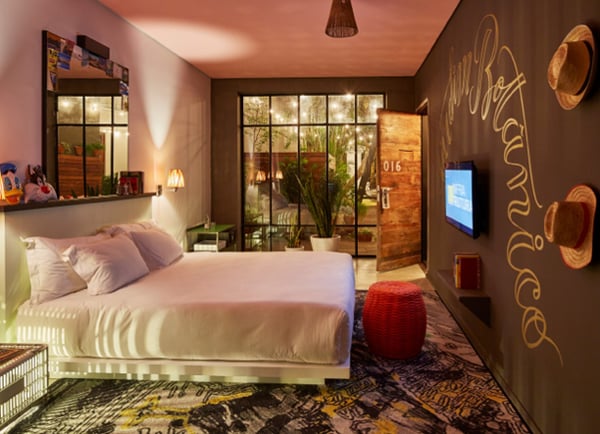 Mama Rio de Janeiro
The French designer Philippe Starck, with the help of local artists contributing their personal touch, uniquely decorates all the properties the brand owns. The masterpieces displayed around the hotels tell the story of the city where each property is located, creating an urban refuge where visitors can go and immerse themselves in the local culture yet feel as if they were at home. Mosaic steps, colorful walls and eccentric hanging decorations are some of the pieces a guest can expect to find when strolling through the lobbies of Mama Shelter hotels.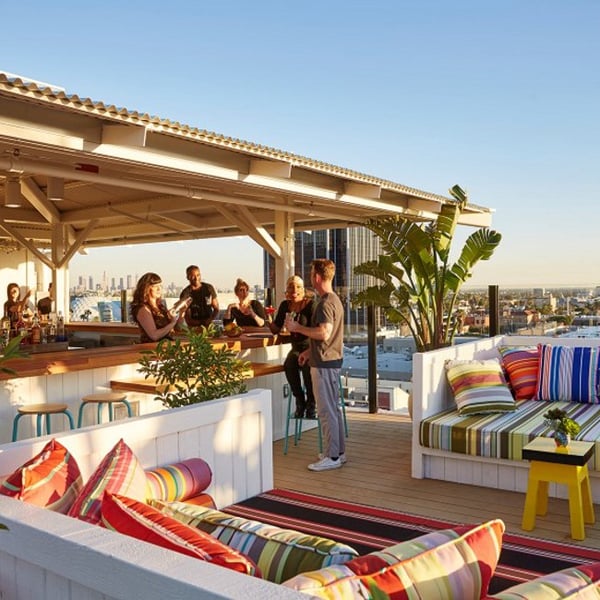 Mama Los Angeles rooftop
What's more, the brand also owns some of the most instagrammable rooftops ever, according to Afar, Vogue & The rooftop guide, with colorful designs and unique activities taking place. These must-visit terraces offer the opportunity to spend a lazy afternoon cocktail in hand enjoying the stunning views of the city or if you prefer a revitalizing energy boost thanks to a morning yoga class followed by a green smoothie.
A full experience
Mama Shelter offers much more than just an accommodation; it provides guests with a full-on fun experience at a hip home away from home. To achieve this, each hotel owns a culinary hotspot. At "Mama Cooks" top chefs such as Guy Savoy, the triple Michelin starred chef, have taken control of the kitchens to entice guests not only to fall in love with the city but also with its local gastronomy.
To top off this unique experience and take care of guests as their mamas would do, organic hair and skin products of the "Mama Skin" line are placed in each guest's bathroom so they can spoil and indulge themselves. What's more, vintage video games in the lobby, their own brand of condoms and adult movies are also available to clients.
Committed staff
The founders of Mama Shelter, a family who has dedicated generations to the hospitality industry, know full well that the essence of this sector is focusing on the guest. In order to guarantee this happens, each hotel has a team of devoted staff who want to be there and take care of the customers.
To onboard these valuable workers, Mama Shelter recruits through onsite hiring events, where candidates fly to the location to meet the team and get to know the values of the company. These new hires then stay at a Mama Shelter hotel for a whole month to ensure they truly absorb its DNA: "Mama takes care of everything".
Thinking outside the box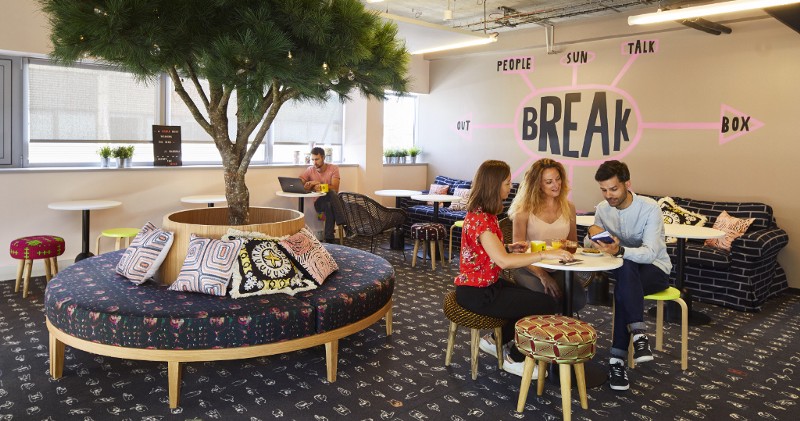 Mama Works Bordeaux
Not limiting themselves to just offer a retreat where to stay when visiting emblematic cities, Mama Shelter has followed the trend of coworking spaces within hotels, opening "Mama Works". With facilities in Lyon, Bordeaux and Lille, the brand has now opened its arms to a new audience: entrepreneurs and forward-thinking business people.
In 2014, Accor acquired a significant stake in Mama Shelter, whose properties now form an important part of the group's growing portfolio of lifestyle brands. With a whole host of new ideas in the pipeline, let's keep an eye on the inspirational Mama Shelter brand and see what's their next move. Any guesses?