This Halloween, it's without a doubt that you've had your little ones counting the days before they get to finally put on their costumes for a spooky night of trick-or-treating.
At The Hotels Network (THN), we've seen a countless number of our clients launching initiatives around this special date, from discounted packages to themed contests and events. Out of all our clients, the marketing campaign that sparked our attention the most was that of Lopesan Hotel Group's.
To celebrate this spooky day of pumpkins, black cats, and witches, the renowned Spanish hotel chain launched an astoundingly addictive Halloween-themed memory game where participants may potentially win exclusive gifts and discounts. With this out-of-the-box initiative, the brand was able to generate a buzz among visitors while perfectly adapting to today's scene. Let's discover how!
A Halloween memory game
Lopesan Hotel Group launched "Halloween Memory Game," a fun and addictive online memory card game in which players must aim to match all relevant card pairs in a limited time frame of 50 seconds. Those who pass the challenge receive a 15% discount for future stays at any Lopesan hotel. What's more, the participant who completes the game the fastest receives a gift card for a free stay at any of their properties.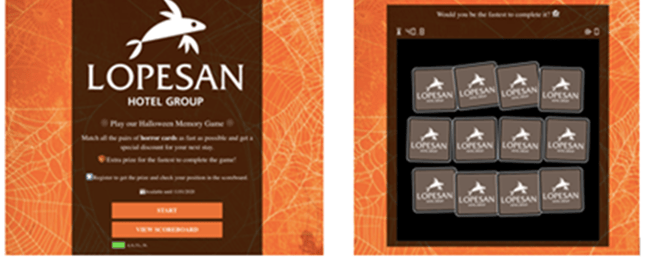 Lopesan Hotel Group's Halloween memory game
The ingenuity behind the chain's memory game
Halloween is a great opportunity for hotels to skyrocket hotel reservations, and Lopesan Hotel Group knows this very well. The marketing strategies you can create around Halloween are endless; the tricky part is knowing how to adapt them to the theme and effectively communicate them across your channels so your guests know about your initiatives.
With their Halloween-themed game, Lopesan Hotel Group has given the world-famous memory card game their own spooky twist. By creating their own game concept, the hotel chain is able to generate interest, engagement, and visibility towards its brand while promoting its properties, ultimately attracting more potential guests.
Understanding the continuously growing world-wide use of the internet, the brand has used their Halloween game to expand their reach throughout their online channels, increasing communication and keeping their budget under control. To promote their Halloween memory game on an organic level, the chain advertised it across all its channels, from its website and app to its social media.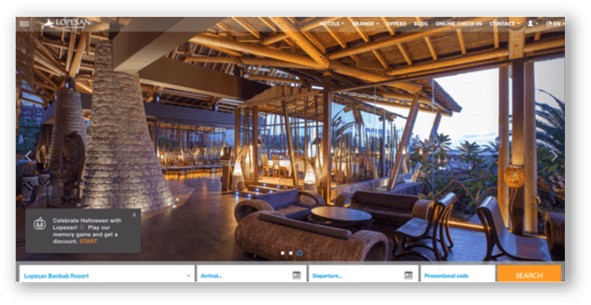 Smart Note highlighting the game's availability and reward
Encouraging engagement
With a large amount of daily traffic to their website, the brand stays keen on communicating their initiative throughout the channels of all its properties. As soon as a user lands on their website, a THN Smart Note is shown to ensure the visitor knows about their fun and quirky memory game. Using THN's targeting tools, Lopesan Hotel Group enacts targeting rules to segment the message's appearance on specific dates that the initiative is in effect. By leveraging this, the brand ensures that all visitors are exposed to relevant and personalized content.
Lopesan Hotel Group's game promoted on Instagram and Facebook
With more than 15,000 followers on their Instagram and Facebook accounts, the brand also regularly communicates its initiative throughout their social media channels. By announcing their game through their social platforms, Lopesan Hotel Group is able to expand its reach towards not only its website visitors, but through social media users as well.
Like Lopesan Hotel Group, you and your property can also take advantage of the opportunities stemming from Halloween, or any other holiday event, to help boost your sales. With your team, devise creative and engaging initiatives and adapt them to your audience and brand; surprise your website visitors and loyal guests with new and innovative marketing campaigns. Now more than ever, it's time for us to come up with new ways in reinventing the hospitality scene and make the best out of any opportunities that come our way!