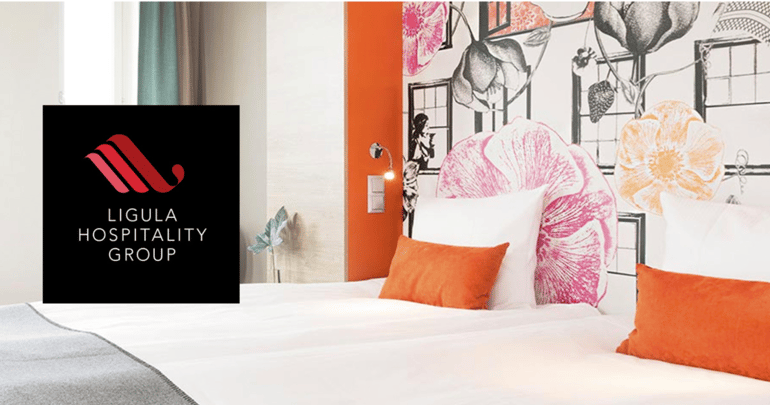 Benchmarking your hotel data is crucial for gaining a better understanding of how your strategy performs in comparison to the market and competitors. However, determining which areas to analyze and how to act upon them isn't always simple... That's why, at THN, we're launching a series of case studies highlighting how our hotel clients are effectively putting BenchDirect's insights to work and improving their direct channel performance.
We've already talked about how Charlotteheaven improved by 71.9 percent by putting their benchmarking learnings into action. Today, we'll look at Ligula Hospitality Group and how their benchmarking efforts helped them uncover mobile opportunities. Based on the learnings, the brand was able to identify and strategically address growth opportunities, which resulted in a significant increase in mobile conversions.
But before getting started, you should become familiar with BenchDirect. Presenting THN's latest product innovation, BenchDirect: the first benchmarking platform for the hotel's direct channel. With BenchDirect, hoteliers can now examine the complete booking funnel and compare their performance to the market and competition to see where they are underperforming. And the best part? BenchDirect is free for hoteliers, forever.
Ligula: the case study
Ligula is a Swedish hospitality brand that owns, manages and develops concepts and brands in the hotel and restaurant industry. Operating under different brands - ProfilHotels, Collection by Ligula, Motel L, Good Morning Hotels, Apartments by Ligula and Park Inn chain - Ligula is a fast-growing organization to keep your eye on.
What data did Ligula analyze?
Ligula benchmarked the following direct channel metrics available within BenchDirect:
Booking Engine (BE) to Booking Conversion, by device. The hotel explored this important metric to understand how well they were performing in terms of converting booking engine traffic into direct reservations depending on the device the visitor was browsing from, whether mobile or desktop.
Revenue per BE visitor, by device. This data was utilised by the hotel to determine the revenue attributed to each booking engine mobile user.
After evaluating the results for these metrics during the period of the 6th to 13th of August 2021, the Ligula team identified the following:

The overall brand's Booking Engine (BE) to Booking conversion for desktop devices was in the top 25% best performing client hotels of The Hotels Network.
The overall brand's BE to Booking Conversion for mobile devices was performing slightly higher than average. However, it wasn't in the top 25% best performers in The Hotels Network.
The Revenue per BE Visitor for mobile devices was lower than The Hotels Network's median.
What opportunities did Ligula spot?
These insights revealed a clear opportunity to convert more mobile visitors, as they represented 49% of the total BE traffic but the performance for this audience was below average. By focusing on optimizing their conversion rate on mobile devices, the brand could potentially have a significant impact on their direct booking volume and revenue.
What actions did Ligula take?
As the brand was looking for a tactic to nudge mobile visitors down the booking funnel, they created a 10% exclusive offer for mobile users in their booking engine. A personalized THN Layer was used to communicate the offer on the website for 10 of the brand's properties. The message was only shown to mobile users visiting the booking engine and the discount was applied directly when clicking on the CTA, providing a seamless booking experience.
With this initiative, Ligula was aiming to engage with their mobile visitors and give that extra reason they needed to confirm a booking at one of their properties. By capturing their interest at an early stage of their online journey, the brand was able to keep hold of their mobile website visitors before they left to explore other hotel offerings.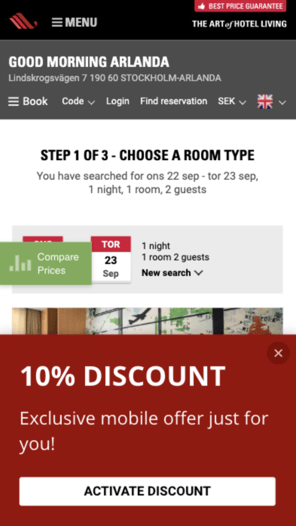 Layer that offers promotion
How did Ligula's campaign perform?
Within the BenchDirect platform, hoteliers are able to compare the performance of any direct channel metric across different time periods. When analyzing the data, it became clear that Ligula's mobile campaign had been extremely effective. During the time it was active, the 10 properties who activated the campaign experienced an overall uplift in Mobile BE to Booking Conversion of 122% compared to the previous period when there was no mobile campaign active.
Looking more closely at the results of the property that had the campaign running for longest – from 14th April to 22nd November 2021 – we can see the following results:
There was an uplift of 143.9% in the BE to Booking conversion. This result shows how effective the campaign was, as it goes against the trend observed in the Destination compset during the selected timeframe – a decrease of 1.5%.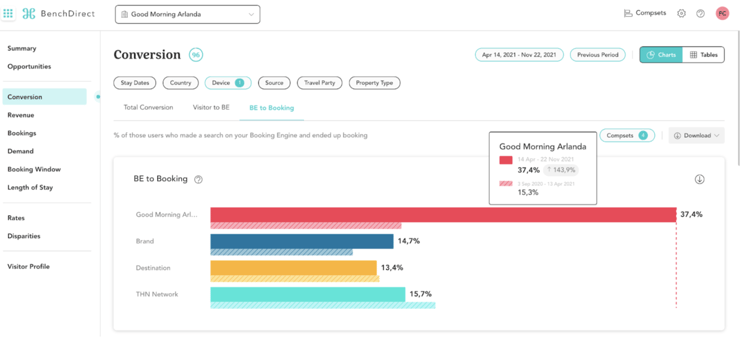 BE to Booking for Good Morning Arlanda
2. There was a 190.2% increase in the revenue per BE Visitor. This was significantly greater than the uplift of 11% seen in the Destination compset during the same period.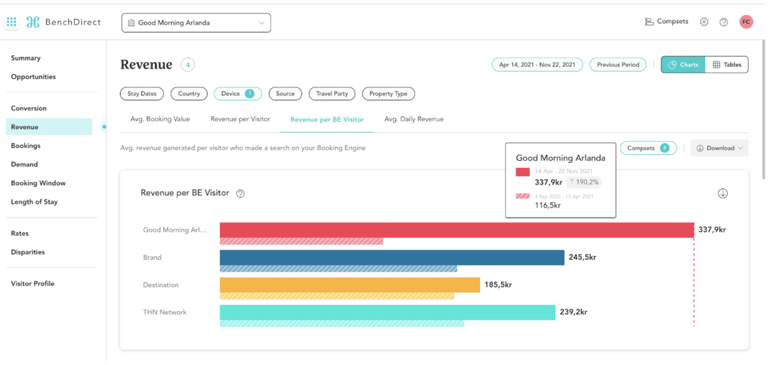 Revenue for Good Morning Arlanda
3. Speaking about the initiative, Åsa Lilja, Director of Sales & Marketing at Ligula, commented.....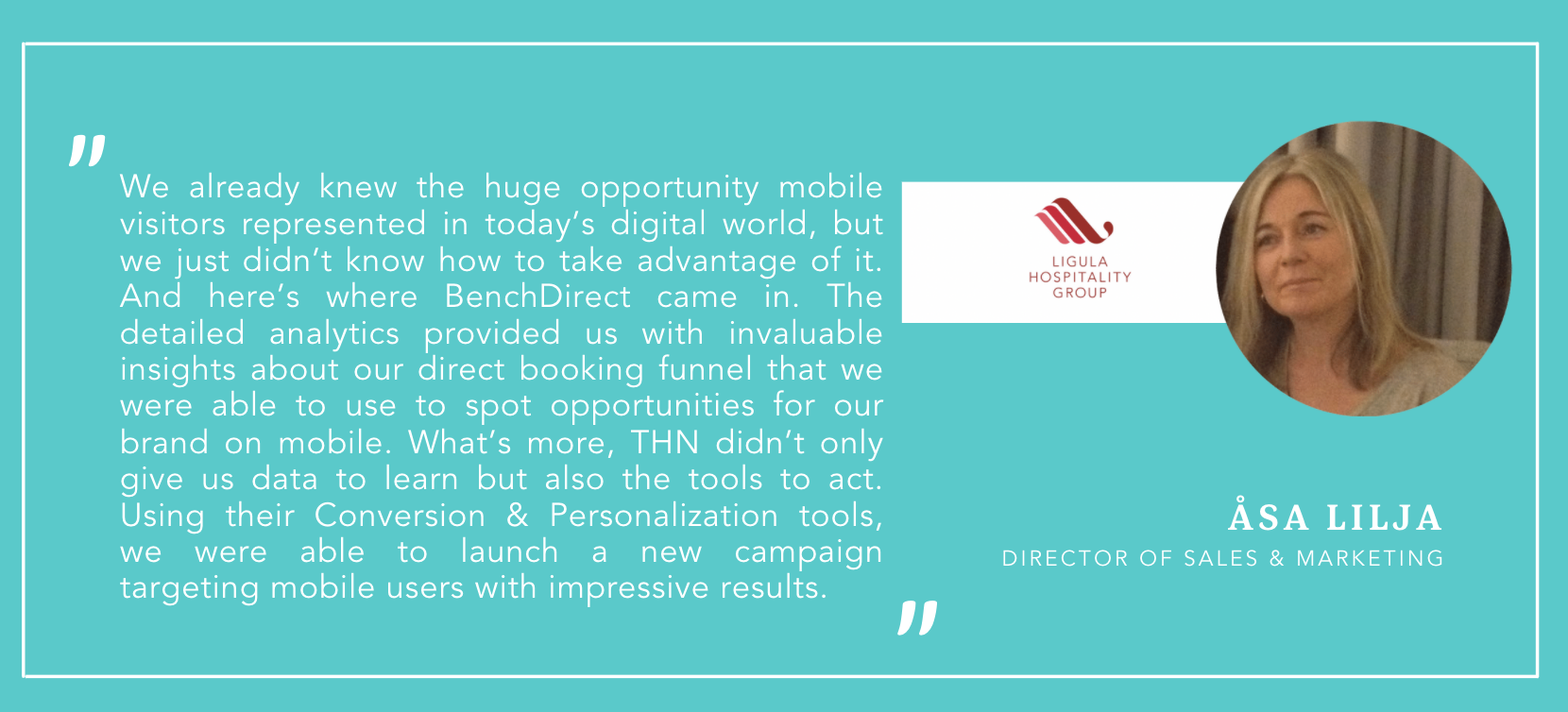 BenchDirect is the first benchmarking platform specifically for your hotel's direct channel that provides real-time insights for you to understand your hotel's direct channel performance compared to the market and competition.
Here is your opportunity to sign up your hotel to BenchDirect, and it's for free! Request your free account today to join the 16,000+ hotels worldwide who are already benchdirecting...