Taco Bell, a Southern Californian-based fast food brand founded by Glen Bell in 1962, is not only known for its delicious tacos but also it's unique marketing strategies. It has never lacked creativity when it comes to marketing its brand and reaching out to customers, both old and new. Take for example when Taco Bell offered its fans a Taco Bell-themed wedding inside the chapel at the Las vegas Taco Bell Cantina: a setting for couples and lovers of tacos to get married in their favorite restaurant! Definitely something no one expected or had ever seen before.
For their latest marketing stunt, Taco Bell will be taking over a hotel in the iconic destination of Palm Springs in California for five nights only this summer. With the launch of the first-ever Taco Bell hotel experience, the brand is pushing the boundaries even further by offering guests a stay at a resort where rooms, breakfast options, and poolside drinks will be infused with a Taco Bell twist. "The Bell stands to be the biggest expression of the Taco Bell lifestyle to date" said Taco Bell's Chief Global Brand Officer Marisa Thalberg. The idea is to create a fun, colorful and most importantly, flavorful, experience for fans of Taco Bell and other curious travellers.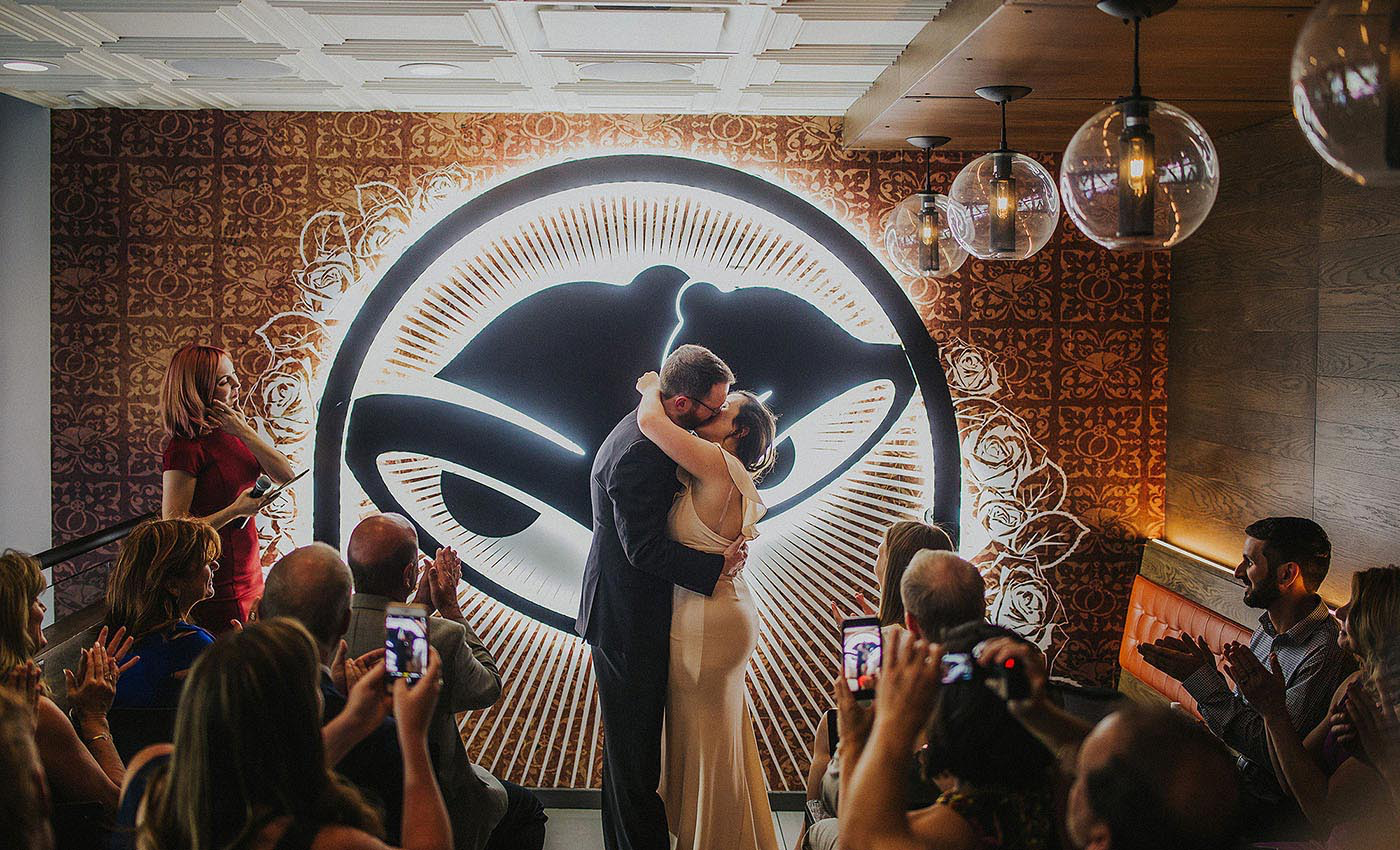 Taco Bell Wedding
"Taco Bell - Live Más"
By opening this brand-themed hotel and resort for a limited time only, Taco Bell is introducing a completely new marketing concept. With "Bell" hops and Baja Blasts, Fire Sauce and Sauce Packet floaties on-site the hotel, Taco Bell is the first food brand ever to offer its taco fans an unforgettable "tacoasis". Complete with exclusive Taco Bell menu items and plenty of surprises, The Bell is sure to be the spicy twist of the summer and about to make all of its customers taco-dreams come true.
A hotel concept full of surprises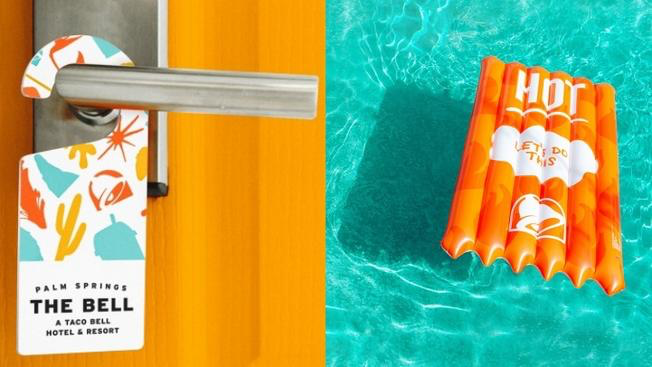 Taco Bell Hotels & Resort
The pop-up hotel and resort will feature a gift shop for guests to spice up their summer style or stock up on branded apparel such as beach towels, umbrellas, coolers, cups and more. There will also be an on-site salon where so-called super fans can pay for Taco Bell-inspired nail art and hairstyles. To excite the taste buds, guests will be able to enjoy all their beloved iconic flavors as well as brand new menu surprises, available exclusively at the hotel. And rest assured, there will be an ample supply of giant pool floats that look like sauce packets!
The Bell wants to ensure that visitors have an unexpected and unforgettable trip of a lifetime by making their dreams come true in a destination inspired by tacos and fueled by fans.
Are branded hotels a new trend in hospitality?
The answer is yes. By opening this hotel, the fast food chain is hoping to create an inevitable buzz and excitement on social media. Brands and hotels are using this type of experiential marketing to differentiate themselves from the competition. Over-the-top marketing campaigns are often highly effective at grabbing the attention of customers but beware, loyal customers may then come to expect something exaggerated and bold from their favourite brands. So companies who use these techniques have to constantly come up with creative new ideas that are even more extreme than before to be able to continue to delight and surprise fans in a completely unexpected way.
What makes the Taco Bell Hotel & Resort stand out as a marketing and PR activity is that it has the power to reach a wide range of people - not just fans of the food itself. With young people increasingly looking for unique travel experiences, the concept is likely to draw interest and popularity on social media, which will spread the word to a potentially new demographic.
Ultimately, the Taco Bell Hotel & Resort stunt doesn't just provide the fast food chain with a fantastic PR opportunity to raise brand awareness, but a way to differentiate itself in a crowded market and reinforce its positioning as a cool, hip brand. Focusing on a holistic Taco Bell experience (combining a good stay with good food) helps to ensure that it is the first brand people think of in relation to eating and a fun lifestyle.
The campaign is obviously highly beneficial as well for the host hotel. Think of the publicity, the social media buzz, the access to new clientele and of course the extra room nights! So what are you waiting for - which brand would be the perfect fit for you to approach to propose your next co-branded experiential marketing idea?
[Update: We knew the Taco Bell Hotel opening was going to be an incredible campaign. Reservations were sold out in 2 minutes - what a complete revolution!]