Since the advent of OTAs, hoteliers have been on a mission to rethink their direct booking strategies to make their offerings stand out as the best on the market. Discounts, packages, membership benefits, and complimentary perks on direct channels have become industry norms. As traveler preferences evolve, hoteliers are witnessing a shift - guests no longer seek a basic tourist trip but want to experience a deep dive into the heart of the destination. Moreover, with the rise of new technologies, guests are expecting more and more personalized services.
Gone are the days when free Wi-Fi access sufficed to entice users to hit that booking button on the hotel's website! Here are some truly innovative offerings that not only cater to the evolving needs of travelers but also work wonders for increasing direct channel conversions. Prepare to be inspired and watch your direct bookings soar!
Use your destination to your advantage
Most luxury and upscale hotels offer welcome amenities to their guests on their first night. Although any gift adds a nice touch, think beyond the typical chocolates-on-the-pillow by proposing some local specialties: a bottle of regional wine, a plate of cheese from the local market, or some authentic treats. The options are limitless!
For example, La Pérouse in Nice treats its guests to a sip of the French Riviera right in their room by gifting a bottle of Rosé when they book directly on the hotel website. The destination's local charm is awaiting travelers from the moment they check in.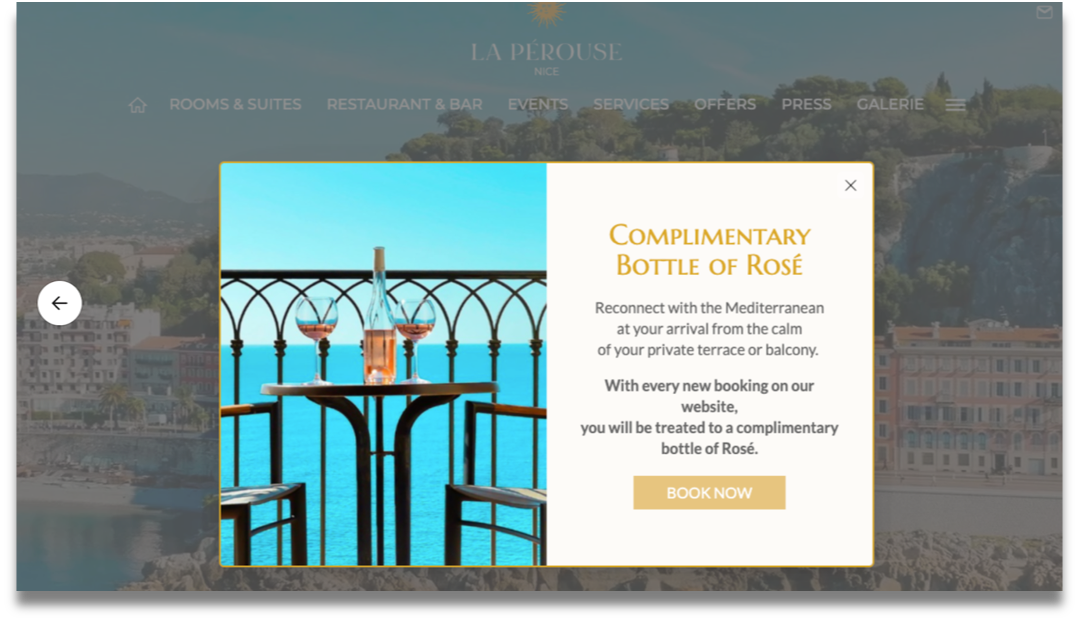 La Pérouse Hotel's local produce perk
Partner with local tourist attractions
What makes your destination special? Is it its breathtaking wildlife, distinctive landmarks, or unconventional museums? If potential guests have reached the stage of researching accommodation, they probably have figured this out already. Offering discounts for popular activities in your area not only distinguishes you from your local competitors but also presents a hard-to-resist incentive for prospective bookers.
Bonnington Hotel Dublin's family package, targeted specifically to website visitors who indicate they'll be traveling with children in their room search, is a prime example of a direct booking perk success story. By including a trip to the zoo and a regional park visit with their online offers, they undoubtedly catch the attention of users traveling with their families. Whether they were originally seeking out these activities or not, your future guests will save time and money by booking these visits directly alongside their room. This approach is a surefire win!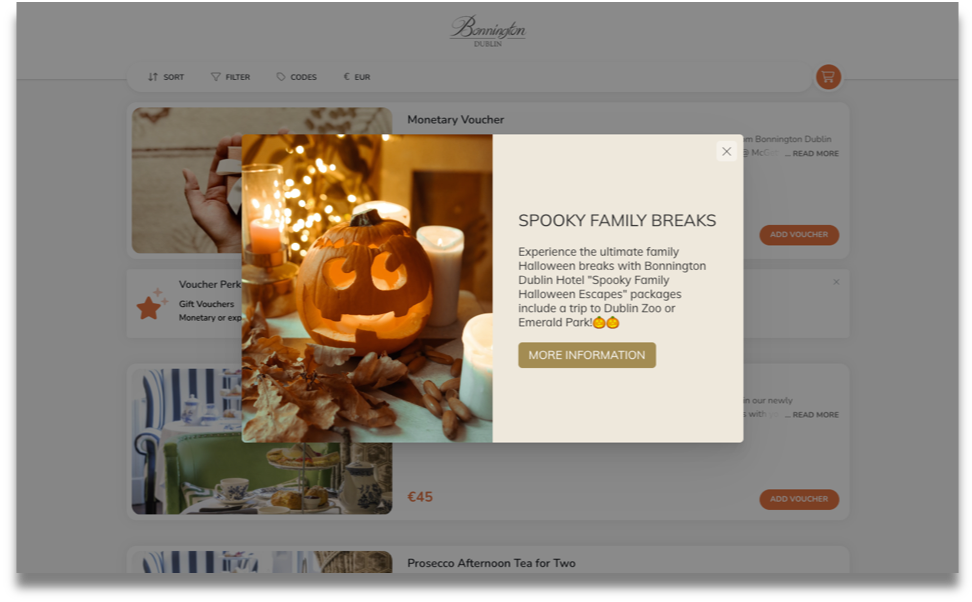 Bonnington Hotel's personalized message displayed only to users searching for a family trip
A Meet & Greet service
Traveling to a new country can be quite stressful, from finding the way to the hotel, to dealing with visas and attempting to communicate with possible language barriers. Accompanying the guest throughout the whole arrival journey can be a real game-changer when it comes to navigating unfamiliar surroundings.
Located in Doha, The Chedi Hotel is proposing a complete Meet & Greet service to help ease their guests' arrival in the fast-paced city. The service doesn't stop at just escorting the guest from the airport to the hotel, as it includes assistance for every step of the arrival process, from collecting luggage to completing visa documents. This perk also includes exclusive arrival lounge access and complimentary beverages, covering every need of their guests from their arrival at the airport to relaxing in their room!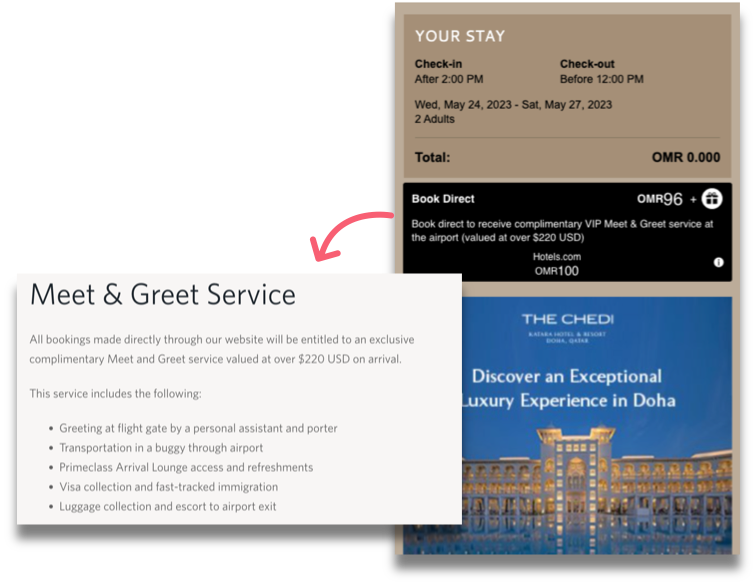 The Chedi's complimentary Meet and Greet service


Propose a complimentary travel insurance
Why not provide your guests with peace of mind while simultaneously boosting website conversions? It's a win-win! Gifting travel insurance on your website can serve as a powerful motivator for users to book a room directly on your website. THN has developed SafeDirect, an all-in-one turnkey solution that allows hotels to effortlessly provide travel assistance insurance as a unique direct booking perk. The compelling incentive can be customized and promoted at key points in the online booking process to entice users to make a reservation on the direct channel.
Nobis Hotel in Copenhagen partnered with THN to provide travel assistance insurance for guests throughout their stays, from medical expenses to extended stays due to illness, strategically communicated to their website visitors using attention-grabbing messaging. Interested in learning more about that topic? Discover how a Canary Island hotel chain increased its direct sales by 22% by adding SafeDirect to its direct booking perks!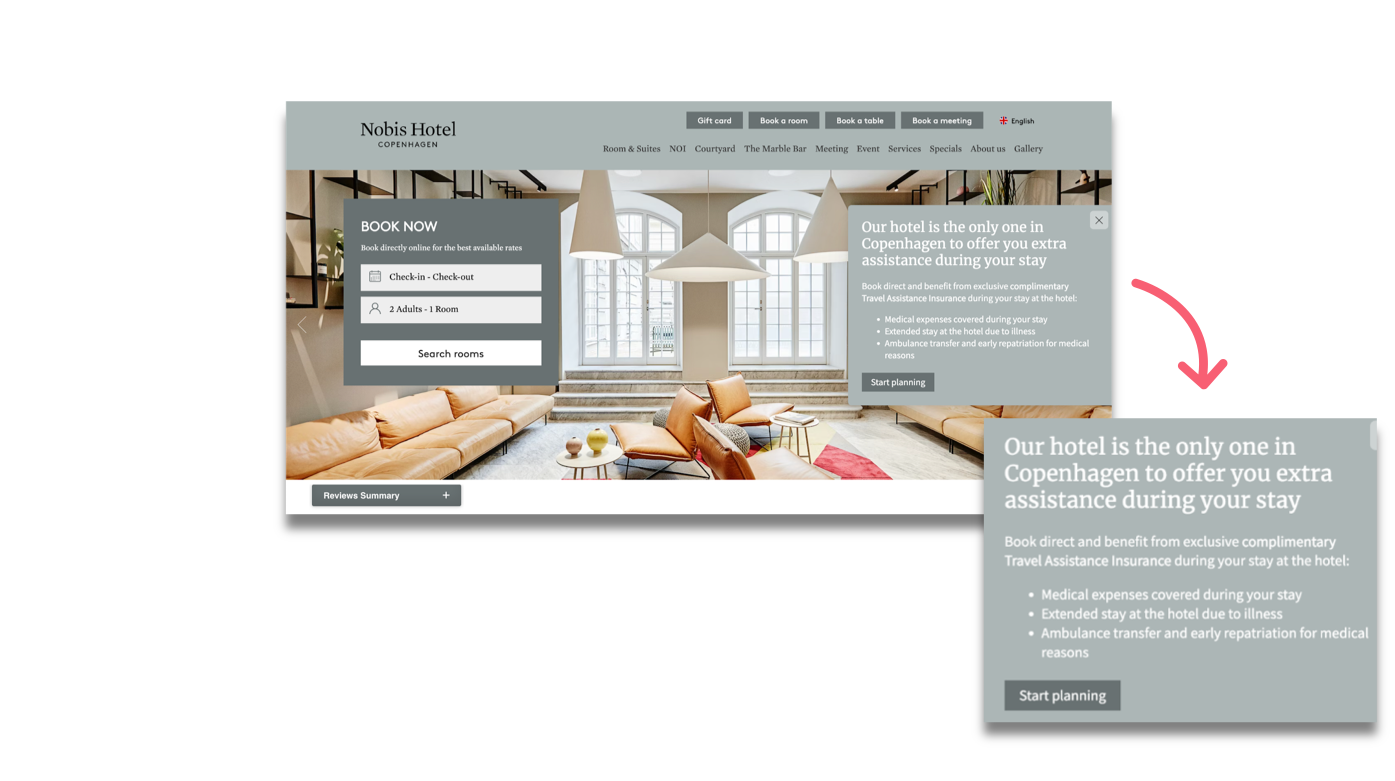 Nobis Hotel's unique travel assistance insurance perk
Let the guests choose!
If you find yourself pondering what might pique the interest of your potential guests, why not let them tell you themselves? Since every guest is unique, offering a range of perk options to match every taste is the ultimate strategy!
Metro Aspire Hotel Sydney presents their guests with a wide range of discounts and complimentary amenities, with the choice left up to them! Not only will this approach ensure that there will be something to suit everyone's desires, but it's the perfect way to offer a unique and personalized online experience.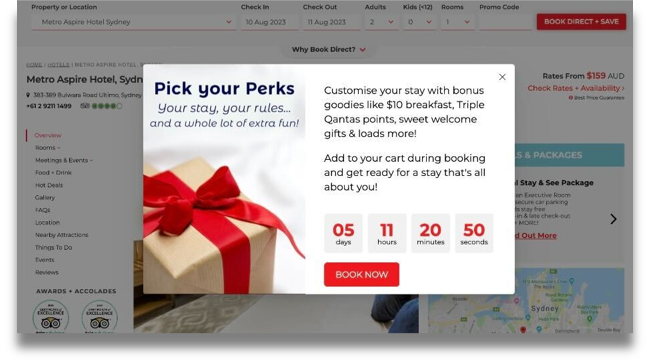 Metro Aspire Hotel Sydney's customizable perks
By embracing forward-thinking direct booking perks, such as infusing local culture into welcome amenities, granting discounts on popular local activities, and delivering tailor-made services that ease the stress of travel, hotels can create a direct booking experience that resonates with the diverse preferences of their guests. Ready to give these innovative, guest-centric perks a try and elevate your direct bookings to new heights?