Being socially responsible goes far beyond asking guests if they'd like their sheets changed.
The concept of Corporate Social Responsibility (CSR) has long been influencing the core strategies of hotel brands around the world. From employee health initiatives to holistic sustainability programs, these actions not only bring significant cost reductions for organizations but also build a robust brand image from a business point of view.
In a world where CSR is becoming more than a nice-to-have, but rather a given for the modern traveler, hotels need to incorporate a sensible and planned strategy acquainted with the brand's values without compromising the interests of stakeholders. However, in various instances, pressing issues call for quick reactions. As a number of events have shaken up the world as a whole, consumers, businesspeople, and stakeholders alike are looking to see how businesses will take action.
Hospitality for all
This year hasn't been easy for everyone, with the impact of the pandemic leaving many struggling to make ends meet and continuing to put people's livelihoods in jeopardy. Despite hospitality being one of the most hard-hit industries, many hotels took the chance to support their communities, while enabling both employees and the brand itself to feel more connected with the world around them. Here are 5 hotels who have lent a helping hand to those who need it most.
Azerai
Vietnam has been one the countries less impacted by the effects of the pandemic, but that doesn't mean the situation has been smooth sailing without challenges.
Azerai La Residence, Hue stepped in to provide direct relief to local cyclo drivers who have been impacted by the steep drop in tourist arrivals to the city. Seeking to lessen the pressure at provincial quarantine centers, they also donated 2,500 facemasks, and a variety of beverages in addition to providing relief food packs for individuals suffering from the pandemic. Meanwhile, in the Mekong Delta, Azerai Can Tho continues to work closely with local hospitals and clinics, helping to provide support where possible. In the past months, the hotels were able to provide them with 4,000 N95 masks, 2,500 bars of organic soap, and 128 liters of hand sanitizer to help bolster their supplies.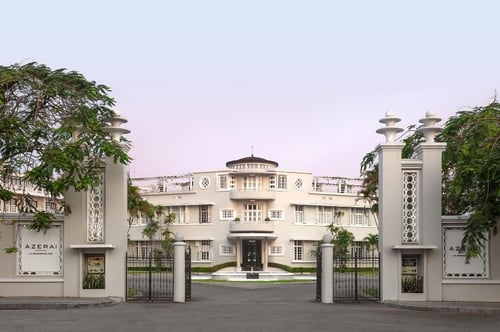 Azerai La Residence, Hue
One of the world's leading creators and operators of award-winning luxury hotels and resorts, Azerai's active contributions not only reinforce their brand vision as firm believers in the importance of local culture, but also demonstrates that they are more than just focused on the well-being of their guests but also community.
The Library Hotel Collection #VacayLayaway
To give a big thank you to healthcare heroes working hard to keep everyone safe, The Library Hotel Collection, a unique luxury hotel brand with a novel approach to hospitality, became one of many hotel brands who joined the "Buy One, Give one" #VacayLayaway initiative launched by Hospitality Sales & Marketing Association International (HSMAI). Through launching an easy to access Hotel Voucher Layer on their property's home page, the brand was able to inspire many online visitors in purchasing their vouchers, redeemable within the next 5 years.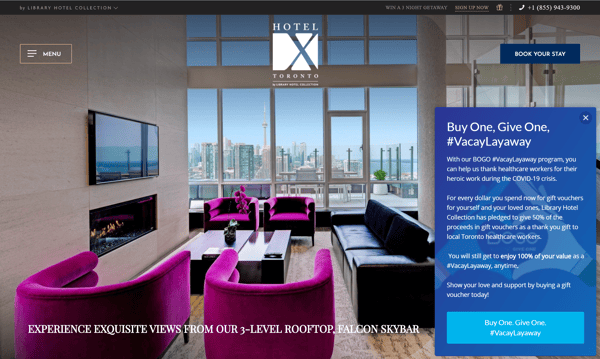 The Library Hotel Collection's BOGO program voucher Layer
A win-win incentive designed for hotels, the program incentivizes travelers to book future hotel stays through the purchase of prepaid hotel vouchers, generating immediate revenue for hotels, while simultaneously giving back to frontline medical professionals who have been working tirelessly since the start of the pandemic.
Instead of providing support through one-time donations, The Berkeley, a contemporary 5 star hotel in London's Knightsbridge, and home to a Michelin-starred Marcus Wareing restaurant, decided to keep their kitchens going and launched a creative initiative for healthcare workers. They opened a drive-thru service for London Emergency Services teams in need of daily nourishing meals to keep powering through their long hours of work. Offering well-needed tea and coffee in the morning and a variety of hot meals for pickup during lunch, for weeks, the staff at The Berkeley have been serving 250 meals per day on a first come first served basis. Not only that, continuing to offer their incredible culinary skills to help the community, the hotel's staff provides 1,500 meals a week to the Westminster Connects initiative.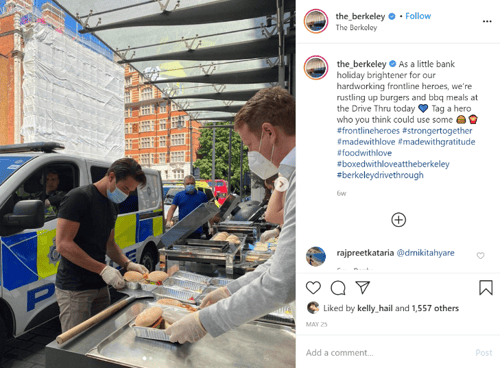 The Berkeley Instagram Post - Drive Thru for Frontline Workers
Fuerte Group Hotels
Like many hotels in Spain, Fuerte Group Hotels had to face the reality of lockdown measures and close their properties with little notice. The rapid closure of multiple hotels, including that of Fuerte Marbella and Amare Beach Hotel Marbella, resulted in the surplus of perishable foods in storage such as vegetables and meats. Acting in solidarity to support others in times of crisis, the Andalusian company delivered the goods to the Caritas delegation in the Parroquia del Calvario de Marbella. The local relief charity then distributed the produce to families and individuals most in need, especially to the elderly who have been identified as the most vulnerable group in this crisis.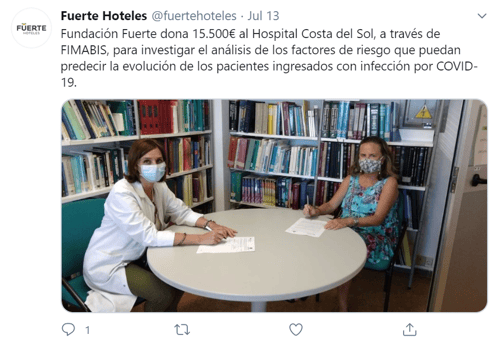 Fuerte Hotels Announces Donations to Local Hospitals
In addition to their generous food donation, Fuerte Group Hotels has also taken action in many other forms, including sending funds to local hospitals, and offering free nights to healthcare workers. Not only were they able to support their local community, but also reinforced their positioning as a public-spirited brand.
Melia Koh Samui
The staff at the new Melia Koh Samui, an idyllic beachfront retreat on Thailand's second largest island, came together to donate money to fund 115 kits brimming with essentials such as rice, canned food, cooking oil, noodles and much more, for people in need in their local community. Thanks to the efforts of the resort's staff, those who were rendered unemployed, struggling with poverty, or bedridden with illness were able to receive aid when they needed it the most.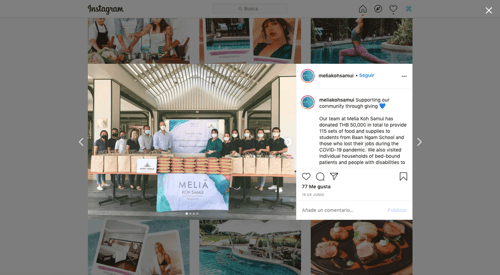 Melia Koh Samui Instagram Post - Supporting the Community
Corporate citizenship isn't just a trend, and comes in different shapes and sizes. We're glad to see that so many hotels around the world have taken it upon themselves to contribute and help their communities during times of need in creative ways, no matter the scope and scale.
As the demand from travelers shifts more and more to favoring brands with a socially conscious image, hotels will realize the value of these philanthropic activities not only for themselves, but also for the community. Why not take inspiration from the hotels who have already taken action and seek new opportunities, small or large, to integrate social and environmental concerns into your own business?