The New Esplanade Hotel, the successor to the iconic old Esplanade Hotel that heartbreakingly fell to the wrecking ball in the early 1970's, is embarking on an extensive renovation and re-positioning that will see it re-establishing its position as a go to point along Perth's Elizabeth Quay.
The original Esplanade hotel (which opened in 1898 and was then demolished in 1972) held historical significance as a popular and architecturally stunning landmark in its time — favoured as a social gathering spot due to its then formal dining room and bustling saloon style bar. The demolition of such a beautiful building is still talked about by Western Australian's today with a recent article in The West Australian quoting Perth Museum's Executive Director Reece Harley.
Harley rather poignantly says "the demolition of the Colonial Mutual Life building is still one of the worst examples of past decision-making, as is the shameful demolition of the old Esplanade Hotel. We will never know the kind of city that we could have created if we'd been a little less eager to put a wrecking ball through some of our greatest architectural achievements."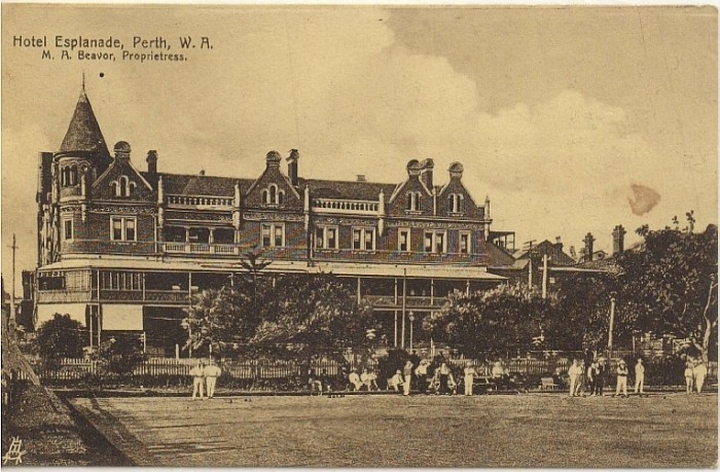 The Old Esplanade Hotel c. 1934
Following the sad demolition of the old building, a New Esplanade Hotel was however then constructed next to the original hotel site, featuring 67 rooms and one small restaurant.
Now under new management by hospitality and building solutions company Louis T Collection, The New Esplanade Hotel is embarking on an extensive renovation and remodeling — with a diverse team of architects and designers brought on board to carry out an entire revitalization of the property that will breathe new life into it. New interiors, modern facilities and more will be added, with the aim to ultimately enable the hotel to reclaim its position among Perth's best hotels.
The re-opening is planned for summer 2018, and is set to unveil a new 80-room property in addition to new public areas including a lobby café, rooftop bar and restaurant, and one of the city's most flexible co-working spaces. Plans are still in the early stages but will stay true to the laid-back vibe of Western Australia, incorporating local style and craftsmanship with the aim of elevating the hotel to provide a more boutique luxurious feel.
Interior Stylist Malvina Stone, who will be working on the redesign with Nicola Gibson, collaborative architect from Perth based architectural firm Alda Consultants says "the new look will create a space that is both modern and stylish and imparts a sense of Western Australia. My experience in creating spaces that are truly livable will enable us to deliver a hotel that encompasses a balance between work and play and is as inviting as a home."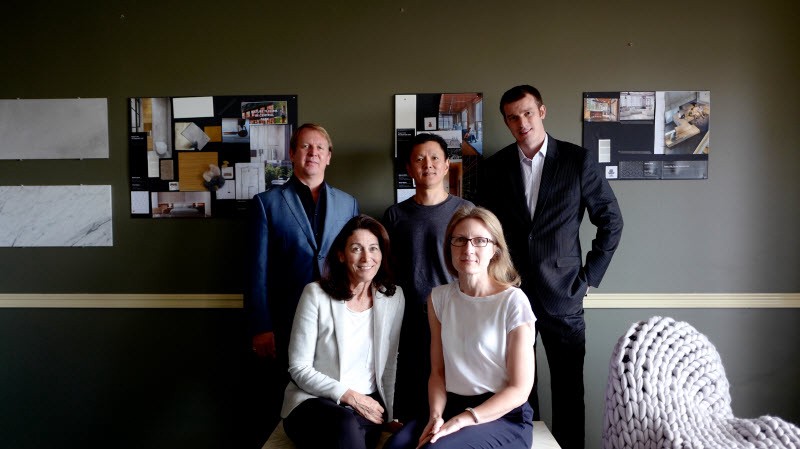 (Back left) Adam Simkins, Andrew Lian, Robert Batrick; (Fron left) Malvina Stone, Nicola Gibson
The interiors will be completely re-imagined. A new 24-hour lobby will connect to the outdoors through French doors opening onto the Elizabeth Quay promenade. Comfy communal spaces will be added throughout including a café brewing up locally roasted coffee and bakery items that will be the cornerstone of the space, and open to guests and local passersby.
Occupying the entire ninth floor will be Perth's first dedicated 24/7 collective work space where guests and locals can convene to work, meet, find inspiration and socialize.
The New Esplanade's top floor will be transformed into an airy, year-round indoor/outdoor rooftop bar and restaurant featuring sweeping views of the Swan River and promenade below. The menu will offer authentic grilled and shared food platters showcasing local produce, paired with Western Australian wines and craft beers. The aesthetic will incorporate the tones and textures of the region.
Louis T Collection will oversee the renovation with Robert Batrick, Louis T's director of project services, as the lead.
"It all comes down to guests creating their own stories," said Adam Simkins, who as co-founder of Louis T Collection draws on more than 25 years of experience in the hospitality industry. "We've taken care of everything on the back-end so that they have the freedom to just enjoy the location and create their own experiences both at the hotel and within the community. Through the hotel we'll bridge the gap between travelers and locals. We'll have the city's first 24/7 co-working space that can be utilized by people living in the city and those just visiting as a place not just to work but to socialize."
To see more hotels around the world who have re-emerged from renovation see our earlier article on The Hotel Stories here.