Hotel Paradis, a lovely and magnificent boutique hotel from GINTO Hotel Group located in the heart of Paris, has taken initiative in supporting their local people and businesses during this fluctuating period.
Taking inspiration from within the 10th arrondissement of Paris, the property has enacted the "Meet our neighbors" project, highlighting the importance of looking out for your community in order to sustain a rich and healthy environment. On their website, Hotel Paradis has begun displaying a number of local and innovative businesses that keep the 10th arrondissement magical and brilliant. From a bakery that has completely reinvented the traditional bakery model, to a hybrid barbershop that also serves tapas and drinks, the hotel promotes a hand-picked selection of local offerings for guests to enjoy a fully immersive experience during their stay, while soaking up the unique ambiance of the 10th arrondissement.
A tribute to their community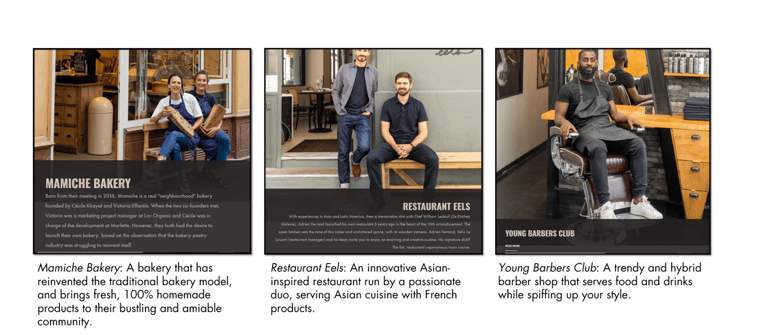 Knowing how much culture and life their neighbors bring to their community and how they could attract more visitors to their mutual area, Hotel Paradis describes each business on their website with personalized affection, care, and fervor. For every day of the week, one of these remarkable ventures and its owners are promoted on the main Hotel Paradis website with a smart note and shout-out.
The "Meet our neighbors" initiative of Hotel Paradis, in addition to their endearing love for their community, is a direct inspiration from understanding how local businesses and attractions can help entice website visitors to make a reservation. By promoting these local services, Hotel Paradis has developed a mutually beneficial relationship for all parties involved.
Creating engagement on the hotel website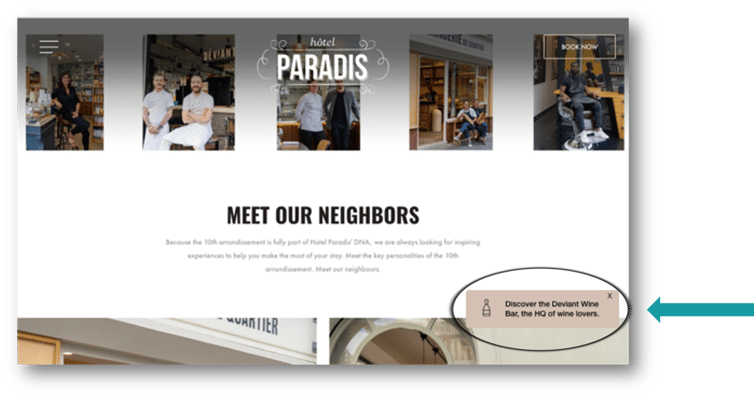 Smart Note displayed on the "Meet our Neighbors" page
As the initiative is aimed at revealing the hidden gems within the 10th arrondissement to further enhance the attractiveness of the neighborhood, Hotel Paradis has found a way to draw attention to each of their chosen craftsmen. Using The Hotels Network's (THN) Smart Notes, the hotel is able to set a sweet message for their website visitors both easily and eloquently.
On each day of the week, Hotel Paradis displays a different note portraying their neighbors; each neighbor, a different day. THN Smart Notes has helped them develop a strategy in ensuring that all their partners are highlighted, further expanding their outreach of their local businesses and attractions to potential guests and website visitors, and attracting a wider pool of local visitors.
"Setting up a way to expand awareness for these businesses that mean so much to us and our community has never been easier. Thanks to THN's personalization tools, we've been able to increase the visibility of our endeavor to a great extent."
- Julienne Kalala, Marketing Director of GINTO HOTELS
In addition to promoting the initiative across their website, Hotel Paradis has expanded their viewer base to the social media platform Instagram. With many people connected to this global platform, most being millennials or Generation Zs, Instagram serves as an excellent marketing tool in promoting businesses and properties.
With over 10,000 followers to their Instagram profile, Hotel Paradis is regularly posting content of their "Meet Our Neighbors" initiative to expose an even wider audience to their community endeavor.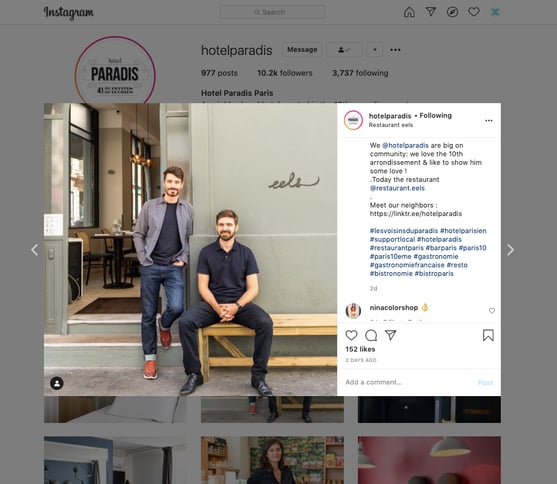 Hotel Paradis Instagram account
Hotel Paradis' initiative in promoting their neighbors and local businesses, in addition to being an inspirational example of what makes our industry such a beautiful one to work in, lets guests and potential guests know the numerous innovative and special attractions around their charming hotel. We are more than proud to be helping them showcase their delightful initiative to the world with our THN products, and look forward to continuing down their unfeigned path!