It's easy to fit inside the box.
But what makes all the difference are ideas and strategies that go past the limits of typical marketing strategies most hotel brands use. It's clear that times are difficult now, with some hotels even being forced to shut their doors, but continued communication and engagement with visitors is key. Leverage this down time to analyze your audience, your competition, your brand and property's strengths. While you're at it, try coming up with some original marketing efforts that could really make your brand stand out. Looking on the bright side, travel will rebound once this is all over. In the meantime, let's get creative so that your hotel is top of mind when demand returns.
How hotels are diverting from the norm with their marketing strategy
There are a lot of hotels out there who are setting themselves apart by being mindful and imaginative. Let's take a look at how these 7 hotels are doing something different with their brand.
An Original Virtual Experience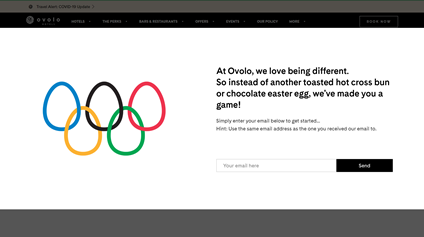 Ovolo Hotels
Proud of being a place full of wonders and distinctive character, Ovolo Hotels have literally stepped up their game by launching a virtual egg hunt. Right in time for Easter weekend, Ovolo launched a virtual Easter egg hunt for their online visitors. Combining a VR view of their Rockstar Suite and a compelling prize for finding the mysterious silver egg (30% off promo code), Ovolo is sending visitors on a fun egg-hunting quest, successfully engaging with them while providing extra incentive to book a stay in the near future. The game mechanism is also a clever way to capture email addresses for future marketing campaigns.
A Digital Vacation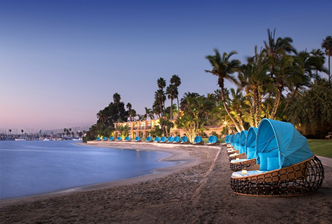 Bahia Resort Hotel
Known for their picturesque location by Mission Bay and idyllic San Diego beach escapade experience, Bahia Resort Hotel have been crafting adventures for their guests since day one. Extending past their geographical limits, they have set up a live streaming experience on their website to bring the Mission Bay getaway vacation straight to guests, no matter where in the world they are. Especially in these times where travel is difficult for most visitors, putting up a streaming or virtual tour experience can give them a much-appreciated escape from their home.
Sensory Experiences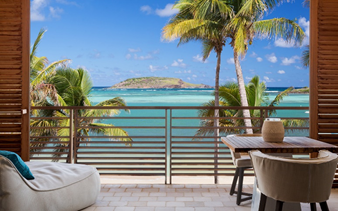 Le Barthelemy Hotel & Spa
Ranked at 25th best resort in the world by Conde Nast Traveler's Reader's Choice Awards, Le Barthelemy Hotel & Spa is known for their beach side retreat and captivating hospitality. Understanding that sounds can do wonders as a sensory experience and using it in an original way to inspire their guests, Le Bathelemy made a clip of the sounds from their beach side available on their website for guests to enjoy. Le Barthelemy fills their guest's needs of tranquility when life may get too real by taking them on a peaceful and purely auditory trip to the beachfront. Sensory experiences can create a significant reaction from potential guests. Even though you may not be able to deliver experiences physically, there are many ways to make a long-lasting impression on your online visitors.
Voice of Empathy

citizenM
Hotels don't just need to focus on their quality of services, but also on the way they communicate and bond with their guests. Known for disrupting the idea of a traditional hotel, citizenM has been forward-thinking in their operations, branding and also their social media efforts. Facing the difficulties impacting the industry worldwide, citizenM understood that now more than ever is the time to communicate with their guests and did exactly that. By posting words of empathy and reassuring messages of what they are doing for their guests, citizenM keep building their content, letting their vibrant brand values shine through. No matter what is happening in the world, it is imperative to maintain the bond between you and your guests, be it through your direct website, email marketing campaigns or social media.
Becoming a Source of Inspiration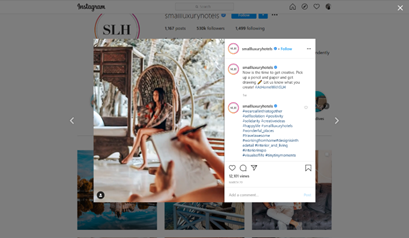 Small Luxury Hotels
We all know that it isn't so easy to keep yourself entertained while staying at home. Most of us out there are struggling to find fresh ideas of what activities to do during long days off being stuck indoors. Small Luxury Hotels has thrown out a couple alternative activity tips and ideas for their guests using the hashtag #AtHomeWithSLH. From picking up a pencil to become the artist you dreamed to be, to interior inspirations for home DIY projects, Small Luxury Hotels has you covered. Creating and delivering content that resonates with your audience especially in times like these are key to nurture a stronger community of followers. We came across this SLH example when reading "Social Media for Hotels in Time of Crisis". Written by our friends at JCMT Agency, you'll find some no-nonsense social media tips and a good dose of inspiration.
Knowing What People Want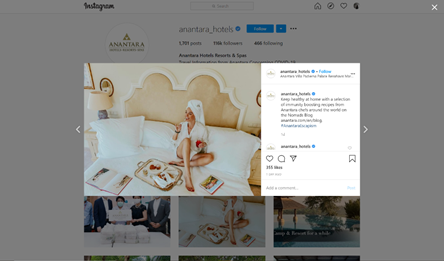 Anantara Hotels
The art of content creation lies in knowing what people want and need. Anantara Hotels have been tapping into that pool during these times when people are seeking ways to stay healthy and keep active. Promoting their recipes to try out at home from their Nomad Blog, giving out future vacation destination ideas, relaxation and wellness tips are only a small sample of what Anantara has offered to help their followers navigate tough times. Showing that you understand what your audience needs and providing a breadth of relevant and inspiring content will keep them curious and eager to see what you have next in store.
Playing With Stories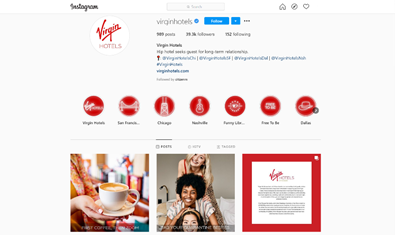 Virgin Hotels
Dedicated to creating a hip space where the doors are never closed and where minds are always open, Virgin Hotels has not stopped to share their charismatic spirit from screen to screen, despite having to close their doors at some properties. Not only have they relayed on-brand and relevant content through their Instagram posts, but also through an innovatively set-up library of Instagram stories and IGTV clips. Through their clever use of Instagram, Virgin hotels has ensured that their motto "Everyone Leaves Feeling Better" has spanned past their hotel premises right to their social media accounts.
A time for action
It's the time to do many things, to get your coffee, think and communicate with colleagues but it's certainly not the time to recoil! Looking at the examples above, hopefully they've inspired you to reflect on what your brand is all about and how you can let that shine through to your target visitors by taking an extra step. Investigate how those around you are renovating and taking advantage of their online platforms; websites, blogs or social media to attract and engage with their audiences. So, don't let another minute go to waste, get those creative juices flowing.