The start of a good Christmas is marked by twinkling rainbow lights above towering fir trees and the festive sound of Christmas carols playing in the background. As Edna Ferber once said, Christmas isn't a season. It's a feeling. This feeling is best described as getting together with loved ones to celebrate and show appreciation by sharing and giving.
It is common for hotels around the world to take advantage of the holiday season as it allows them to show off their brand by using breathtaking decorations and offering unique experiences to draw guests into their magical world of Christmas. It is also the perfect time to show off your brand's creativity. For example, a very popular idea has been a human sized gingerbread house in the hotel lobby where guests can take photos and share them on social media.
Let's take a look at some other inspiring and fun ideas for campaigns this Christmas.
1. Exclusive Christmas Packages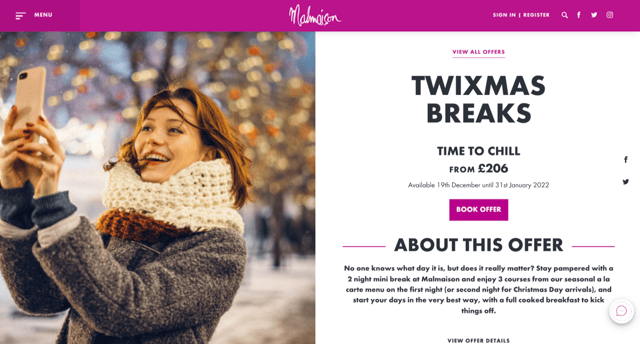 Malmaison Twixmas Breaks
Christmas packages are all about convincing your guests of the benefits of visiting your hotel rather than spending time at home. It is very important to be specific and know who you are targeting with each campaign. If you would like to appeal to families, include perks or activities for children or if it is for adults only, propose a champagne dinner at your finest restaurant.
Malmaison is offering a 2-course dinner at Chez Mal with an overnight stay at Malmaison at a discounted rate. They are also offering a whole series of tempting festive packages with fun names and holiday themes, from the Festive Full Monty package to Twixmas Breaks. The packages vary from 2 to 3 night stays, offering up to 30% off any room, a seasonal à la carte meal and other inviting activities.
2. Christmas Advent Calendar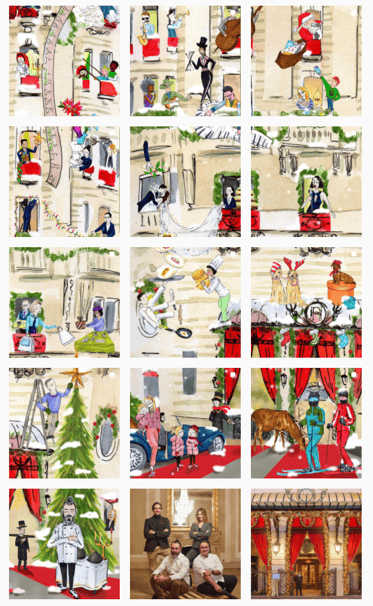 El Palace Barcelona Instagram Advent Calendar
As you know, an Advent calendar counts down the days before Christmas by revealing a special little item or a devotional message each day. The most common one is the one with chocolate. Just as kids get excited to receive their chocolate each day, this a perfect technique to get guests to engage with your brand by providing something new daily which they will look forward to.
A lovely example is El Palace Barcelona. Looking at their Instagram account, you will find some beautiful hand-painted drawings which talk about different aspects of their hotel but all with a Christmas theme. Just like a traditional Advent calendar, each day the brand posts a new drawing. For example, their first post mentioned their new restaurant opening in 2022 with a drawing of their chef, Rafa Zafra.
3. Christmas Raffle or Wheel of Fortune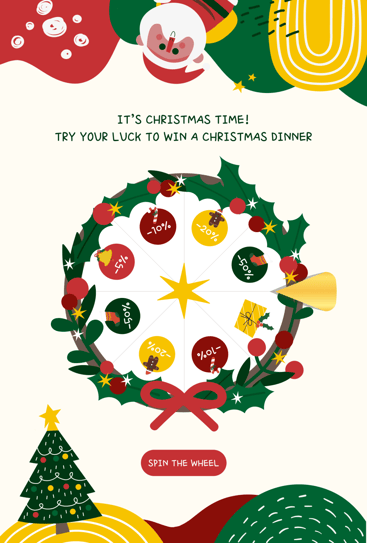 Christmas Wheel of Fortune Template
At this special time of year, it is the perfect occasion for your hotel to give a lucky guest the gift of a unique experience at your property. By creating a competition and making it as interactive and visual as possible, you can draw a lot of positive attention to your brand, especially if communicated well across your social media channels.
One way to do this is using a raffle, where guests fill out a form on your hotel website and receive an email with a numbered ticket to potentially win exclusive prizes. Alternatively you could go for a wheel of fortune, where you pick the prizes and invite your guests to spin the wheel to see what they may have won. There are all sorts of solutions available on the market today that enable you to create these types of interactive campaigns, such as this example of a Christmas Dinner Wheel of fortune.
4. Christmas Story Filters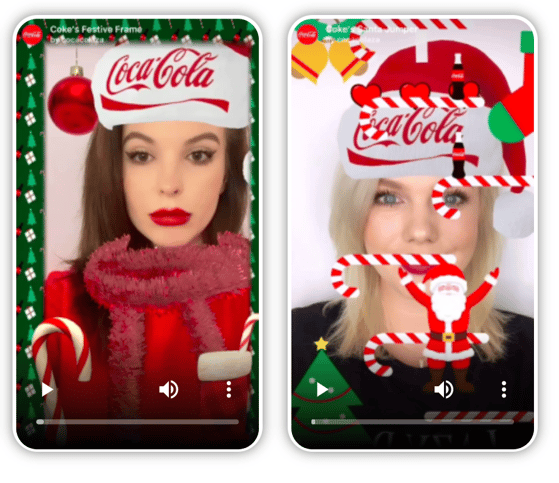 Coca-Cola Christmas Filters
Filters are one of the biggest trends now on social media platforms such as Instagram, Facebook and Snapchat. A fun and creative tool for stories, it lets users change their background and even their face features to match whatever concept the filter is about.
For Christmas, Coca-Cola has added their own personalized Instagram filter to their account for everyone to use when posting stories. There is a fantastic opportunity for hotel brands to do something similar and use this technique to engage with their followers while reinforcing their brand image. By choosing a Christmas theme design and sharing it during the festive season, there is a good chance of being able to get more users to join in the fun and post stories using your branded filter.
There are no limits to what your hotel brand can do to make your Christmas campaigns stand out from the crowd, as long as you bring joy and happiness to your guests!