There may be some reluctance from hotel brands to adopt a sustainable image, as for one it can be costly or inconvenient at the time to change a successful business model for the sake of reputation. However, according to a recent study conducted by GlobalWebIndex, brand users showed an extraordinary dedication to environmentalism with 60% of consumers saying they would be likely to pay more for an environmentally friendly brand.
That's a pretty incredible statistic that hotels can no longer ignore! In these modern times where social responsibility and futurism play such a large role in the minds of the potential booker, hotels must adapt to the changing needs of their customers and go green. Below is an example of a hotel that has taken on board a sustainable motive and are paving the way for the more hesitant brands to do the same.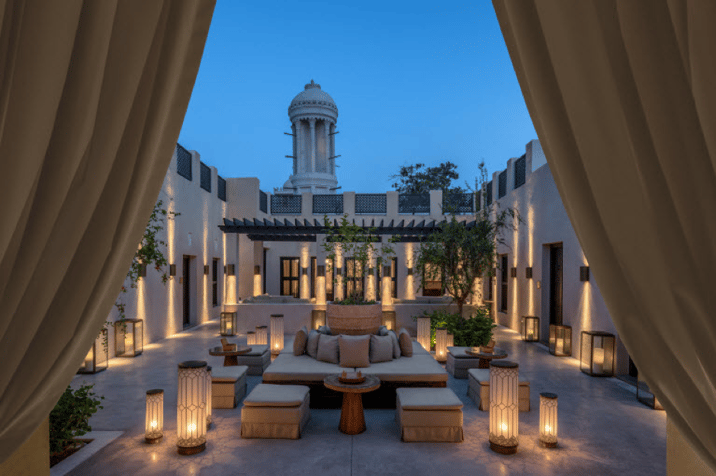 Al Bait Sharjah courtyard
Located on the southern shores of the Arabian Peninsula, Al Bait hotel in Sharjah (a member of the GHM group) was recently named the United Arab Emirates most luxurious hotel 2019 by Robb Report. Al Bait Sharjah is an example of a modern luxury hotel operating with a sustainable backbone. Patrick Moukarzel, the general manager of the Al Bait Sharjah, in a recent interview said "The U.A.E. is on a mission to reduce its carbon footprint by 70% and source 50% of its energy from renewables over the next three decades," ... " We want to help them get there". The hotel is still in its first year of operation, but it is safe to say that they are making leaps and bounds in the sustainability field, something that is playing an integral role in the positioning of the brand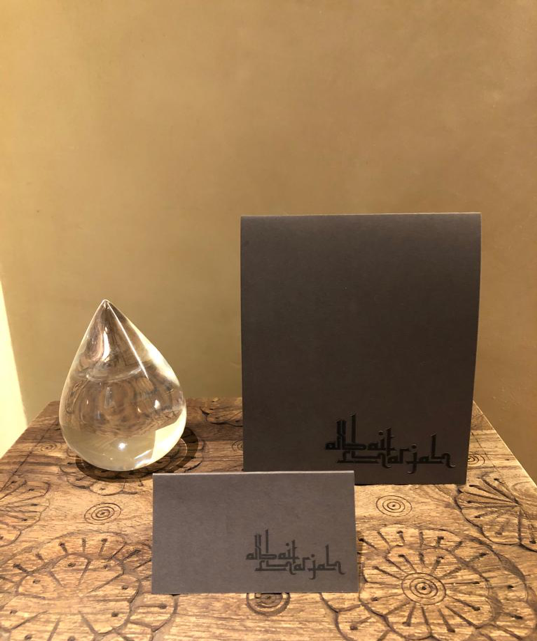 The water droplet sculpture
Since its opening, Al Bait Sharja has practiced a strategy that's banished plastic consumables from the resort and embraced recycling, organics and energy efficiency. Perhaps most famously employing a unique glass water droplet sculpture in all the rooms in the resort asking the guests politely to conserve water by electing to go without changing bed sheets for as long as they are willing to do so. Since the introduction of this artistic concept over 40% of guests have chosen to remain with the same sheets for several nights of their stay.
The hotel functions almost entirely self-sufficiently sourcing its water from its own portable water filtration plant. This filtration and ionisation plant produces a crystal-clear water that is then bottled into glass for consumption by the guests. The money generated from the sale of water at the hotel is donated to the Big Heart Foundation, a charity created to help increase the accessibility of clean drinking water for underprivileged children and more specifically those children forced to live in refugee camps who do not have access to drinkable water sources.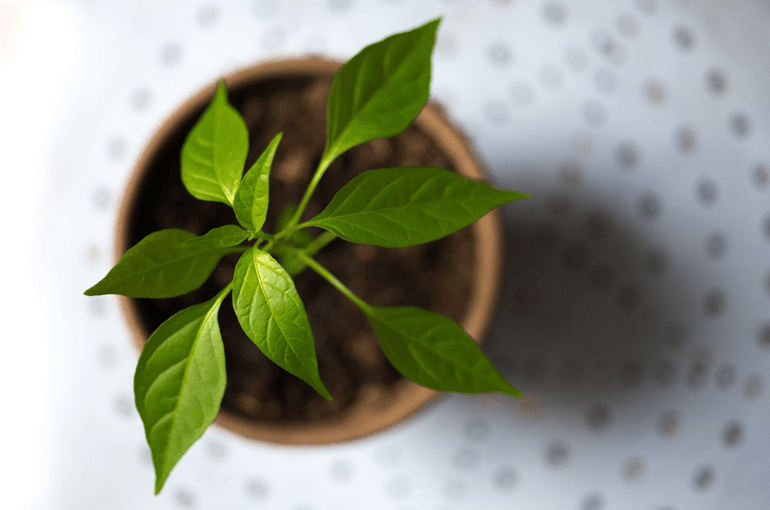 Whilst outsourcing for the environmental disposal of all recyclables used on the resort, Al Bait Sharja use all of their food waste as compost for its landscaping projects ensuring that the hotel maintains its ethical no-waste initiative. All the while minimizing its carbon footprint by controlling energy usage in the property. For example, the air conditioning in unoccupied rooms is set to default to 26 degrees on a low fan setting, and in the less used areas of the hotel, the air conditioning is set to switch off when not needed.
Furthermore, the high luxury spa on the property operates on a strictly organic programme that includes the scrupulous organisation of all of its health products ensuring that none of the consumables in use have any environmentally damaging ingredients. All of its Halal certified products contain no ingredients that are not sustainable to produce, for example no artificial colouring or genetic modification, instructing the exclusive purchase of vegan nail products without the nasty unhealthy components of normal nail products.
This is just one hotel that is making a difference, imagine now a collective community of the world's leading hotel brands all working together towards a greener future, the effects would resound positivity. This hotel is fully eco-friendly, but if there is one thing to take away from this article, it is inspiration. Let Al Bait Sharja be the motivator in your mind to do the same. Even if it's simply cutting down on plastic usage, or washing towels, every little helps.
In the short period of time that they have been open, they have marketed their brand as an eco-friendly machine and as a result, have drawn the attention of environmentally conscious luxury travellers from across the world. Al Bait Sharja do an excellent job of marketing this approach as a unique take on modern luxury hospitality, and as a result they have set themselves aside from other luxury options in their area.
It is essential for hotel marketers to approach their idiosyncrasies with confidence and show the world their uniqueness. One great way to do this is via the platform that the majority of guests use - the website. Personalize your hotel website and give out the messages that you want your users to know. It's all about engaging them with content that reinforces your brand's unique selling points and encourages them to make a booking. So if your hotel brand does go green, make sure people know about it!