Today we are constantly reminded about our impact on the environment and the devastating affect we've had on our planet, from pollution, to plastic waste build up, natural resource usage and sadly much more. Like most industries the tourism industry is a big contributor to this global issue, putting pressure on the environment and often threatening natural areas around the world.
So what are hotels doing to lessen their impact?
While many have adopted small scale initiatives such as reusing towels, energy efficient light bulbs and more (every little helps!), there is one hotel group leading the charge, with a large scale environmental pledge implemented across all of its nearly 200 hotels.
Nordic Choice Hotels, one of the largest hotel groups in Scandinavia (which includes chains such as Clarion Hotel, Comfort Hotel and Quality Hotel), recognizes that by being part of society they are by default contributing to the burdening of the environment. But instead of just pondering over this issue they've taken responsibility for this fact and decided to be part of the solution, setting high standards for all their hotels and partners. Not only is the pledge helping to reduce environmental impact at each property with sustainable measures, but it's also imparting positive staff engagement and keeping guests happy.
"Our goal is to protect the environment by reducing residual waste, using less energy, reducing water consumption, minimizing the use of chemicals and making sure transportation to and from our hotels is kept to a minimum. We want to reduce our ecological footprint and set an example for others to follow on how to run hotels and be environmentally sound."
- Nordic Choice Hotels Environmental Commitment
The company's Director of Communications Mathilde Vik Magnussen tells us that all 190 hotels under the Nordic Choice Hotels brand (including all Comfort Hotels, Quality Hotels, Clarion Hotels and its 23 independent hotels) are bound by the environmental pledge and that they focus on six main areas to make a difference.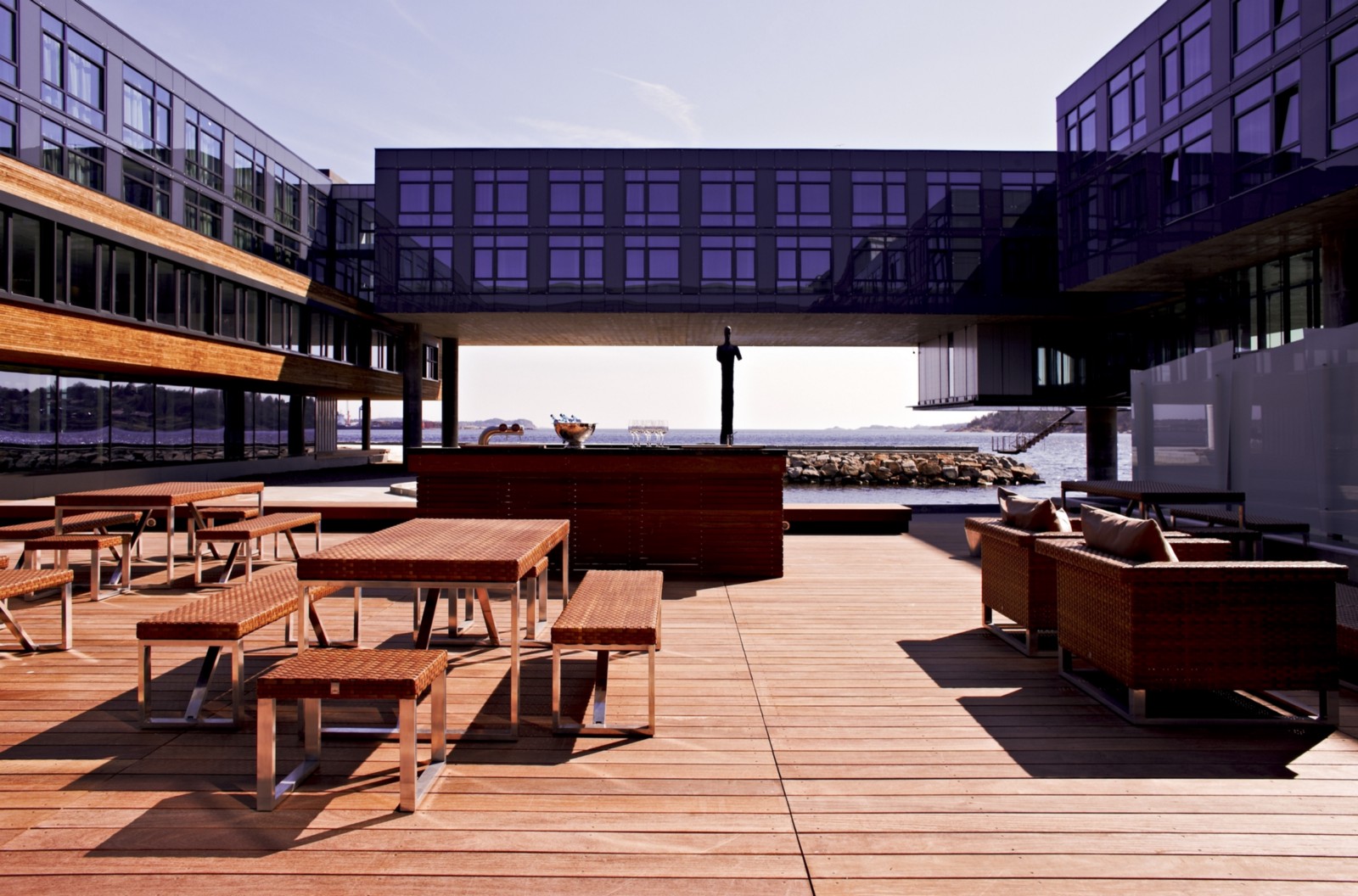 Farris Bad — a Nordic Choice independent hotel
"This includes ISO 14001 certification of all our hotels, meaning we continually have to improve our numbers in areas such as waste, energy consumption, and water use," she says. Of the other five areas, she tells us this includes sustainable food options (such as policies on red listed species, ecology, sustainable palm oil and food waste) as well as ethical trading and local initiatives at each hotel.
With a large-scale commitment like this she comments that of course transparency is required, with the hotel group publishing an annual report including a triple bottom line in areas such as people, planet and profit. The 'planet' part includes details on water consumption, emissions, food wastage and initiatives including the minimum sustainability criteria for suppliers and green initiatives such as a partnership with electric car brand Tesla Motors. Tesla provides Nordic Choice Hotels with electrical car charging boxes for free, in exchange for the hotels paying for the installations.
So are guests travelling there for the green initiatives? Mathilde says, "Absolutely. Guests book our hotels because they want to travel in a sustainable way, and notice that awareness of ethics and sustainability in regard to the hotel industry is on the rise. Customers and guests do not only give us valuable and encouraging feedback, but increasingly request that we document and demonstrate how we incorporate these issues in our operations."
The company's Deputy CEO, Bjørn Arild Wisth, also speaks passionately about the group's environmental commitment, telling us that the impact goes far beyond green initiatives and putting in place sustainable practices. Not only are the hotels forging ahead to reduce their carbon footprint, but on the other side of the coin staff are passionate and fully engaged, and guest experience is improved. "The impact of our initiatives really starts with our staff and then finding the right balance where hotels can sustain profitability, provide good service and the guest has a great experience. Hiring the right GM is vital. We have 193 at Nordic Choice Hotels and they are the most important people in pushing things forward."
On what else hotels can do to push sustainable initiatives, Bjørn adds that it's essential to engage your guests at all possible touch points (check-in / check-out, webpage, apps etc.) with all initiatives. Adding incentives to loyalty schemes for choosing green options is also a great way to engage. More points are offered to guests for choosing sustainable practices.
So what are some of their individual hotels doing?
Bjørn tells us that each hotel has its own initiatives as part of the environmental pledge — relative to its own location and for the wider good. The Hotel Stories talks to two Nordic Choice GMs to find out what these are.
Johanna Furenbäck is the GM at Comfort Hotel Børsparken, located in Norway's Capital of Oslo. The property has 248 rooms and boasts the Nordics first Crossfit gym to be housed in a hotel (as part of an all round better living initiative). For its commitment to Nordic Choices' environmental pledge, she tells us that her hotel focuses both on its environmental impact (with a focus on reducing water usage, food waste and chemicals) and on its own social responsibility. She tells us that one initiative is centered around the hotels Comfort deli in a bid to drastically reduce food waste.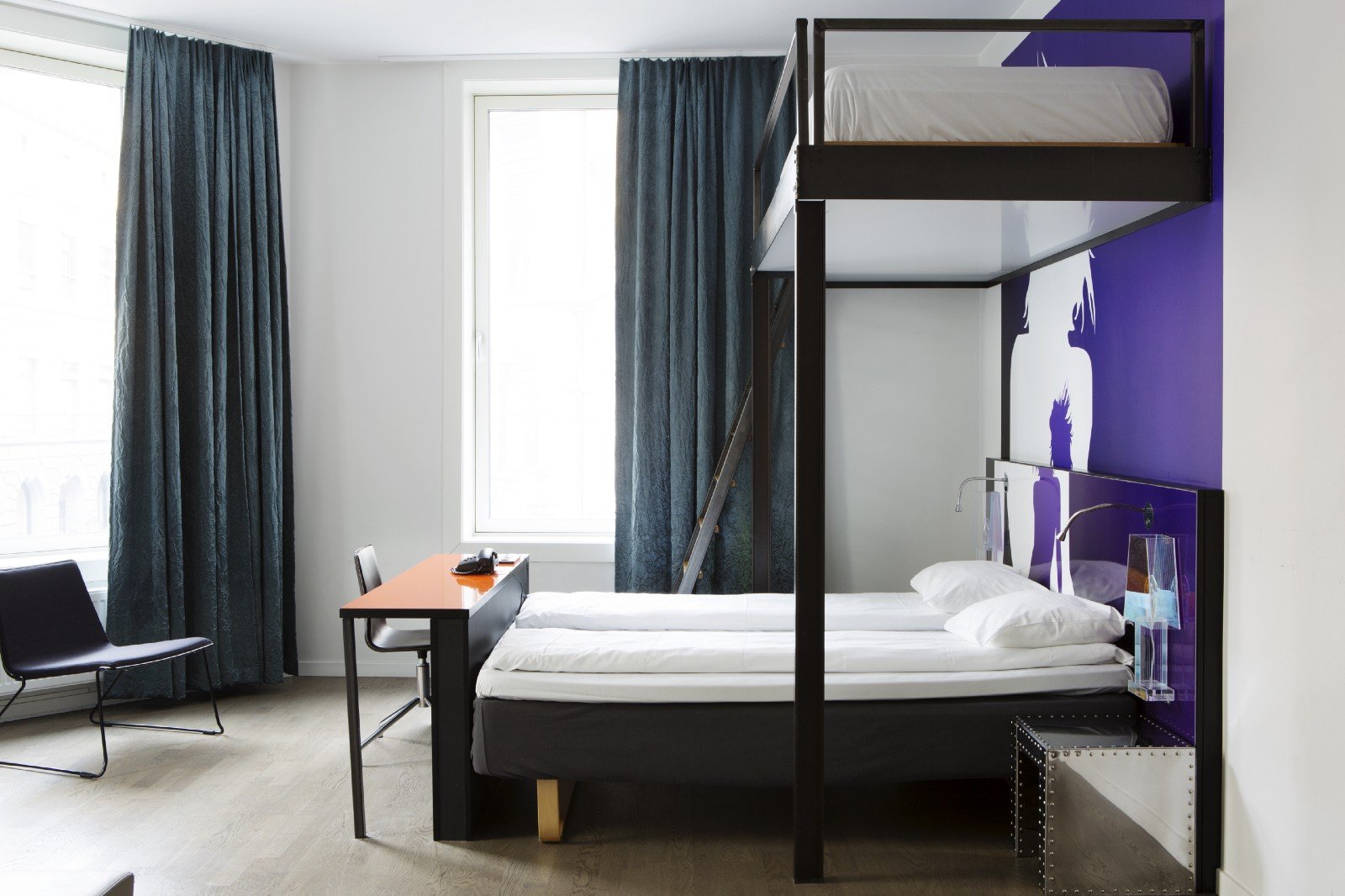 A room at Comfort Hotel Børsparken (photo Inger Marie Grini)
"We produce products that we sell in our Barception (lobbyshop) which includes any products that did not get served at breakfast — for example sandwiches, fruit, yoghurt cups and salads. We also produce products for other Comfort Hotels in Oslo, but instead of delivering these by car (and contributing emissions) we use a bike for all deliveries. We reduce the amount of transport and food waste at the same time."
Smaller plates are also offered to guests at breakfast time — with the message 'eat as much as you want but don't throw away food' — in other words to eat what you take.
Another area Johanna also looks at is taking note of how many people are staying in each room. "Since most of our hotel rooms contain two beds or more we are focusing on how many people are actually staying in that room. Normal procedure would be to make the bed for two in a double room but now (if there is only one occupant) we only put one pillow, one duvet and one set of towels. Saving water and chemical use by not having to send two sets to our external cleaning company makes a big difference."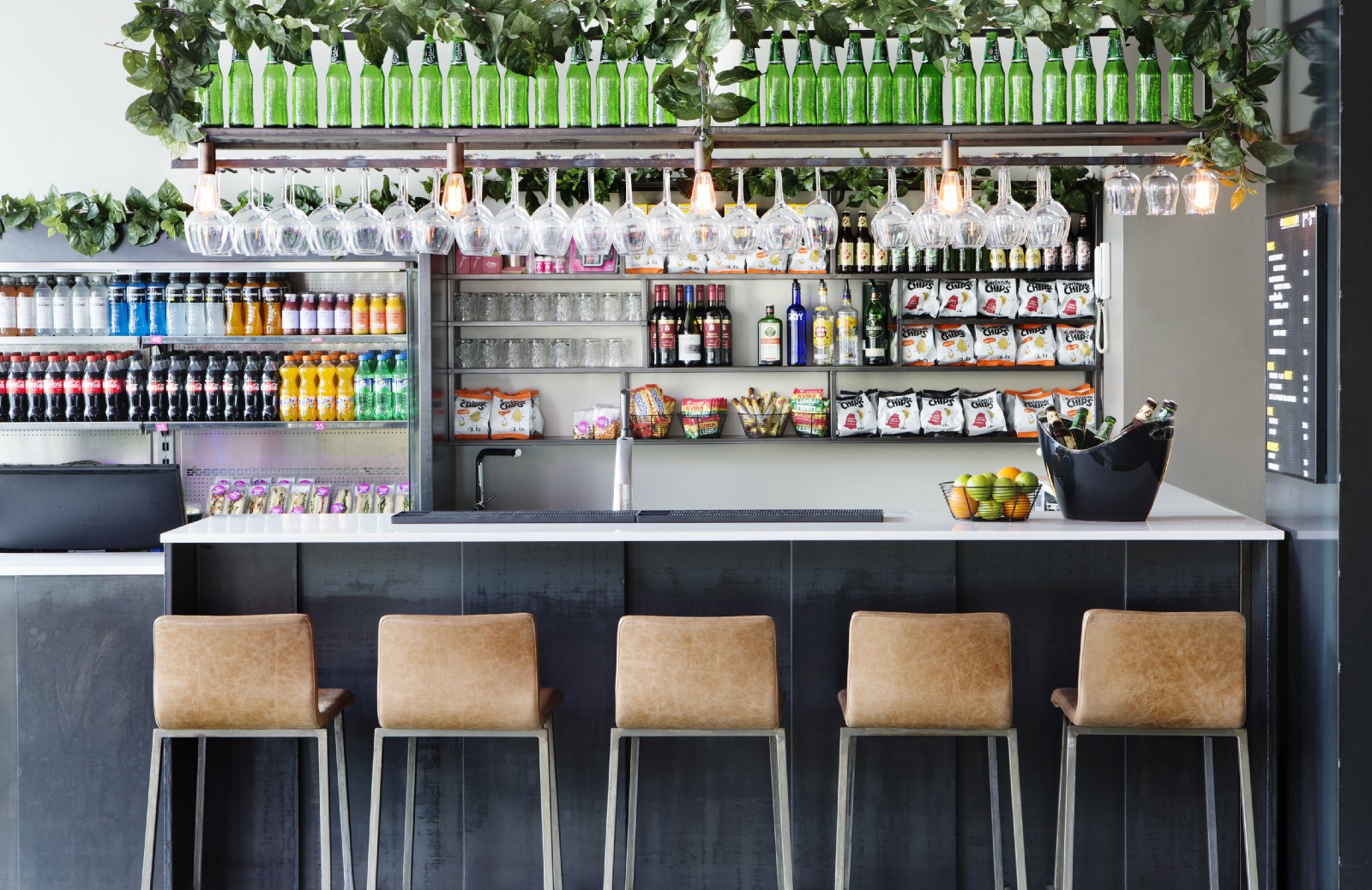 Barception / Lobbyshop (photo Inger Marie Grini)
Comfort Hotel Børsparken promotes environmental issues and initiatives openly, with signs around the hotel for guests to take note of. On whether guests appreciate these actions Johanna says: "absolutely, these initiatives are important to the modern guest and we often hear comments about our projects."
Mattias Stengl is the GM of boutique design hotel HOBO located in Stockholm. The hotel has 201 rooms and also doubles up as a meeting point for workers looking to take advantage of its relaxed feel and prime location. To reduce environmental, impact the hotel looks at three key areas including saving on water, urban farming and food wastage initiatives.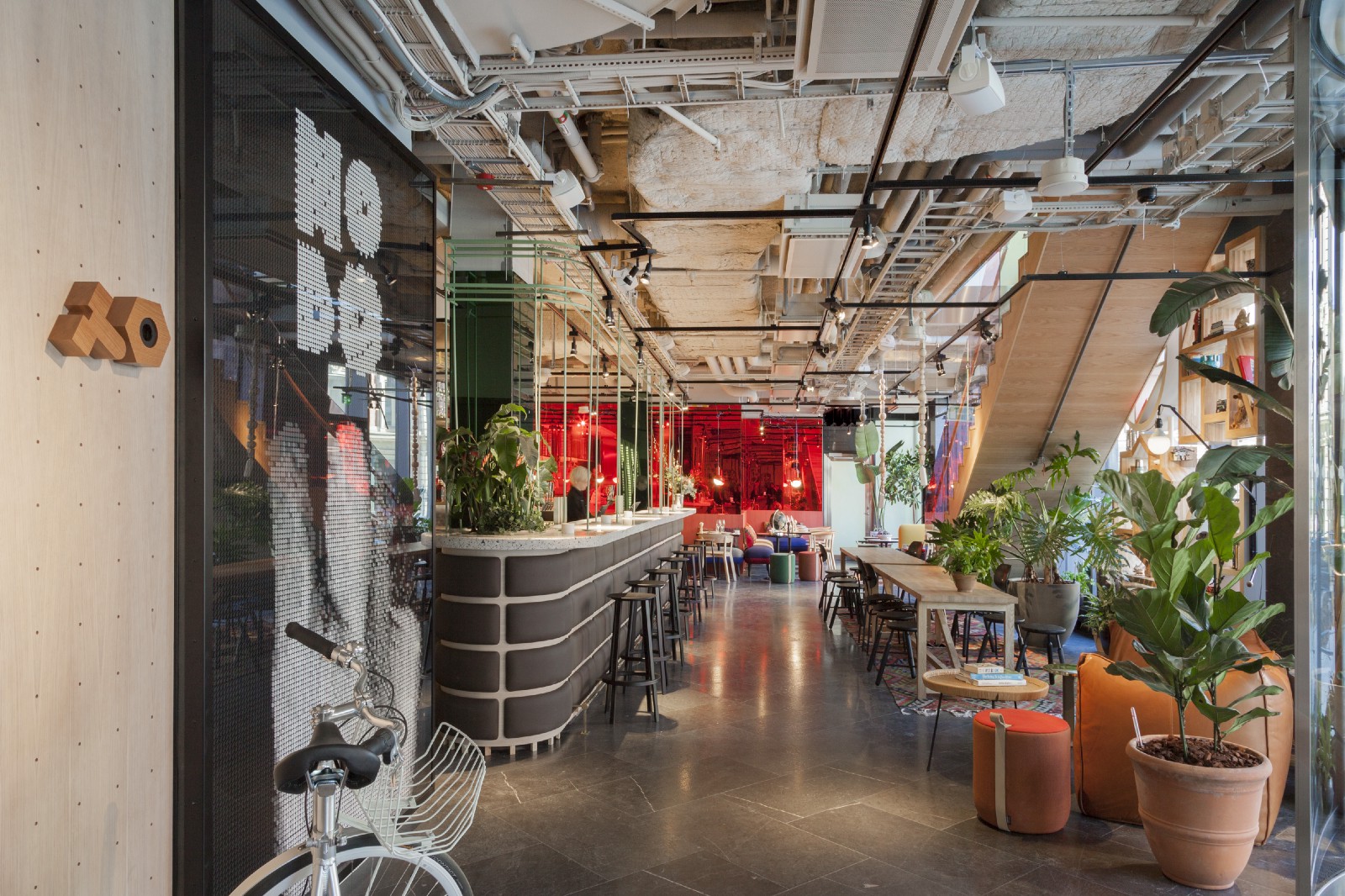 HOBO bar / restaurant
Mattias tells us, "At Hobo we let guests tell us when they want their rooms cleaned. You need to hang the "please clean" sign on the door before 11:00 otherwise we don't clean it. By letting the guest decide we have reduced 'stay cleaning' by 70%. We use less water, less consumables and on the flip side we let the guest decide what they want."
"This is just one example of how you could do things not only because it's good for the environment but also to increase guest satisfaction — providing services for a generation that increasingly wants to make their own decisions and contribute to a better world to live in.
We get a lot of positive feedback for this initiative and for us it has been very important that every guest really understands the concept. We inform guests at check-in and there is also information in our elevators and in-room."
Aside from housekeeping HOBO also looks after its own urban farming initiative with 11 sqm where they grow their own herbs in the lobby. The herbs are later used in cocktails and in meals within the restaurant. "Since it's only 11 sqm we are not self-sufficient, but this is our way of saying that we are not going to wait until urban farming is 100% developed, we believe that it will play an important role in tomorrow's urban cities and we want to try it out now. So far it has been really good for us — firstly it draws guests attention (because it's beautiful) and when we tell them that we also use the herbs in cocktails and food for sustainability they are more likely to try our bar and restaurant," said Mattias.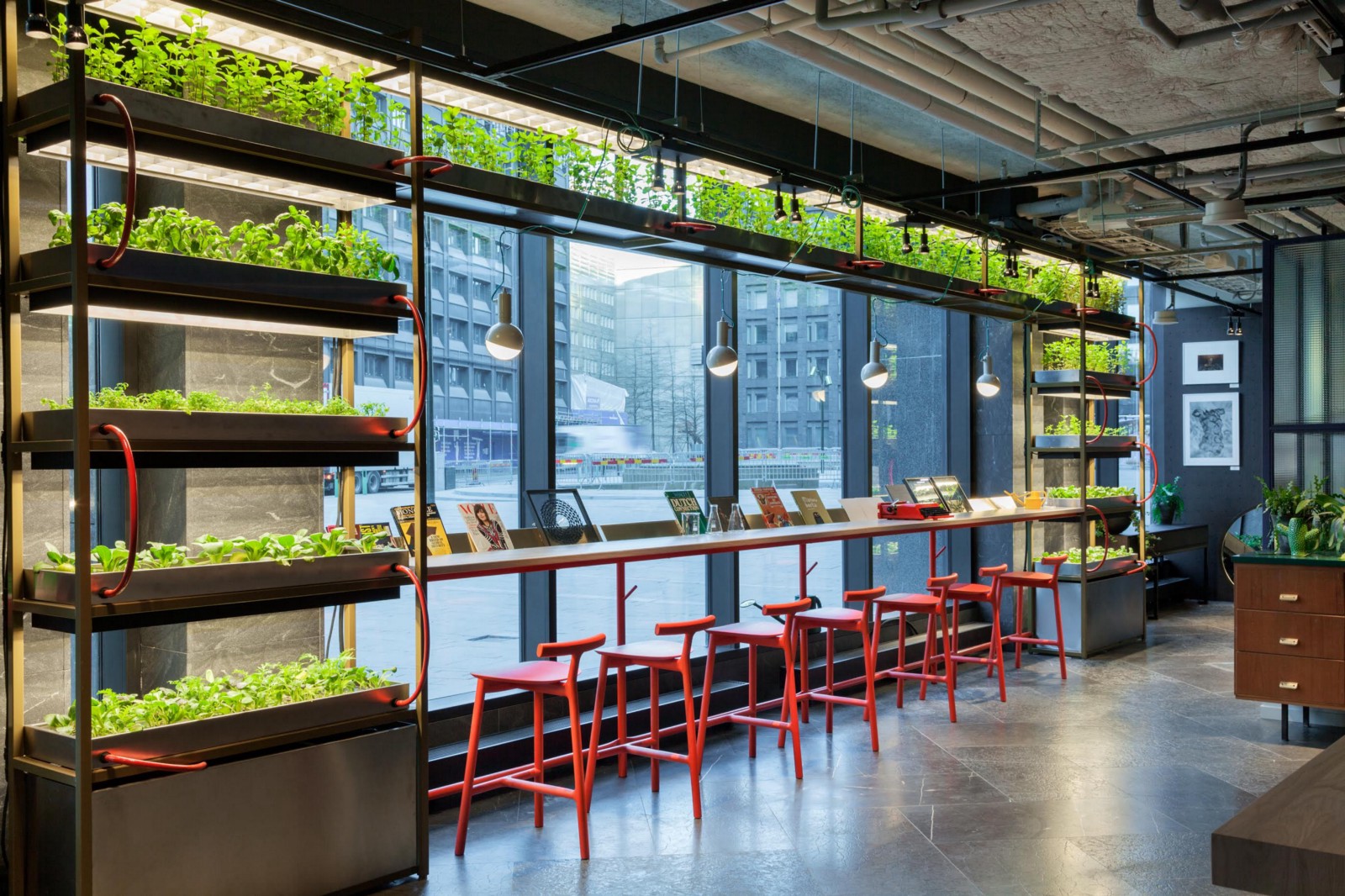 Urban Farming in the lobby at HOBO
Breakfast at HOBO is also all organic, and similar to Comfort Hotel Børsparken smaller food items and portions are encouraged for guests to leave less food wastage.
"Our guests definitely respond positively to the fact that we care about the environment and I think that is one of the reasons why they choose to come back to us. At the end of the day it is about hospitality, you need to feel welcome and taken care of and I think you need to add sustainability as a KPI when you measure 'taken care of'.
People understand we need to do something to make the world a better place and they make conscious choices every day to help in doing this. Our hotel can be part of that," concluded Mattias.
There are many more Nordic Choice Hotels that we could include here for example Clarion Hotel Post Gothenburg reducing plastic waste with a plastic compressor and even setting up Climate Conferences this autumn / fall to further spread the message. The fact is there's much to learn from Nordic Choice Hotels — bringing positive environmental change to light in the hotel industry.
What to share your story? Contact us here and we'll be in touch!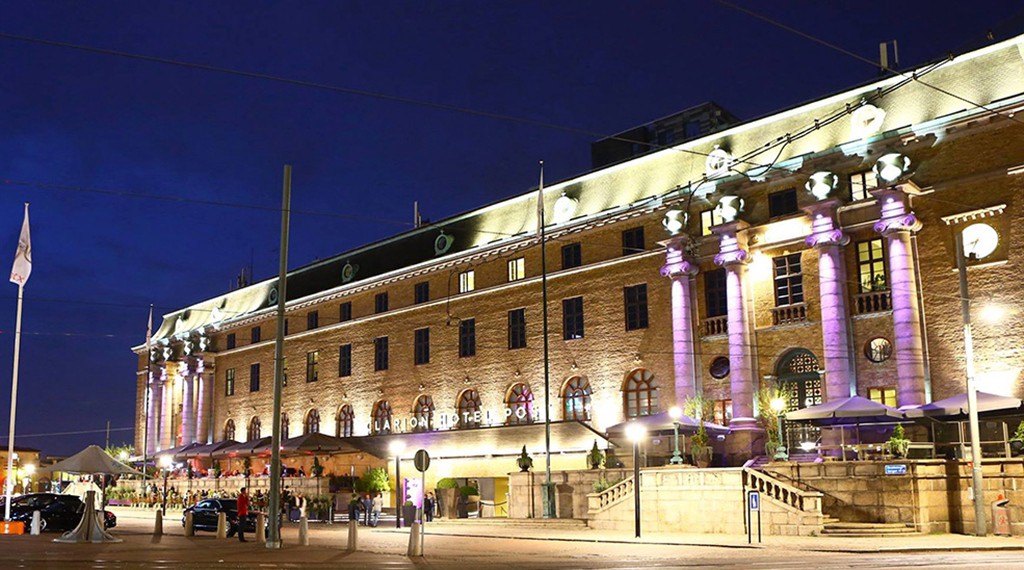 Facade of Clarion Hotel Post Gothenburg