In today's travel landscape, it's no secret that pet owners are seeking accommodations that warmly embrace their furry companions. Surprising statistics reveal that more than half of travelers (60%) worldwide now take their pets with them when they holiday. Furthermore, a staggering 25 million dog owners bring their beloved canines along for a vacation in pet-friendly hotels. With 81% of pet parents preferring to stay in pet-friendly accommodations over alternative options, it's clear that catering to this growing demographic is a golden opportunity for hoteliers.
To capture this audience, hotel websites need to effectively communicate their pet-friendly services and facilities. By showcasing these offerings in a compelling fashion, hotels can persuade pet owners to choose their property for a memorable and hassle-free getaway with their furry friends.
Let's explore some practical techniques that will help you improve your website's messaging and encourage potential guests to opt for your hotel, known for its pet-friendly welcome.
Welcome Visitors With a Personalized Message
A tried-and-true way to engage visitors from the moment they arrive on your direct channel is by extending a personalized greeting. Imagine a visitor landing on your website and being met with a warm and inviting message that highlights the welcoming atmosphere your hotel provides for both pets and families. This type of message helps to forge an emotional connection, reassuring pet owners that their cherished animal companions will be valued guests at your property. Pairing this communication with an exclusive incentive, such as a 10% discount for booking directly, spurs visitors to take immediate action, increasing the likelihood of conversions and direct bookings.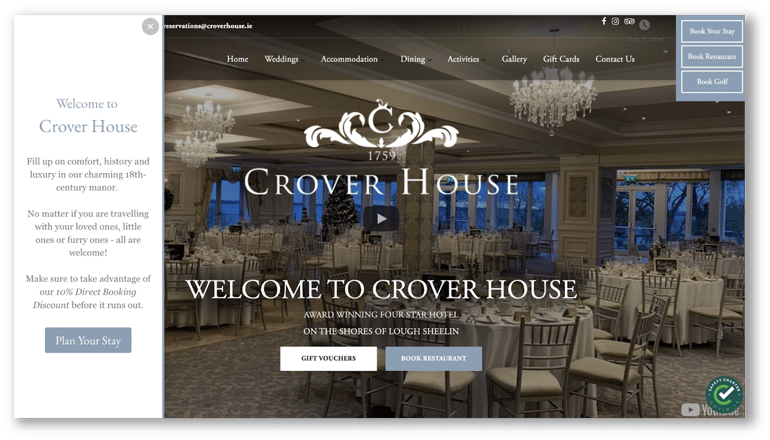 Welcome message promoting the hotel's pet-friendly approach and direct booking incentive
Guiding Visitors Towards the Booking Engine
Connecting with visitors at every step of their website journey plays a pivotal role in steering them towards the booking engine. Incorporating subtle messages strategically across your website can effectively direct visitors towards making a reservation. For example, a carefully placed Note can gently encourage visitors to take the next step by highlighting the scarcity of available pet-friendly rooms and urging them to secure their preferred dates. This type of message serves as a reminder and motivates visitors to take action, ultimately leading to an increase in direct bookings.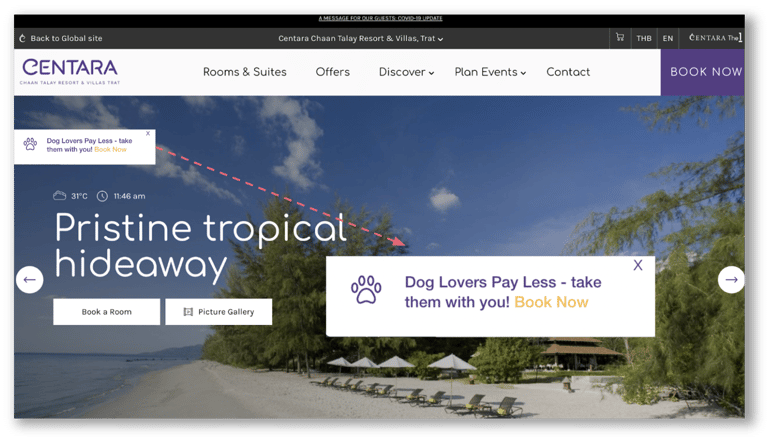 Note steering visitors from the homepage to the booking engine
Seamlessly Incorporating Messages Within Your Website
Who wouldn't want their pup to be treated to some pampering? To effectively promote your hotel's pet facilities and services, messages should be seamlessly incorporated within your website's design. Employing colors and fonts consistent with your brand identity allows these messages to seamlessly blend in with your overall aesthetics, creating a coherent and visually appealing experience for visitors. For instance, embedding a message within the booking engine that highlights your hotel's dedicated pet concierge and customized amenities reassures pet owners that their four-legged friends will be well taken care of during their stay. This form of communication enhances the user experience and encourages visitors to choose your hotel over competing options.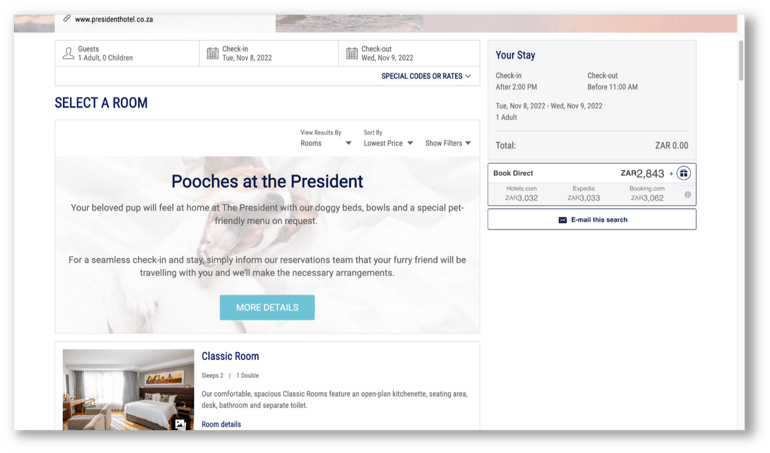 Inliner seamlessly incorporated within the booking engine promoting pet-related services
Maintaining Engagement Through Compelling Exit Messages
Could anyone resist this adorable face? Capturing the attention of visitors who are about to leave your website is crucial for increasing direct bookings. Using Exit messages provides a last-minute chance to engage with potential guests. For example, an exit message featuring an enchanting dog image, accompanied by an enticing offer such as a best rate guarantee and flexible cancellation policy, has the potential to grab the visitor's attention and persuade them to reconsider. Even a simple yet charming image can capture the attention of website users by appealing to their love of animals, then further sway them with your property's unique direct booking perks and benefits. This might be the decisive push needed to convince visitors to stay on your website and complete their reservation.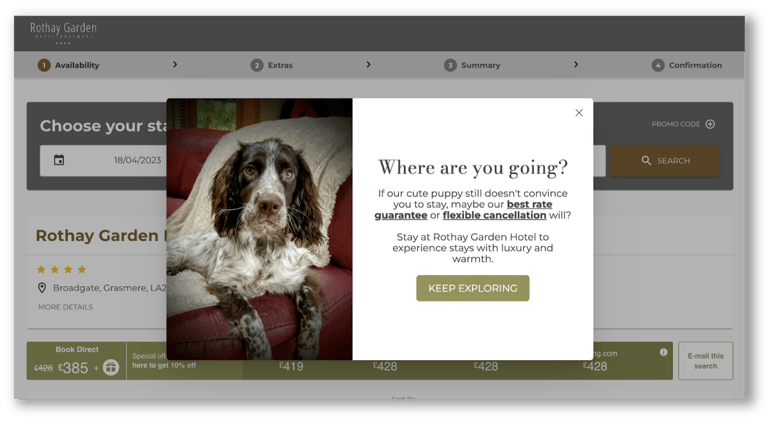 Exit message grasping user interest with appealing imagery and exclusive hotel perks
Mastering the art of conveying your hotel's pet-friendly services and facilities through your website is a fundamental aspect of attracting pet owners and setting your hotel apart from the rest. By welcoming visitors with personalized messages, guiding them seamlessly towards the booking engine, harmoniously incorporating brand-aligned messages, and grabbing their attention with exit messages, you can forge a compelling and immersive website journey that culminates in direct bookings from pet-loving travelers. Employ these tactics to stand out in the fiercely competitive market of pet-friendly hotels, capturing the hearts of pet owners and propelling your conversion rates and direct revenue to new heights.