Actual hotel bookings may still be relatively low, but visitors are starting to look and explore for future stays, an indication of growing and pent-up demand for travel once restrictions are loosened. As some markets are seeing the first green shoots of recovery, it could be the perfect time to shift your attention to build and nurture a strong community of potential guests for future marketing actions. By collecting opt-in emails directly on your website, you can easily keep subscribers updated by email about any developments at your hotel or exclusive offers.
Growing your hotel brand's email list
The first step to an effective email marketing strategy is growing your hotel marketing database and that's where The Hotels Network can help. With our Email Capture solution, you can launch personalized campaigns on your hotel website to capture email addresses from potential guests. Offering the option to apply targeting rules and customize the aesthetics, the tool is the ideal way to attract newsletter and membership programme subscriptions. As always, all the relevant data is available in an interactive Dashboard so you can see exactly how your campaigns are performing and better understand what messages are converting the most.
Flexible and totally integrated, the Email Capture tool can completely change the way you collect emails on your hotel website. To get started, here are some examples of how to get the most out of our newest feature.
7 tips to optimize how you collect emails
1. Design beautiful forms that grab the visitor's attention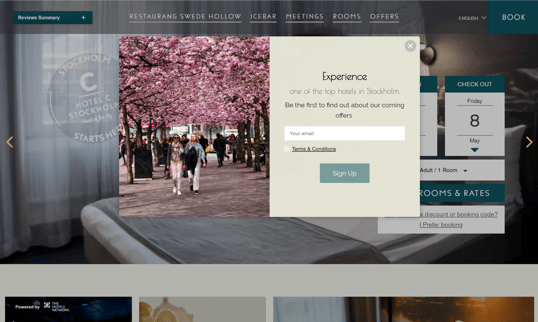 It's important to keep your brand image in check and consistent at all times. Aware of this, we want your message to perfectly fit with the aesthetics of your hotel website. Choose from various display formats including Layers, Exit Intent and Inliners to showcase your subscription form. Customization doesn't just end there. Aside from colours and fonts, upload an attractive photo that fits with your brand identity to connect with visitors and grab immediate attention (and emails!).
2. Apply targeting rules to personalize the message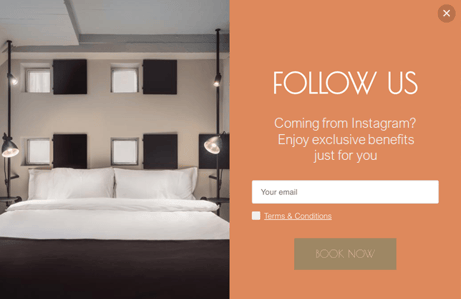 Customizing the design of the message is only the start. The real value comes from being able to personalize the messaging for different visitors by applying targeting rules. Segment your traffic by criteria such as country, source or booking value to ensure that you are showing the right message to the right users at the right time. The above example shows a message specifically designed for Instagram followers and only shown to traffic coming from that media. With targeting rules mindfully planned and set in place, you'll see how a personalized message can boost your subscription conversions immediately.
3. Adapt messaging to the current situation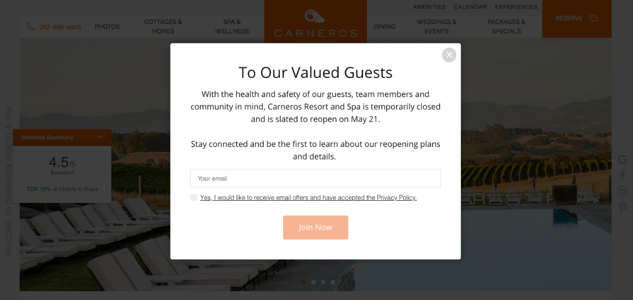 It's clear that we're living in an unpredictable world right now, and so relevant updates about the current situation at your property should be communicated throughout your website. If your hotel is closed, encourage potential guests to subscribe to your newsletter so that you can keep them informed about plans for reopening and other developments. Adapt your messaging to reassure guests and keep them engaged with notifications coming directly from you.
Display your messages at key touch-points along the booking journey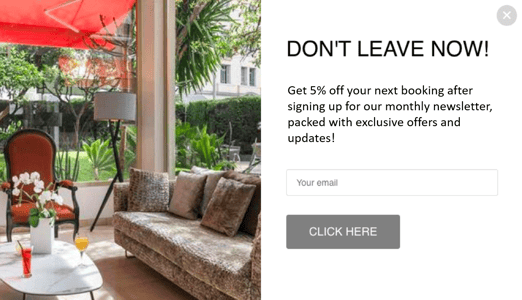 Email capture messages can be displayed to engage users at different points of the booking journey depending on the objectives you have in mind. Looking to reduce bounce rate on your homepage for a specific channel? Use a Welcome Layer with an integrated form to catch the eye of those who land on your website from that channel. Or are you looking to find a way to re-engage with visitors who are about to leave your website? To help keep them on your website, why not try displaying an Exit Intent message with an exclusive discount for subscribing to your newsletter?
5. Tell visitors exactly why they should subscribe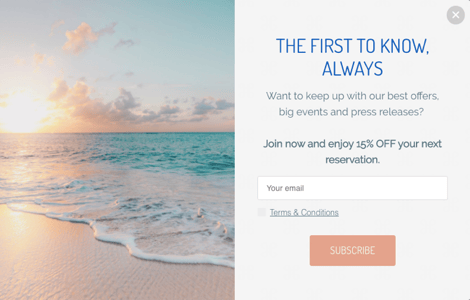 The "what's in it for me" factor is key when trying to convince visitors to subscribe to your newsletter or hotel loyalty program. Make sure you let them know how they can benefit from signing up, perhaps by offering a discount on their next booking, a room upgrade or a series of member-exclusive benefits? It's all about giving visitors a good reason to subscribe. People today are also becoming more and more cautious about the safety of their personal data, so don't forget to make it crystal clear that you won't be sharing their data with anyone else.
6. Prompt visitors to take action using a 1-click promocode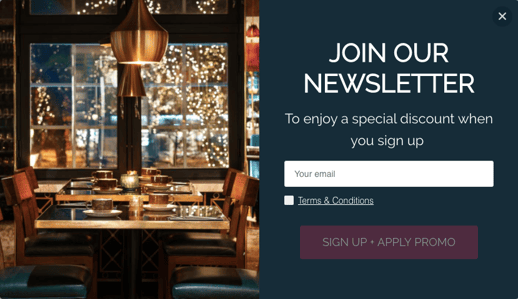 Many visitors may not be so open to signing up at first but offering them a discount off their next hotel booking is a great incentive to get their email addresses into your database. By displaying a 1-click promocode, the price reduction will be applied automatically within the booking engine and increase the chance of an immediate booking – it couldn't be easier!
7. Use A/B testing to get the best results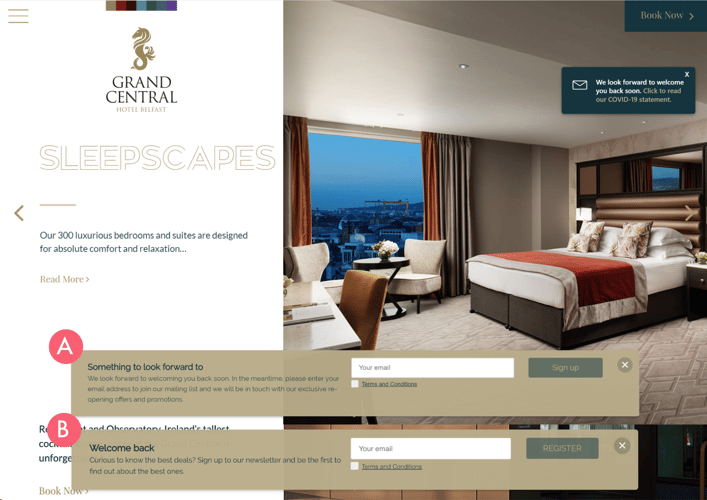 Taking advantage of A/B testing is all the rage when it comes to optimizing your hotel website and the same goes for displaying your personalized email subscription messages. Create different versions of your email capture form to test how your visitors react differently to each one. Thanks to A/B testing, you'll be able to know what works the best for your brand so you can achieve much higher conversion rates.
There are a multitude of ways to encourage website visitors to give you their email address but as always, you'll reap the returns of personalizing any campaigns you run. From the messaging and design to display and targeting rules, it's up to you how you want to try to captivate visitors. No matter if your property remains open or has been closed, your direct channel should be up and running, ready to capitalize on any hint of recovery. So why not take advantage of our latest product development to start growing your email audience and turn today's lookers into future bookers?
For more examples, check out our latest case study and discover how hotel brands around the globe are effectively growing their marketing database in a quick and easy way.