Recent studies keep pointing to the fact that consumer behaviour is changing — reverting favour back to booking direct through hotel brands rather than through OTAs. Successful direct bookings campaigns have played a huge part in this shift, coinciding with hotels better equipping themselves with the right tools (e.g. The Hotels Network suite of tools), and marketing tactics to compete with OTAs and draw customers back.
Incentives to book direct and promotional campaigns have worked well to attract new loyalty members, and hotels have subsequently seen revenue increase as the cost of campaigns fall short of commission lost to bookings through OTAs. Customers are happier with the complete service provided when dealing with the hotel direct, and hotels have worked hard to add more informative elements to brand websites (e.g. price comparison or review widgets) to offer browsers everything under one roof.
But now travellers are more aware of the upside of booking direct, are you continually working hard to communicate this message clearly and effectively? Now the change has been made it's vital for hotels to keep hitting the message home, with clear calls to action on hotel websites, and clear reminders as to why its best to book direct.
Here we show you three hotels doing just this — and the approach doesn't have to be complicated.
The Irish B&B
Irish bed and breakfast Barnadown B&B is a rural retreat in the South East of Ireland near to the town of North Wexford. As part of their direct bookings campaign, the small hotel promotes direct bookings from arrival on its website — with a clear call to action button on the websites top right hand corner. The 'Book Direct' button is highlighted to stand out from any of the other top tab buttons and is certainly eye catching.
The hotel owners have kept it straigtforward — on scrolling down to room rates it simply says 'book direct for the best rates guaranteed' followed by a list of prices for different room types. There is then a call to action to book and services and facilities are then listed clearly below with an emphasis on free wifi.
While not the most advanced website setup, this is a no frills way for a small property to communicate clearly and directly with guests as part of a direct bookings campaign.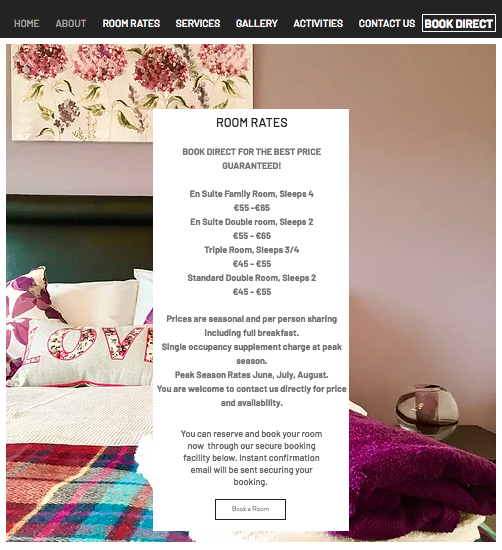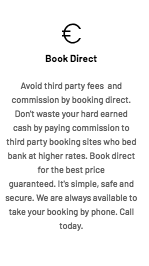 Communications should then be up-weighted with similar messaging in email marketing and on social media platforms for a wider campaign. Barnadown recently released this video promoting direct bookings on its twitter feed as an additional fun element.
The London landmark hotel
Even a landmark hotel like The Ritz needs its own direct bookings campaign. Strange you might think, but as a staple hotel and one of the most famous in London, you can expect more guests would plan on browsing the website direct before making a booking.
The Ritz therefore is ready and waiting, with an explanation as to why guests should book direct rather than leaving to search OTA sites for cheaper rates.
On arrival on the website at the book now button is a tab saying 'why book direct?'. On clicking on this tab, a pop-up clearly lists all the reasons you should, from 'the lowest rates possible' to 'most flexible cancellation costs', 'use of actual Ritz reservation specialists' and more. You can then find out even more advantages by clicking on the 'find out more' button which takes you through to a detailed list of benefits.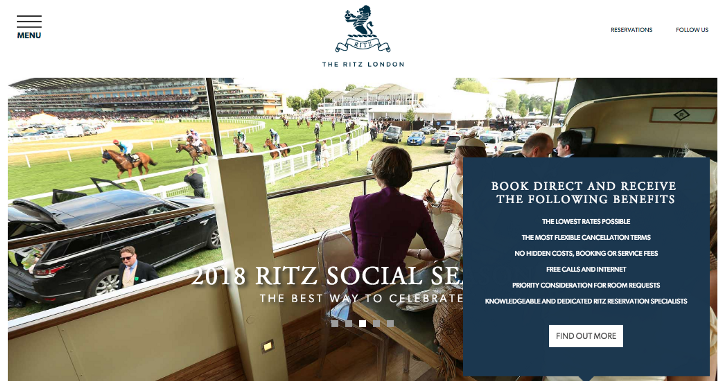 The luxury Portuguese hotel group
Last but not least, luxury Portuguese hotel group Tivoli Hotels and Resorts also has a direct approach to communicating its direct bookings message. The group, now under Minor Hotels since 2016, has numerous properties in Portugal and Brazil and prides itself on its luxury hotels being both unique and different.
On arrival on the company's main landing page, guests are immediately shown 'book direct' advantages. Advantages are then listed followed by a note on the brand's 85-year history, reminding visitors of the group's years of experience and expertise. Offers are then displayed with a book now button which is always present as you scroll down. This approach means allows guests to see what the advantages are straight away without having to even think about looking for them.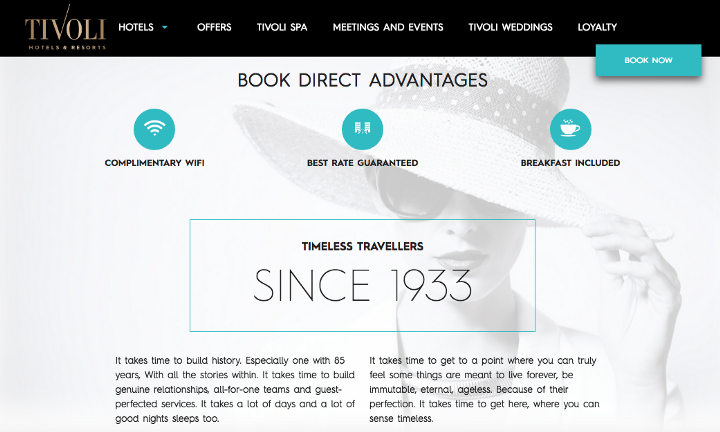 Why these three work? Messages are clear from the offset and provide genuine and compelling reasons to book direct.
A direct booking strategy should then also touch on every aspect of your hotel's marketing plan from your website to your marketing campaigns, the channels you're on and how you manage those channels. Even the images on your website have a strong part to play and can affect your direct bookings rate. So keep improving and updating wherever you can!