One of the greatest threats facing our society today is climate change. This crisis has been ongoing for decades, with every year seemingly worse than the last. However, once a year there is a worldwide event that reminds us all of the importance of climate change and provides an opportunity to make long standing sustainable choices. Earth Hour, born in Sydney, Australia in 2007 is now a globally recognized initiative that has grown in popularity and strength throughout the years. This event occurs every year on the last Saturday in March, with the goal of having all lights turned off for one hour from 8.30pm to 9.30pm local time. From private households to hotels, this event has become a pillar in demonstrating people's commitment towards saving our planet.
As a hotelier, there are plenty of ways to get involved in this great initiative both virtually and within your property. This year a virtual event has been launched by the Earth Hour organization (powered by the WWF) which involves sharing a video on social media platforms to spread the key messages of this year's event. In addition, there are still possibilities to get involved in tangible ways. For example:
Turn off all non-essential lighting at your hotel during Earth Hour to show your brand's commitment to climate change
Promote your hotel's participation with Earth Hour on your website using personalized messaging tools such as our Layers
Encourage guest participation by explaining the concept to guests upon check- in or printing posters to display around the hotel
Add a link to the official Earth Hour website from your hotel's homepage including a countdown clock for extra effect
Create special offers linked to Earth Hour such as Happy Hour cocktails in the hotel bar between 8:30 - 9:30 p.m.
Organize exclusive guest experiences such as candlelight dining
Take photos of the initiatives at your hotel and publish them on your social media channels
In need of some more inspiration? Let's have a look at some of the ideas being implemented by hotels both this year and from previous years!
Azerai La Residence, Hue Resort - Vietnam
Azerai, La Residence, Hue Resort, Vietnam
This beautiful resort in Vietnam has turned Earth Hour 2021 into a charming event for guests while also switching off most resort lights for the scheduled hour. They have organized a candlelight piano concert for guests to enjoy. In addition, they will be participating in the "virtual spotlight" sharing the Earth Hour official video across their social media platforms. To encourage more views, the hotel has devised a competition whereby the person who submits the video with the most views and likes will receive a voucher from the hotel as a prize for their efforts.
Hilton Hotel Surfers Paradise - Australia
Hilton Hotel, Surfers Paradise
This iconic beachfront property in Surfers Paradise has planned several initiatives in support of Earth Hour 2021. Firstly, they will be switching off their main Hilton sign and all non essential lights within the hotel. In addition, they have organized an Earth Hour event in their lobby for guests to join to show support for this important hour which will be lit up with candle light and glow lights. The hotel has also created a tailored restaurant menu for the occasion which includes sustainably sourced products and the use of local ingredients. The hotel will also be serving organic wine and a house made feature cocktail, called an "Earth Sour".
Scandic Hotels - Nordics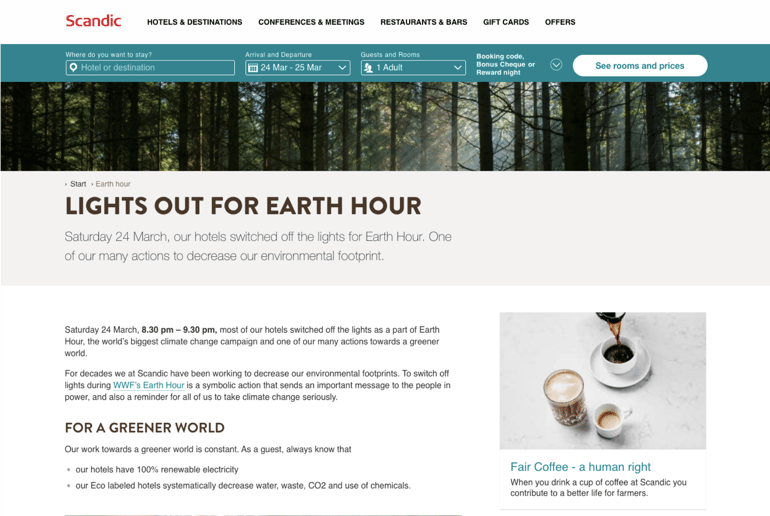 Scandic Hotels Earth Hour initiative
Named as the most sustainable hotel brand in Sweden, Scandic has been a long-standing participant of Earth Hour. In previous years, Scandic has actively joined the Earth Hour initiatives across most of their hotels. Further to this, Scandic hotels have conducted many more sustainable initiatives in an effort towards a greener future. For example, all their hotels use 100% sustainable energy and the company is constantly working to reduce waste, water usage, use of chemicals and CO2. This group has shown immense dedication to sustainable initiatives and launching sustainable practices, taking the extra steps past Earth Hour.
Although 2021 has been a challenging year so far, there are still many ways for hoteliers to pledge their support to our planet. Participation in Earth Hour, as seen above, can be a first step. Turning off all non-essential lights, hosting safe events if possible or simply sharing the Earth Hour video across your social media platforms.
While it's great to have these initiatives, it is also vital to communicate them well. The more visitors who know about it, the more can participate. This could not be made simpler with our personalization tools, where the choices are limitless to decide messaging, content, targeting and much more.
At THN, our offices will not be open during Earth Hour however we will be sharing the official Earth Hour video on our social media platforms and encouraging our team to take part in Earth Hour in their homes. These simple efforts can be a worthwhile way to start working towards a greener future for the place we call home.