As the world becomes increasingly aware of the need to protect our environment, Earth Day has become an important annual event that promotes sustainability and eco-friendly practices. Every year, on April 22nd, people across the globe come together to celebrate the planet and take action to preserve it. As a hotel brand, participating in Earth Day is not only the responsible thing to do, but it can also provide a range of benefits.
It's well known that the hospitality industry has a significant impact on the planet. As Earth Day approaches, it's time to take a look at the many solutions that are available to start taking steps forward to improve the situation.
1. Doing well by doing good
Taking part in Earth Day is the perfect occasion to take responsibility for your impact and implement some new sustainable practices to help protect the planet for future generations.
Hotel brands can enhance their brand image by demonstrating a commitment to sustainability and eco-friendliness. Today's travelers are increasingly environmentally conscious and are more likely to choose hotels that share their values. By showcasing sustainable practices and eco-friendly certifications, hotel brands can attract new customers and retain existing ones.
Sandals Caribbean resorts is honoring Earth Day 2023 with a clear demonstration of their local sustainable actions. They invited guests staying at eight of their resort locations to take part in a tree-planting initiative on April 21 with their non-profit organization, Sandals Foundation, where they will plant 500 food-producing trees to help improve food security in the Caribbean communities the foundation serves. By appealing to the eco-conscious values of their guests the initiative can increase direct bookings during this time period while benefiting their local community.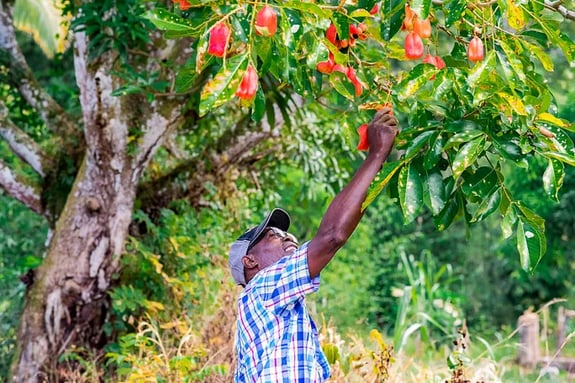 One of Sandals Foundation's fruit-bearing trees
2.
Don't forget to promote your sustainable actions
Let the world know, especially your website visitors, about your socially responsible actions. It's a win-win. It improves your property's brand image and how your customers value your hotel, and it might inspire others to do the same. Promoting sustainable actions on a hotel's website is not only important for the environment but also for attracting and retaining guests who share the same values.
Implementing this strategy is crucial for appealing to environmentally conscious travelers seeking eco-friendly accommodations. By highlighting efforts such as energy-efficient appliances, water-saving fixtures, recycling programs, and green cleaning supplies, guests can make informed decisions and feel good about supporting environmentally responsible hotel brands. Additionally, these actions can differentiate a hotel from its competitors, and increase direct bookings from guests who are committed to sustainability.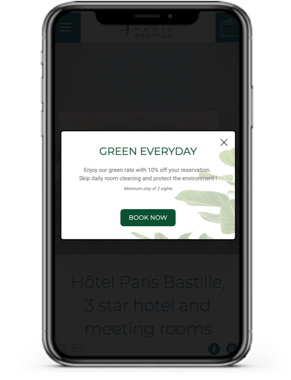 Layer communicating discount for eco-responsible stays
3.
Higher website traffic and greater chances of direct channel conversions
Participating in Earth Day events and related practices can also lead to increased website traffic. Travelers are increasingly searching for information on eco-friendly hotels and sustainable travel options, and by demonstrating your involvement with eco-conscious initiatives you can capture their attention and drive more traffic to your website.
Once these users are navigating your website, highlighting messages tailored specifically to these environmentally conscious visitors can be the final nudge needed to encourage guests to book on the direct channel.
Beyond Green, a global portfolio of sustainable hotels, has launched a series of Sustainable Adventures in celebration of Earth Day, attracting travelers seeking a more purposeful way to explore the world. By prioritizing social sustainability, offering inspiring and impactful hotel experiences, and vetting each property according to over 50 sustainability indicators, Beyond Green appeals to conscious travelers who are committed to protecting the environment, preserving local cultures, and making a positive impact on the world while enjoying exceptional guest experiences.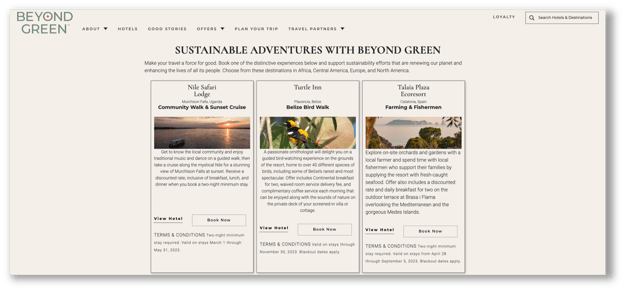 Beyond Green's Sustainable Adventures
Taking part in Earth Day isn't just essential for hotel brands; it's also important on an individual level. As members of the travel and hospitality industry, we have a responsibility to protect the planet and preserve it for future generations. By participating in Earth Day activities, we can raise awareness of sustainability issues and promote eco-friendly practices while simultaneously boosting hotel direct bookings.
---
The Hotels Network's Commitment
As part of our commitment to sustainability, The Hotels Network organized a beach cleanup ahead of Earth Day in Barcelona, Spain, with members of the team based in the area.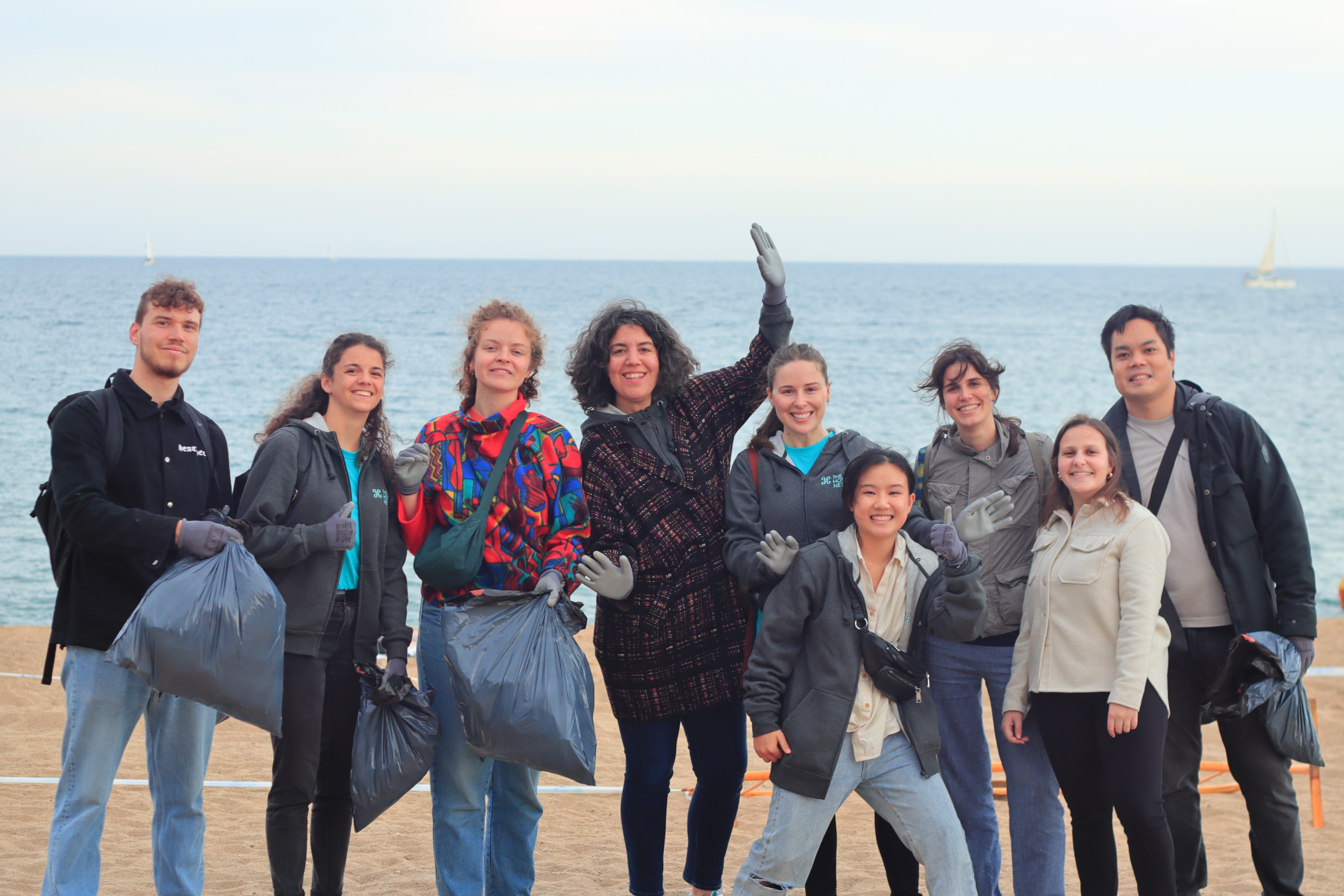 THN team doing a beach cleanup to support Earth Day
In addition to taking action on a local scale, we recognize that our influence reaches beyond the office headquarters and work to acknowledge the impact we have where any of our 19,000+ client hotels are based. We worked with ClimateTrade to offset our carbon emissions of 2022 by sponsoring three projects supporting sustainability in countries closely connected to our network: Mexico, Turkey, and Vietnam.