Dopamine is a neurotransmitter in the brain that is often associated with gratification and reward. It is released when we experience something pleasurable, such as eating delicious food, having fun with friends, or accomplishing a task. In recent years, researchers have found that dopamine can also be triggered by positive online experiences, including the act of browsing or shopping on a website.
For hotel revenue managers and marketers, maximizing hotel revenue through direct bookings is a top priority. Yet, they often find it difficult to improve hotel website conversion rates. Fortunately, we've discovered the key to creating positive online experiences for your hotel website visitors: Personalization.
Here are some of the best tried and tested personalized techniques that can help to trigger dopamine in the visitors to your hotel website and in turn boost your conversions and direct revenue.
1. Improving booking engine conversion
Personalization is the key to increasing conversion rates. With THN's reinvented personalization platform, you can tailor your website content to each individual user. For example, the following message presented a targeted offer depending on a visitor's search date to improve conversion and uptake of special offers. In just 1 month, it generated 15% CTR on the targeted offer, and combined with the price comparison feature, a 30% increase in BE conversion was achieved compared to the previous period. Addressing the specific needs and interests of each visitor can also trigger dopamine by creating a sense of connection and engagement.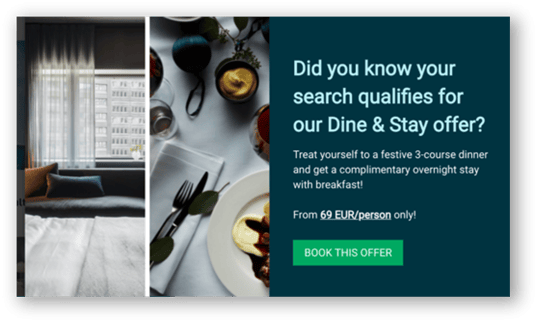 Exit message on the booking engine
2. Improving homepage to BE conversion
Tailoring a message to an individual, for example based on whether they are subscribed to your loyalty program or not, will make the user feel seen, heard, and valued. By highlighting the benefits and perks of your loyalty program, you provide a sense of exclusivity for these members who are rewarded for their loyalty. This feeling of belonging will trigger the release of dopamine and encourage visitors to click on your call-to-action.
Don't just take our word for it. In only 21 days, the hotel brand below experienced a 5.4% uplift in homepage to BE conversion compared to the previous period. In addition to triggering dopamine during the online booking process, a personalized loyalty program message can also help encourage repeat bookings and long-term loyalty.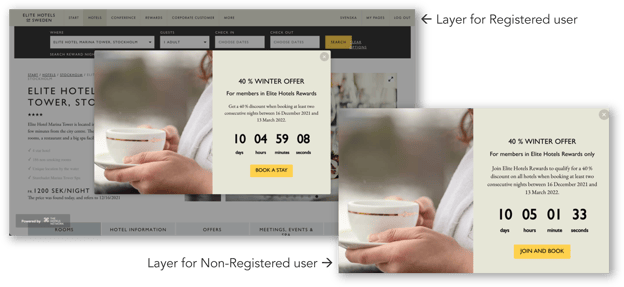 Layer on homepage
3. Combatting price disparities
One of the most effective ways to encourage direct bookings is to showcase a price comparison tool. By offering the most competitive pricing, you can convince potential guests that booking directly with you is the most cost-effective option, and all this without them even having to leave your website.
After 6 months of usage, Bank Hotel converted 9% of users that were offered a price match offer. Unleashing the power of dopamine, a price comparison tool can help visitors feel empowered and in control of their booking decisions.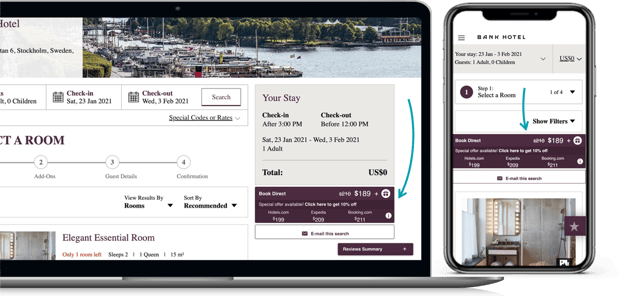 Inliner of the Price Match feature on the booking engine
4. Reassuring your potential guests
Online reviews are an essential part of the booking process. Providing a review summary feature on your website allows online visitors to see the average rating of your hotel and read guest reviews. This helps to build trust and credibility with potential guests, which has been shown to lead to higher conversion rates.

Review Summary feature displayed on the homepage
5. Grabbing the attention of users about to leave
If positive reviews are not incentive enough and a user is on the verge of leaving your website, highlight the unique benefits of booking direct to provide the encouragement they need to stay and book.
To boost bookings from German travelers, the hotel below targeted web traffic from Germany specifically. The following Exit Message on the homepage redirecting to the booking engine retained 20% of their traffic from Germany and maintained a higher booking engine conversion for these visitors than for domestic traffic. Using such techniques is a great way of helping users feel more confident and secure in their choice of hotel.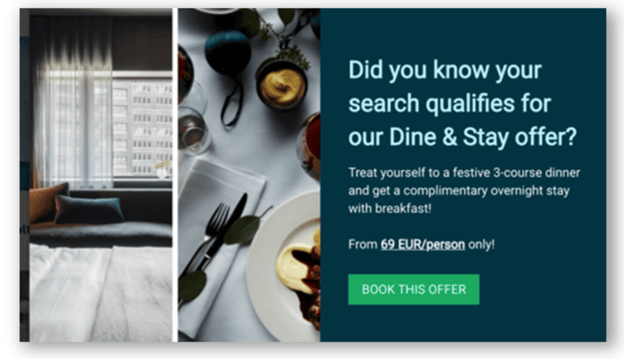 Exit message on the homepage
There you have it, five communication tactics that will help trigger dopamine in visitors throughout the online user journey, playing a key role in boosting your direct channel conversion. When visitors receive personalized messages as they advance through the booking funnel, it triggers a sense of gratification and satisfaction knowing that the journey was tailored specifically for them.
By incorporating these tools and techniques into your direct channel strategy, you can make your website visitors feel more engaged, which in turn helps to increase conversions and generate more direct bookings for your hotel.