In the hotel industry (and otherwise) content marketing remains a key way to connect and engage with customers as part of their online journey. According to Expedia, consumers are spending more time visiting websites to plan their getaways, visiting on average around 38 sites along the way. Information and price comparison are the first port of call at the start of the research process, followed by the 'inspiration phase' where a customer can be influenced with ideas on where to go and what to do. Enter creative content which, when done well, helps hotels to stand out and provide inspiration in the right way.
From attention grabbing text in email campaigns to audible creatives via podcasts, online magazines, blogs, and virtual reality, we share four examples of creative content that works.
The online magazine
With their ability to inspire, and as valuable searchable content, online blogs and magazines remain one of the most effective ways to communicate content outside of the booking process. Hotels can use these as a way to showcase USP's through thought-provoking articles combined with striking imagery — such as promoting hidden gems in the surrounding area, activities, scenery or whatever your hotel highlights are. Aside from generating traffic thanks to being searchable by anyone interested in a particular destination or topic, they also provide additional content for hotel website visitors to browse as part of the conversion process.
As a leading brand, the Four Seasons online publication acts as a luxury travel blog showcasing hotel destinations in a stylish way as befits their upscale target audience. The tone is high-end yet aspirational with links to hotel websites for further action. Topics feature 'glamping in Beverley Hills' to '6 otherworldly pools' (pool imagery is meant to be a huge holiday influencing factor), to 'one perfect day on Bora Bora'.
Calls to action include 'ready to start planning?' with 'find a hotel' or 'view offers' as the options. This magazine is well thought out and a great read with the imagery to match.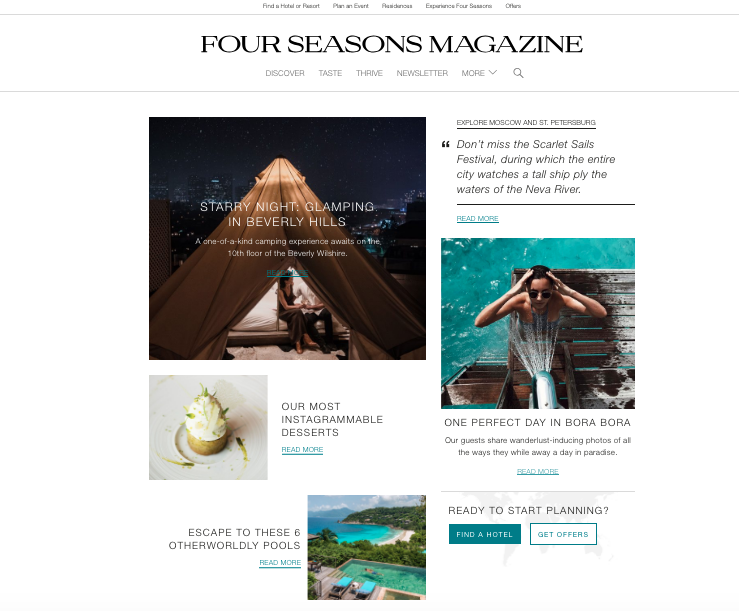 Tongue in cheek messaging
An effective email strategy is the backbone of any content marketing plan, helping to build that all important subscriber base to support the distribution of your content. While not directly part of the online search journey, creative content via EDM's can help to keep subscribers engaged and draw attention to your hotel.
Room Mate Hotels for example has a unique 'tongue in cheek' brand identity, appealing to a younger audience looking for fun and excitement. It's latest GDPR campaign caused recipients of an EDM to sit up and listen via the bold subject line 'tell me that it wasn't a one night stand'.
The email stood out effortlessly from the numerous GDPR emails and was a creative way to grab the attention of their target audience. With such a bold tagline, the hotel brand kept the design and text minimal and it's messaging was clear and straightforward. A word of warning though — these campaigns will only work if relevant to your hotel's own brand identity and target audience so need to be particularly well thought out.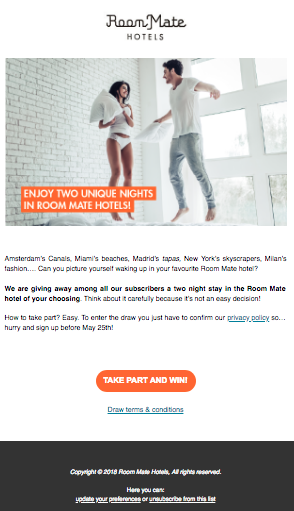 Podcast promotions
Some brands have looked at audible avenues to connect with consumers and drive consideration. Story telling through podcasts has become a popular medium for companies to connect in a different way, targeting listeners rather than viewers.
The InterContinental launched its Stories of the InterContinental Life podcast series where hosts talk about traveling the world with stories that aim to excite curiosity, broaden horizons and take the imagination to places off the beaten track. The content does not hard sell the brand and focuses more on what listeners could discover from each destination or topic.
If you are considering audible content, bear in mind however that this sort of material needs unique stories to be successful, and with multiple hotels around the world in far flung destinations it's not hard to see why this may be relegated to the larger global hotel groups.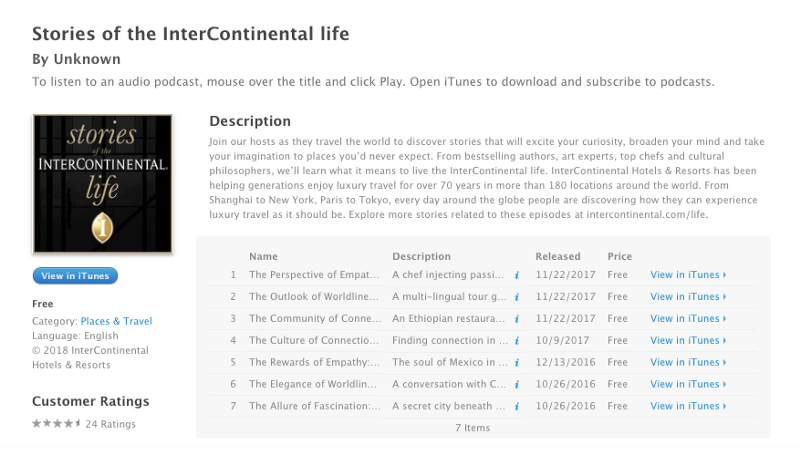 Virtual hotel tours
A rising trend, virtual reality is becoming more and more used in the travel industry with destination guides and virtual hotel tours becoming popular. Virtual tours can be shared on hotel websites or social media accounts allowing guests to see anything from hotel rooms to key facilities and more. While tours are currently best experienced with a VR headset, tools such as 360 degree video technology on Facebook can allow guests to see tours without headsets.
Atlantis The Palm, Dubai uses a virtual tour to showcase its many features. Although better seen through a headset this virtual tour shows viewers every aspect of the hotel from the hotel's grand imposing atriums to activities such as swimming with dolphins. The video looks like it's following a casual day at the hotel with lots to do and see.
These four examples are just a snapshot of how hotels can get creative to inspire and convert customers through content. If you are exploring more creative ways to communicate with your guests then always remember to choose content that will resonate with your particular target audience and will marry together well with your hotels particular USPs. For example if you are a hotel with few facilities then a virtual tour of the property as a whole may not be the best thing for you. But you might instead like to show guests your amazing views or comfortable rooms with modern amenities and proximity to local attractions. Or how about a city highlights blog?
With technology becoming more and more advanced we can expect to see creative content doing so too — so watch this space.
Got an example of creative content that you would like to share? Get in touch with us here at The Hotel Stories to see your hotel featured.