Travelling is all about meeting new people and sharing stories. THN is dedicated to providing hotels with the most up-to-date tactics, resources and tools to guarantee that their website visitors know that they will leave their property with happy memories.
At THN, we work with all different types of accommodation providers, from individual luxury properties to budget hotel chains and so we thought it would be interesting to take a closer look at the world of hostels. As a part of our coffee catchup series, we recently spoke with Simon Schneiter, a revenue management & eCommerce expert, to hear his insider tips around how hostels can operate more effectively post COVID-19.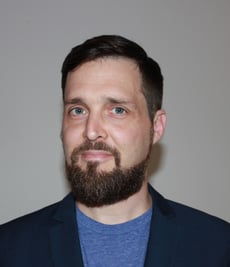 Simon Schneiter, eCommerce Manager at Wombat's The City Hostels
Wombat's Hostels is an innovative hostel chain that brings together a welcoming community in affordable lodgings. They host a community of travellers who gather to share adventures and do more than just share a living place by participating in different activities. Thanks to the wide range of facilities offered, guests can enjoy a shared kitchen with the same comforts as home to even their own pub.
At THN, we've recently started working together with Wombat's Hostels to help grow the brand's direct › strategy. Considering how diverse and free spirited their crew is, they are always on the lookout for new ideas! We caught up with Simon over a virtual coffee chat to hear about how they are welcoming more locals to their properties and lots more. Let's see what he had to say....
Thank you so much for speaking with us today Simon. To start off, what is your favourite type of coffee?
Definitely an espresso with just a tiny bit of milk and brown sugar.
Nice! Can you briefly explain what is the hostel concept and what makes it so different from a hotel?
First and foremost, hostels are the go-to place to meet fellow travellers and have fun - whether it's lounging in the common areas, hanging out in the hostel bar or café, cooking meals together in the shared kitchen, or venturing out to explore what the destination has to offer. Groups can rent entire dorms and couples private rooms. Hostels are perfect for solo travellers on a budget, who want to be flexible and in charge of their travel, but also want the ease of being able to meet other people from around the world anytime they step foot into the hostel.
Do you think guests expect a different experience when staying in a hostel than in a hotel? How do you ensure these expectations are met, both online and offline?
Yes, the feel of a hostel is very different than a hotel. Guests expect a laid-back atmosphere. Staff at Wombat's The City Hostels are young and understand the wants and needs of our guests. Wombat's is run by travellers for travellers and our staff is eager to help our guests maximize their stays, providing them with tips and recommendations they wouldn't get in a hotel.
Online we want guests to have the same casual, easy-going experience they are going to have in our hostels. The booking process is optimised to be hassle-free, flexible and fast, and guests always receive the best rate and best deals on our website.
Since the COVID-19 outbreak, have you seen any shift in customer expectations? What actions have you taken to adapt to these changes (both online and offline)?
Understandably, guests want to have hygiene measures in place and want to be informed about them before their journey. THN's tools are extremely helpful to communicate our COVID-19 measures via our website. In the hostels themselves, we have added COVID-specific hygiene measures to our already award-winning cleanliness standards.
Currently, who are your main target customers? How do you ensure you stand out from the crowd during the research phase? Which are the main channels you rely on to gain online visibility?
Our target customers are 18 to 25 year olds, solo travellers or couples and groups. Historically, our strongest markets have been the United States, Australia, the UK, Germany, South Korea, Canada and Brazil. Due to the pandemic, we are experiencing a higher than usual demand on the domestic market though.
We are trying to stand out with authentic content on all digital touchpoints of the customer journey, being aware of the billboard effect on various platforms. We make sure that once the customers arrive on our website, all the important information to conclude the travel research is waiting for them there.
Streamlining and speeding up the booking process on our website was very important to me and that's why I implemented a booking widget on all our sites, where the guests can select—anytime during their browsing of our sites—the destination and travel dates of their choice, checking the availability and completing the booking.
The THN tools prove to be very effective in the research and booking process, providing important information where and when it is needed. For example, the price comparison tool shops the rates live from the OTAs, showing our customers that no one can match our offers.
Is there any online campaign that has worked particularly well in the past months to boost reservations?
Alongside the reopening of our hostels, after the lockdowns we had a very successful "WE ARE BACK" campaign, with a high click-through rate and conversion. Part of the campaign was a 72-hour flash sale with a countdown on our website, fed by social media and newsletter advertisements.
And if you had to give one piece of advice to other hostels or hotels trying to overcome today's situation, what would it be?
My advice would be a twofold approach: broaden your distribution, to make yourself less dependent from individual market players, and at the same time strengthen your direct sales channel(s) based on business intelligence data.
Thank you for your time!
We would like to thank Simon Schneiter for taking the time to share his point of view with us about how hostels and hotels may take advantage of the rising demand post-COVID. It's always great to hear about real experiences and examples from brands who are so proactive in the industry.