citizenM, a new breed of hotels offering affordable luxury for the modern traveler, have always prided themselves in doing things differently and in using their resourcefulness to be ahead of their time. Ever since the opening of their first hotel in 2008, citizenM have persistently been one step ahead in hospitality innovation; from their out-of-the-box initiative in targeting towards the modern-day global traveler, to their keen eye for beauty in simplicity, order, and efficiency, citizenM never ceases to impress the world of hospitality through their disruptive approaches and sustainable methodology.
The brand's clever targeting of a specific niche market serves as an inspiration to many hotels and hotel chains. Their success proves their ability in amplifying their specific market concept. Earlier this week, when we caught up with chief commercial officer of citizenM Lennert de Jong, he told us "citizenM was founded to be everything for a small group of people, mobile citizens of the world, instead of something for everyone. That citizenM experience, which we have carefully built over the last 14 years, is now available in 21 hotels in the big cities in the world with more to come."
Accordingly, with their expertise in the industry and aptitude in growing their guest base through countless original initiatives, it's to no surprise that in the face of COVID-19 citizenM have once again seized the opportunity to offer guests something unique.
The rise of remote workers
Within today's context, companies have had to adapt to a more remote style of work, encouraging employees to work from home or any location other than the workplace. Some of these businesses are having trouble adjusting, and for many remote workers, this new working culture proves to be a confusing and perplexing dilemma. More and more, the common questions are asked: why spend extra on additional office spaces, and how can we redesign the way our employees interact in this new work environment?
citizenM's resourcefulness, together with their ability to make the best out of sudden situations, have allowed them to provide an answer - hotel subscription models. Lennert de Jong explained the thinking behind the idea to us, "Looking at the workforce, people will move to living further away from the office, or even in different cities. It is for those people that sometimes need a place to meet, or stay after a night out with colleagues in the city, that citizenM created a subscription." Being able to see the desire from people and their companies, citizenM have created clever new alternatives that completely transform the way corporations can manage the complexity of remote working for their employees.
A brand new subscription model
So how do they work? citizenM's first recently launched unique corporate subscription program, Corporate Subscription, is aimed at providing a financially sustainable option for companies with remote workers. From 3 available nights per month without blackout dates, to daily workspaces and high-speed Wi-Fi, Corporate Subscription gives companies a fantastic alternative for their remote employees.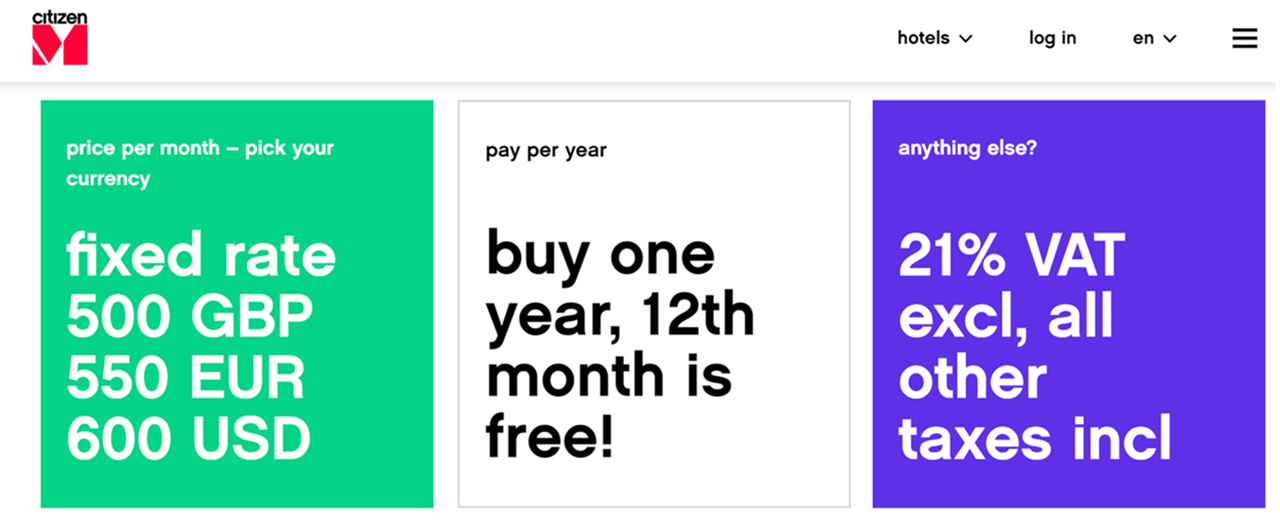 citizenM's fixed rate options
For just €550.00 per month, companies are able to provide their travelling employees with proper workspaces and meeting rooms and spend considerably less on their employees' hotel stays. Corporate Subscription, in addition to manifesting a new innovation, has also allowed for citizenM to stay true to their brand image and motive of helping workers. Lennert de Jong states that "citizenM has always been designed to work from. Other hotels might have larger rooms, but who wants to be locked up in a room all day? We have huge living rooms to work, rest or play from, and since we don't have the burden of big back of house operations, kitchens, or offices, we can give our guests all this space."
With Corporate Subscription, citizenM can also continue growing their guest base even further. Instead of relying on third parties, the brand can now use Corporate Subscription as a powerful strategy to drive more direct bookings. "For years, we have seen the number of people returning to citizenM increase," continued Lennert de Jong. "Now it is time to offer them subscriptions that allow them to choose once for citizenM and not have to go through the OTA's or search to wonder which hotel to book for their repetitive city travel. Much like how Amazon launched Prime through free delivery to make sure people don't have to worry about where to order next."
Meeting the needs of today's workforce
The ingenuity of citizenM's subscription program not only lies in its ability to attract a new market stemmed from instability, but also in its uniquity in the hotel industry. citizenM seems to be one of the first and only hotel brands launching and offering such a unique subscription plan, and is hitting all the right notes in being creative and versatile in the face of a shrinking market of travelers.
A clever addition to the subscription program is its pricing options; as a result of today's market instability and the inflexibility of company budgets, citizenM gives the option of a yearly subscription, but also offers a fixed rate per month. Adopting this payment flexibility method allows the brand to remove market uncertainty and pump up their subscriber count. For citizenM, being one of the first hotel brands finding a way to capitalize on this new market has opened a door towards business-oriented guests and companies alike. Creativity runs in the genes of citizenM, and they have found a way to turn problems into opportunity.
An enhanced experience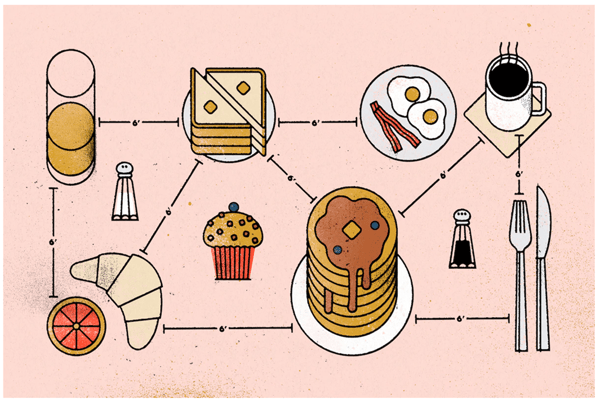 Hotel amenity options to fulfill the satisfaction of guests
Like true pioneers and experts of hospitality, citizenM understands that guests expect and need an enhanced stay. With this in mind, the brand has included in Corporate Subscription one welcome drink with every overstay night, breakfasts included, and a guaranteed comfortable and professional (SocietyM) environment within their program.
The hotel brand is making the most out of their newfound guest market, not only establishing a strong relationship with companies but also the individual guests themselves. Being able to favorably attract companies and increase the chances of future business opportunities with them, while maintaining a positive relation with the individual guests from the companies, gives CitizenM a strong advantage in obtaining future guests after today's situation begins easing. Even outside of work, the individuals of these companies may potentially return to any of citizenM's properties with their friends and families, adding more people to their guest portfolio.
An asset for adventurers: Global Passport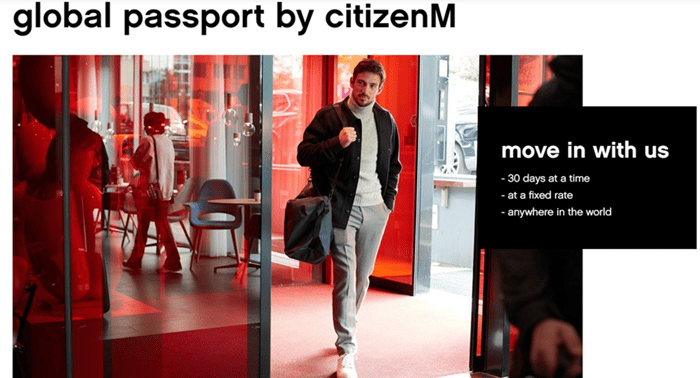 Global Passport by citizenM
In addition to Corporate Subscription, citizenM has also recently revealed a brand new addition to their already-impressive portfolio of surprising ideas; Global Passport. For a flat rate of just 50 euros per night, guests can spend their remote working days in a harmonious and adventurous 30-day period at any citizenM hotel in the world; at any time, with a minimum of 7 nights spent per location. Whether a traveler would like to spend a couple of weeks enjoying the fall foliage throughout the U.K., or working and sightseeing from Geneva to Amsterdam, citizenM has provided the opportunity for digital nomads to partake in an international work-stay experience.
Targeting remote workers, citizenM's creation of Global Passport has once again manifested their innovative approaches in reinventing a completely new marketing concept amidst change. Believing in the potential of the remote workers market, and in their prowess of developing new ideas, citizenM continuously strives to make the best out of their situation and stands true as one of the leading hospitality pioneers of our time; an example we should take as a prime example.
The reaction from the market
All in all, citizenM's clever and flexible approach towards hospitality during this time has created a significant buzz online and made them stand out once again within the large world of hospitality. citizenM's new subscription models appear to be promising success stories; as Lennert de Jong tells us about the feedback from the market, things appear vividly bright. "The reaction so far has been absolutely great. We are in conversation with several hundred companies about the corporate subscription, but also with individual travelers that would love a subscription to citizenM in some shape or form."
With the prospective attraction of companies, freelance employees, and individual business guests alike, citizenM's Corporate Subscription, in addition to their newfound and exciting Global Passport, has created strong potential in opening new doors for the company which may very well have begun changing the whole notion of business to hotel integration. We look forward to seeing how hotels and other brands will take inspiration from their innovative programs, and how they themselves will continue developing new initiatives based on their unique target market of "mobile citizens" - which has inspired their grand company name. As Lennert de Jong says; "This is just the starting point for us. We are looking forward to the days that the curtains are lifted on travel, and can't wait to engage with our target customers in a more sustainable way."
Hotels in today's world are ever changing and full of surprises. Marketing initiatives in hospitality are now more exciting and fluctuating than ever; what do you have in store?