In today's digital world, the majority of hotel bookings are being made online. With so many options out there for guests to choose from, competing for customers online is harder than ever.
Undeniably, a large number of those bookings are driven by the major OTAs, where a hotel is just a listing among many others; often completely watering down the distinct personality and diversity each hotel possesses. To overcome this obstacle, hotel brands need to build a strong direct channel. This channel is one of the most important platforms for hotels, as it not only helps to lower acquisition costs and increase ROI, but is also the place where you have free rein to personalize the user experience, convey relevant messages, display your brand personality, and establish meaningful relationships with guests.
With this in mind, keeping guests engaged is a key objective when it comes to building a strong direct channel. Ensuring that personalized and engaging content is delivered to every website visitor will be major factor in driving users down the direct booking funnel.
Partnering with the team at GuestJoy, a guest communication, upselling and reputation management platform we developed a case study using combined data to explore the relationship between direct channel bookings and online guest engagement. With the cooperation of the North Star Hotel, a luxurious 4-star property located in the heart of Dublin. We examined a years' data - the activity of direct bookers online - including peak and low seasons.
The Hotels Network tools in action
During the past year, North Star Hotel has been proactively working to build a strong direct channel in order to regain the direct relationship with guests. Let's have a look at some of the most effective initiatives they have implemented:
Convincing users on the booking engine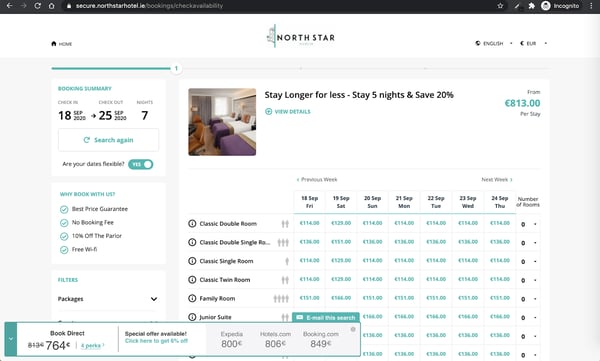 Price Comparison with Price Match feature on the Booking Engine
The first step to increasing website conversion and guest engagement is to reassure visitors and provide them with a smooth booking experience. By including Price Match on the booking engine, North Star Hotel was not only able to create price transparency by showing they were offering the best available rate compared to OTAs, but also gave users an extra incentive to book by automatically matching rates in the case of price disparities.
Another tool employed is the Save your search feature. With this function, those users interested in the property would be able to easily save their booking search, and receive a personalized email with the details and a link to return to the website and continue their booking when they were ready to do so.
Retaining visitors about to leave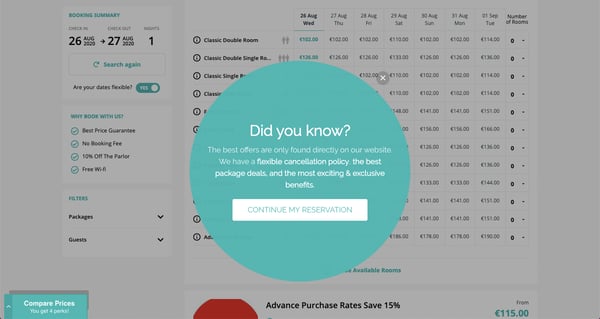 Exit Intent on the Booking Engine
Some visitors may not be convinced that the hotel is the right fit for their stay and opt to abandon their booking, the reason for which could simply be because they didn't realize everything the hotel has to offer.
Aiming to retain bookers about to leave their site, North Star Hotel displayed an Exit Intent on their booking engine. This Exit Intent showcased the exclusive benefits of booking direct to users who were about to abandon the website, grabbing the attention of visitors and helping to keep them in the booking funnel.
Working with over 5,000 hotel clients worldwide, THN keeps a close eye on how different visitors react to different messages and tools. After running A/B tests across most of their properties, they have seen an average conversion uplift of 32% when comparing engaged vs unengaged online visitors.
GuestJoy findings
Looking at online guest interaction with their mobile concierge and reviews solutions, GuestJoy saw some intriguing differences in behavior between direct bookers and OTA bookers.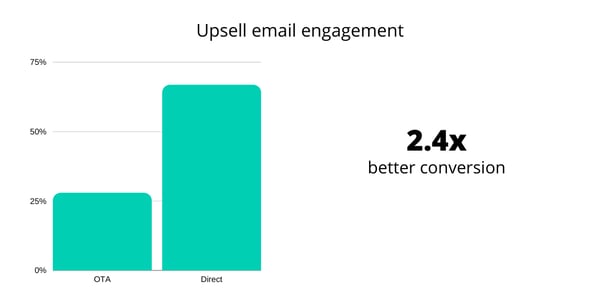 Difference in offer engagement between OTA and direct bookers
Almost twice as many direct bookers opened the GuestJoy mobile concierge page than OTA bookers, and additionally, they spent more time actively browsing the offers, resulting in higher engagement.
Furthermore, direct bookers were 1.5x more likely to spend more on their stay by ordering something from the GuestJoy concierge. It seems that direct bookers were generally more interested in what the hotel had to offer, and therefore were more inclined to buy extras. Regarding post-stay behavior, direct bookers were more than 2x as likely to rate the hotel online and provide feedback via GuestJoy.
Conclusion
The findings clearly pointed out the correlation between direct bookings and guest engagement, reinforcing the importance of planning a mindful direct channel strategy. This goes to show that despite having OTAs as a significant source of bookings, it is worth giving the direct channel extra attention. Equipping themselves with digital tools to convert lookers to bookers as well as perfecting the post-booking experience, not only is the North Star Hotel able to boost direct bookings and increase ancillary revenue, but also gain quality reviews from guests.
Want more details? Go ahead and download the full case study to find out more about how the direct channel and guest engagement go hand in hand.