This week, our team held a webinar on the importance of hotels planning their Black Friday campaigns well in advance. With Black Friday less than two months away, it's imperative to start the campaign process right now. To make it as easy as possible for hotels to execute successful campaigns, we covered the key points and provided easy-to-follow steps from planning to reviewing campaign results.
Michael Goldrich, CXO at The Hotels Network, shared his experience from 20 years of hotel marketing at both large and small hotel brands. "When executed properly, Black Friday can be the most successful campaign of the year regarding revenue and room nights." The trick to a Black Friday campaign is making sure that it stands out compared to the offers you promote throughout the rest of the year. Michael also shared his experience of being challenged by hotel and brand leadership assuming Black Friday offers are only to "buy stuff'', and then accurately indicated that data tells a different story. Customers want special offers, and this is the time of year they are trained to expect it.
Fiona Gillen, VP of Marketing at THN, talked through the reason for having this webinar now versus later. "We wanted to create an easy-to-follow roadmap for hotels that haven't implemented a Black Friday campaign in the past. We provide comprehensive guidelines on what to do on your website and acquisition channels that will bring prospective guests to your website and convert them."
Launched just days ago, the webinar attracted the most attendees in recent memory, highlighting the thirst hoteliers have for knowledge and information to gain a competitive edge as they enter the final quarter of the year.
The Black Friday webinar covered six easy steps to execute a successful campaign:
Setup your campaign goals and define offers
Plan your campaign timeline
Decide on the creative and copy
Optimize your website communication for conversion
Determine your traffic acquisition strategy
Do a post-campaign analysis
As Michael and Fiona spoke back and forth about these steps, the message they consistently reiterated was about the sense of urgency. The urgency of beginning the process of designing a Black Friday campaign, making the campaign live and guest-facing, and crafting messaging and a CTA that encourages people to book quickly. "I can't say it enough times,'' said Michael, "It's all about urgency."
A successful tactic to communicate the time sensitive nature of your campaign is including a countdown clock within a Layer on your website to showcase the Black Friday offer to your potential future guests. This method has proven to be highly effective for boosting conversion rates as it helps nudge the visitor in the right direction of completing their booking in the moment, rather than procrastinating and taking the risk of missing out on the offer.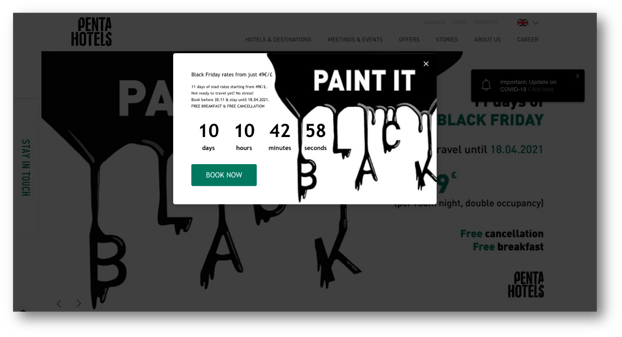 Countdown clock layer to create a sense of urgency
Fiona talked about how hotels can leverage messaging on the website to promote their offer in terms of font choice, colors, and message format. She later reiterated that it's not just about the look and feel of the messaging, but ensuring the right message is delivered to the right person at the right time. Through targeting, you can maximize personalization on the hotel's website to create a one-to-one connection with the prospective guest.
For example, by creating an offer specifically for members of your hotel's loyalty program, you will be able to personalize your communication even further to achieve this sense of connection with those targeted website visitors. By crafting your message to this specific group, it elevates the feeling of exclusivity and encourages them to make the booking as they have the impression the offer is tailor made for them and too good to pass up. Drilling down on targeting is key to creating relevant messages that resonate with the intended audience to achieve top tier personalization.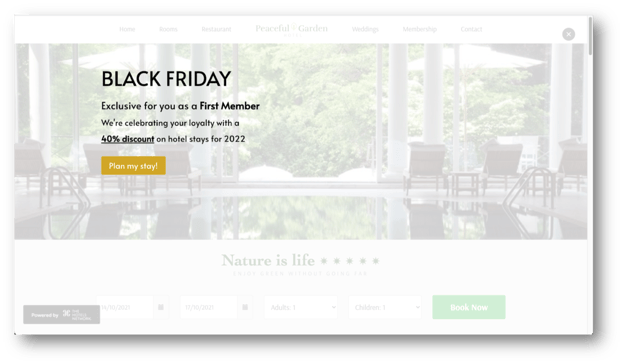 Targeted message with exclusive member-only offer
Michael and Fiona both know that one of the most important steps for hotels to maximize conversion and revenue is installing THN's advanced marketing technology on the hotel's website and booking engine to leverage the ability to truly personalize the messaging experience of the guest. After that, it's all about the planning and execution of the campaign.
Want to learn more about the tips and insights Michael and Fiona shared about building a Black Friday campaign? Watch their Black Friday webinar or download the slides to find more useful examples and best practices. You'll also learn how to leverage our marketing technology on your website to increase direct channel conversions of your Black Friday campaign, and any campaign you design in the future. Schedule a demo today to get up and running within three business days - putting your hotel in the perfect position to capitalize on this year's Black Friday shopping frenzy!