Over the past years, Black Friday has become a key date on any hotelier's calendar. On such a date, travelers expect to bump into discounted rates, hotel credits or exclusive add-ons. Despite facing one of the most unprecedented years in history, this edition has been no exception.
This year, Black Friday has effectively helped hoteliers boost their direct bookings and has proved that in today's challenging situation, leveraging special calendar dates in hotel marketing is becoming more crucial than ever.
Campaign results
At The Hotels Network (THN), we've taken a closer look at our hotel clients' numbers to see how this key date has impacted their results and which tactics have proven to be the most effective.
For the analysis, we've taken into consideration clients who conducted a Black Friday campaign – 470+ hotels worldwide – comparing their Black Friday campaign results dating from Nov 15th - 30th 2020 to the results obtained in the previous month of Oct 15th - 30th 2020.
Separating our findings into (1) hotels who created dedicated campaigns, (2) hotels seeing an increase in website traffic and (3) hotels not seeing an increase in website traffic, these will provide you with clear insights into how this Black Friday 2020 has impacted hotel websites' performances.
Within this article, we analyze the results of group (1), along with the best performing Black Friday 2020 campaigns our clients conducted. Click here to read the full report and discover how much of a positive impact special date-centric campaigns can have on hotel performance results.
1. Website traffic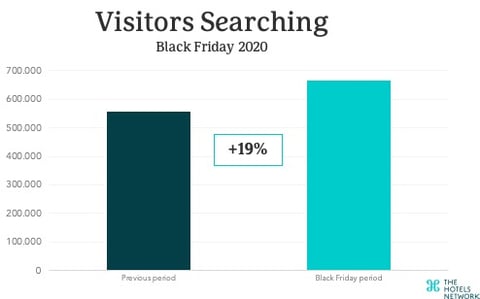 Graph comparing booking engine traffic during the Black Friday period versus the previous period
During the Back Friday period, for THN hotel clients running dedicated campaigns, we observed an overall increase of 19% in the number of visitors browsing within the booking engine. This is a reassuring number which indicates that, despite the challenges facing our industry, people are still planning to travel and book stays at hotels.
In parallel, looking at the global website traffic results, we saw an overall decrease of 2% during this period. Some hotels saw an increase in traffic, perhaps thanks to organic or paid promotional campaigns, while others saw a decrease in traffic. Read the full report to see the results difference in performance of both groups separately.
The fact that booking engine traffic increased by almost 20%, despite a slight decrease in total website visits, highlights that hoteliers using THN's tools were able to effectively communicate their Black Friday offers on their website, engage with visitors and drive them down the booking funnel.
2. Hotel website conversion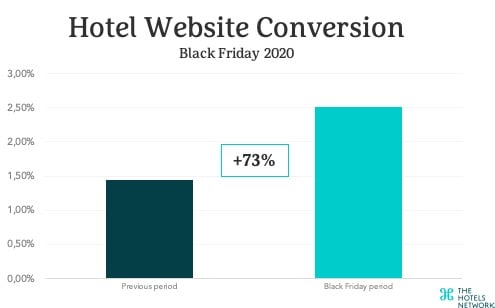 Graph comparing hotel website conversion during the Black Friday period versus the previous period
The increase in booking engine traffic also translated into a significant increase in hotel website conversion rate, reaching an impressive average growth of 73%.
These results underline that hoteliers are becoming more well-versed when it comes to creating relevant and appealing offers towards their audiences and promoting them throughout their website. It's also important to note that visitors tend to book more impulsively during these dates, driven by the fear of missing out on these exclusive deals.
3. Direct bookings and revenue
| | |
| --- | --- |
| Graph comparing hotel direct bookings during the Black Friday period versus the previous period | Graph comparing hotel revenue during the Black Friday period versus the previous period |
A common fear about flash sales is whether hoteliers are eating into their margins when slashing down their rates. However, this wasn't the case for our hotel clients. By creating exclusive Black Friday campaigns, THN clients grew their direct bookings by 69% while increasing revenue by 125%.
These effectively and tactically-created Black Friday deals increased not only the number of direct bookings but the average booking value at the properties as well. We've seen our hotel clients offer exclusive Black Friday packages of all types and kinds, from extended stays to higher room categories, exclusive perks, and more. By following tried and tested strategies, hotels have been able to effectively spark their visitors' attention and encourage them to spend some extra to be able to access these deals.
Our analysis has shown that despite the challenges our industry is facing, Black Friday still represents a huge opportunity in hospitality. This means that within today's context, hoteliers should make sure they are still taking advantage of any key dates marked on the calendar. Christmas, New Years, Valentine's Day… any occasion is a prime opportunity to boost direct bookings. The key here is to build a strong direct channel strategy by creating timely, personalized campaigns that resonate with potential guests and uplift website conversions.
Best Black Friday 2020 campaigns
Over Black Friday, we've seen initiatives from all types, from usual discounted rates to singular interactive contests, each adapted to their own hotel's objectives. Here, we will dive into some of the most effective campaigns our client hotels enacted this year, which you can hopefully put into practice on the next calendar special date.
Vox Hotel: Black Friday gift card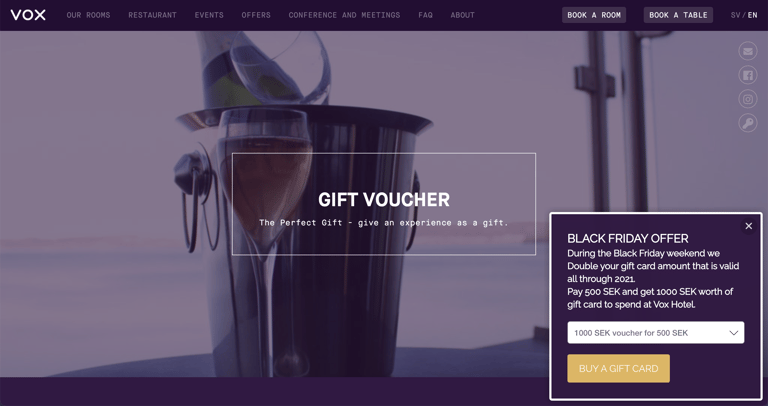 Vox Hotel's Black Friday voucher promotion
This season, Vouchers and Gift Cards have proven to be one of the most favorite tools for hoteliers. Not only does it allow them to generate immediate revenue, but it provides guests with the flexibility they are looking for. Vox Hotel, a modern and deluxe hotel of the Nordic Choice Hotels family, decided to make the most out of our tool during this year's Black Friday.
During the shopping weekend, the brand actively promoted their Black Friday gift card. Showcasing it throughout their entire website, the brand was able to assure the awareness of their exclusive and formidable deal.
To reach a greater audience, the brand promoted the voucher across their social media platforms, driving qualified traffic to their hotel website in hopes of increasing purchases of the voucher. Thanks to their intensive promotion and fast and easy voucher purchasing process, the property was able to sell 70 vouchers in just 2 days. Could it get any better?
Hotels VIVA: An appealing Black Friday offer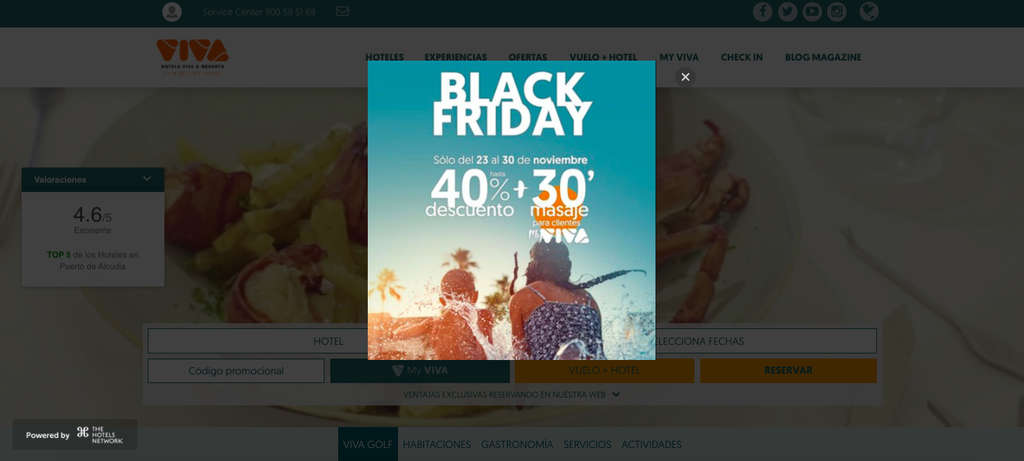 Hotels VIVA Black Friday offer Layer
Viva Cala Mesquida Resort & Spa, an exclusive property surrounded by turquoise waters and fine sand dunes, boosted their reservations with their unique 40/30 Black Friday offer.
During the special week, the property communicated their clever deal with an eye-catching Layer. Showcased in the homepage, their Layer announced their irresistible Black Friday deal: an exclusive 40% off with a free 30 minute massage when booking direct from November 23rd until November 30th. Who would want to miss out on this incredible offer? Apparently, very few! In just one week, this Layer had a CTR (click-through-rate) of 17% and influenced more than 90 bookings.
Killashee: Stepping up on Cyber Monday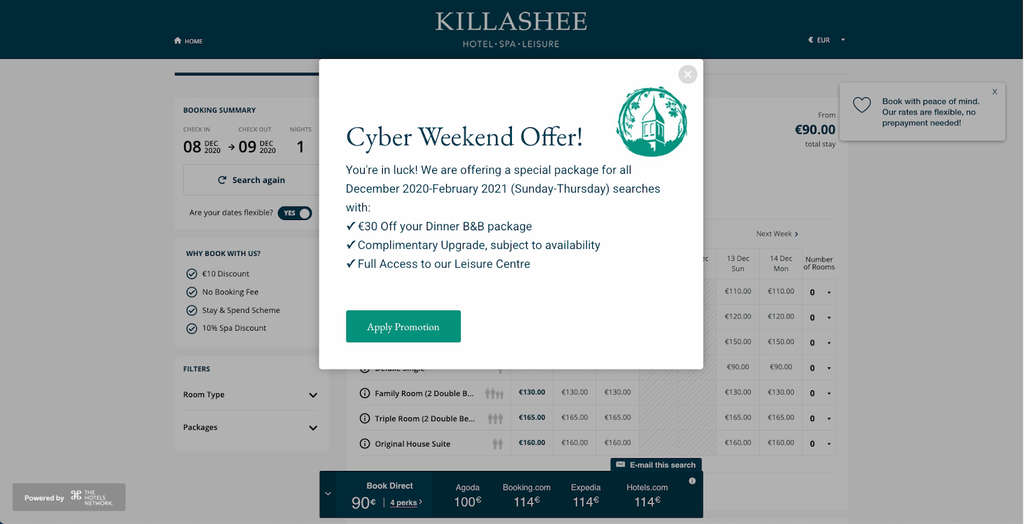 Killashee Hotel's "Cyber Weekend Offer" showcased as a Layer
Hoteliers often forget that Cyber Monday falls right after Black Friday. On such a date, travelers also expect to come across hotel discounted rates and exclusive offers. With this in mind, Killashee Hotel, a luxurious hotel surrounded by mountains and breath-taking views, decided to focus its marketing efforts on building a Cyber Monday campaign - and it paid off brilliantly!
The property crafted a well-thought Cyber Weekend deal, offering guests a special package which included a 30€ discount, a complimentary room upgrade and full access to their leisure center. The strategy behind this initiative was to increase the average booking value at the same rate as its reservations on shoulder dates, as the discount is only applicable from Sunday to Thursday on reservations between December and February 2021.
From November 26th to November 29th, the offer was showcased on the hotel's booking engine to ensure all potential guests knew about this incredible deal. Showcased as a Layer with a 1-click promo code, visitors simply had to click once on the CTA (call-to-action) to automatically apply the offer. Quite the easy process!
The offer was so well-received that in just one weekend, 38 bookings were generated, reaching a conversion rate of 56%. Utterly amazing.
We hope that we've provided you with some inspiration on how to make the most out of these special dates and are eager to see how your future campaigns roll out and help grow your direct bookings!