Black Friday and Cyber Monday are just around the corner. The biggest shopping weekend of the US is now expanding and gaining popularity among other countries and industries. This weekend also marks the beginning of the holiday season, where many hotels race to reach their annual objectives.
In recent years, more hotels are joining this initiative and slashing the prices of their rooms. According to Adobe analysts, travel was the top discount category on Black Friday 2016, reaching an incredible discount rate of 60%.
With the aim of capturing the attention of deal seekers, many hotels throughout the globe are offering discounts, credits or added perks — or all of the above. According to a recent Deloitte study, in Europe, the travel industry experienced the highest growth in client spending. Considering this fact, it's the perfect opportunity to actively offer exclusive savings and packages during this fabulous spending weekend.
As competition toughens up, it seems complicated to counterattack without eating into your margins. But who said that offering the lowest rates was the only way to go into battle? Offering users a unique booking experience on Black Friday and Cyber Monday via a personalized website is an approach being used by savvy hoteliers to up their game during this frenzied weekend.
By tailoring your website for each visitor, you will be able to generate a greater level of engagement and increase sales. Here are some examples of proven techniques that will help you appeal to users and encourage them to book direct:
Keep messages relevant using segmentation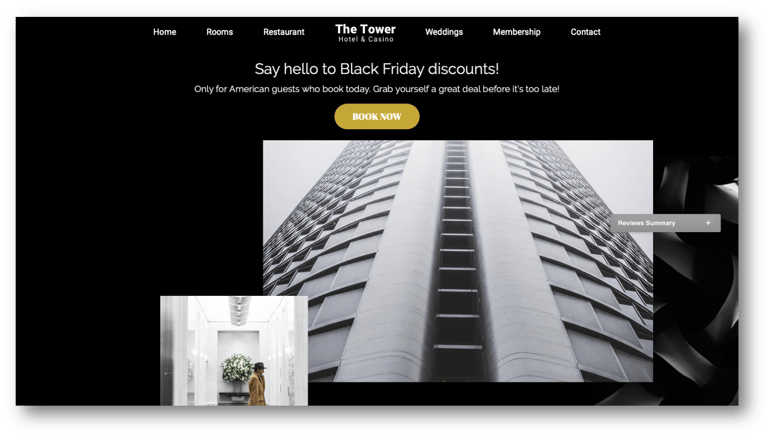 Example of a personalized inliner
Traveler behavior is tough to alter, but a simple, relevant message to visitors can be enough to keep them onboard. During Black Friday and Cyber Monday customers will expect to see discounts when they arrive to your website. However, everyone is different and shopping intents are diverse, so why would you approach them the same way? Make sure you are shouting about your offers in the right way. Put the right message in front of the right customer based on their profile or search behavior to make sure what you say resonates and makes sense.If you don't want all visitors to see the message, use segmentation rules to define who does see it. For example, this Black Friday message is shown in a subtle way only to travelers searching from the US.
Make it clear that time is running out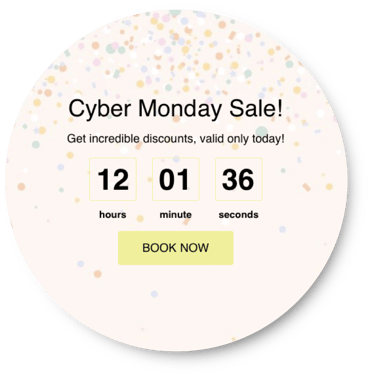 Example of a layer with a contdown clock to highlight the time limit
With special dates, time is of the essence! Nobody wants to miss out on a magical night at their dream hotel. Give users an extra nudge by creating exclusive deals with a clear time limit and use a countdown clock to make sure they know the exclusive flash sale is valid for one day only. Display automatic messages mentioning the activity of other users on your website to push them to book a room. And if users are about to leave your website, keep their interest by showing an exit intent pop-up that highlights the time limit of the Black Friday and Cyber Monday offer.
Spark the visitor's curiosity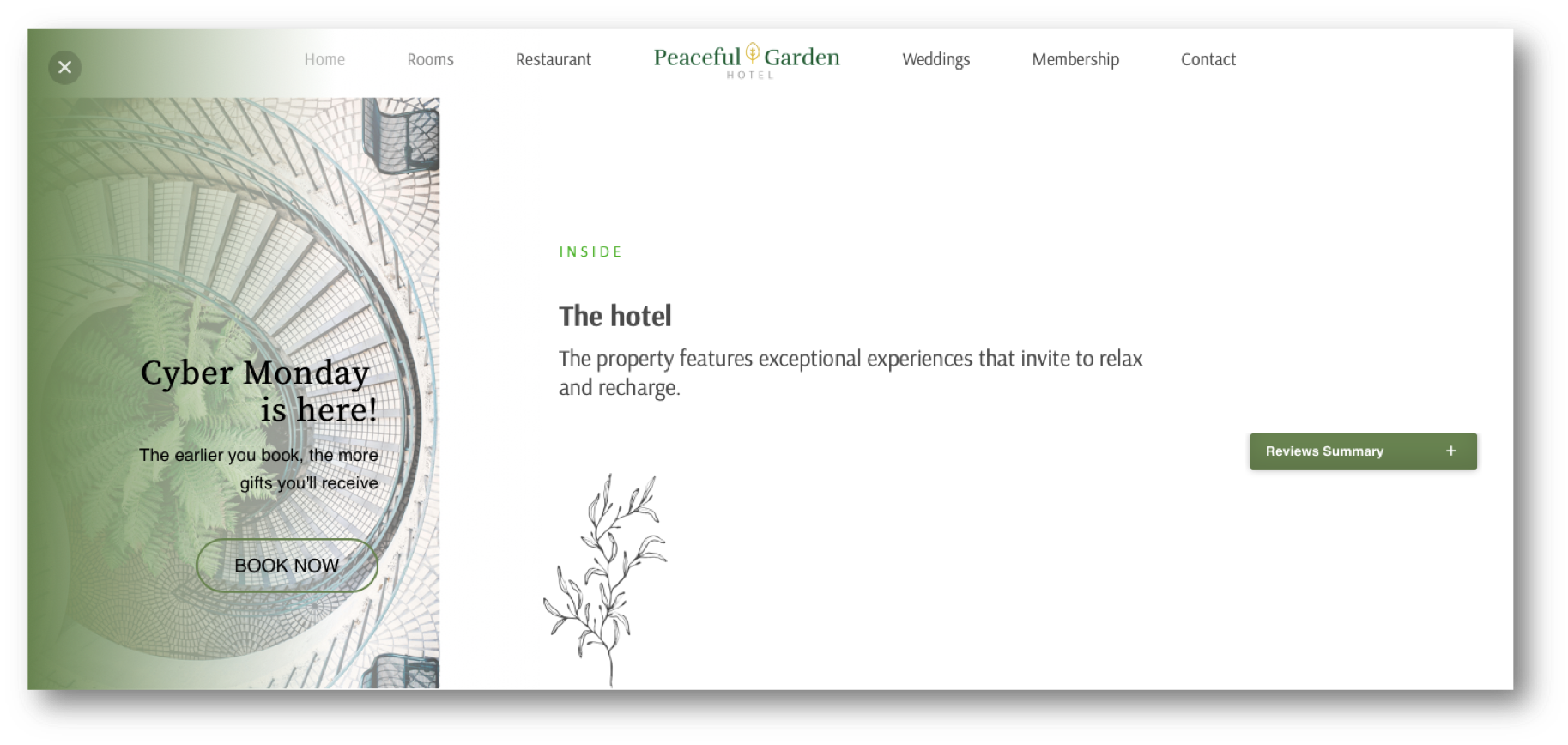 Example of a layer with idle time 10 seconds
Nobody wants visitors to lose interest prompting them to leave your website. Spark their curiosity by displaying a Layer after a certain time highlighing the special deals offered during Cyber Monday. In this example, the message is displayed after the user has been inactive during 10 seconds to keep their interest. As always, segmentation can be used to define who sees these messages and who doesn't.
Cross sell your other properties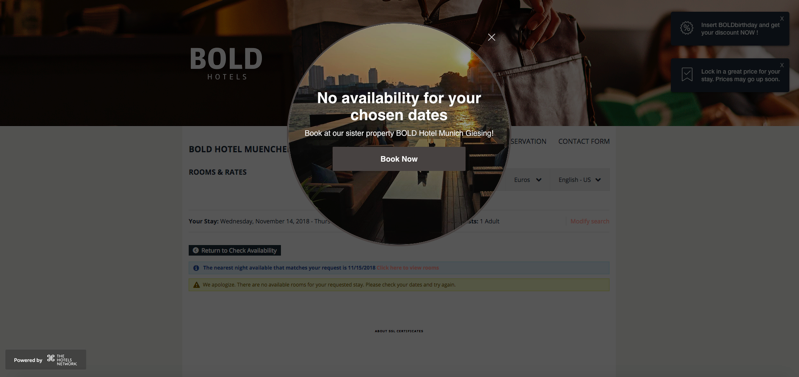 Example of a brand displaying a message promoting a sister hotel
If your Black Friday and Cyber Monday sales go really well, there could be a risk that you sell out on high demand dates but it's not a reason to miss out on bookings. Retain users with a pop-up encouraging them to stay at one of your other nearby hotels that does have availability on those dates.
Reward loyal guests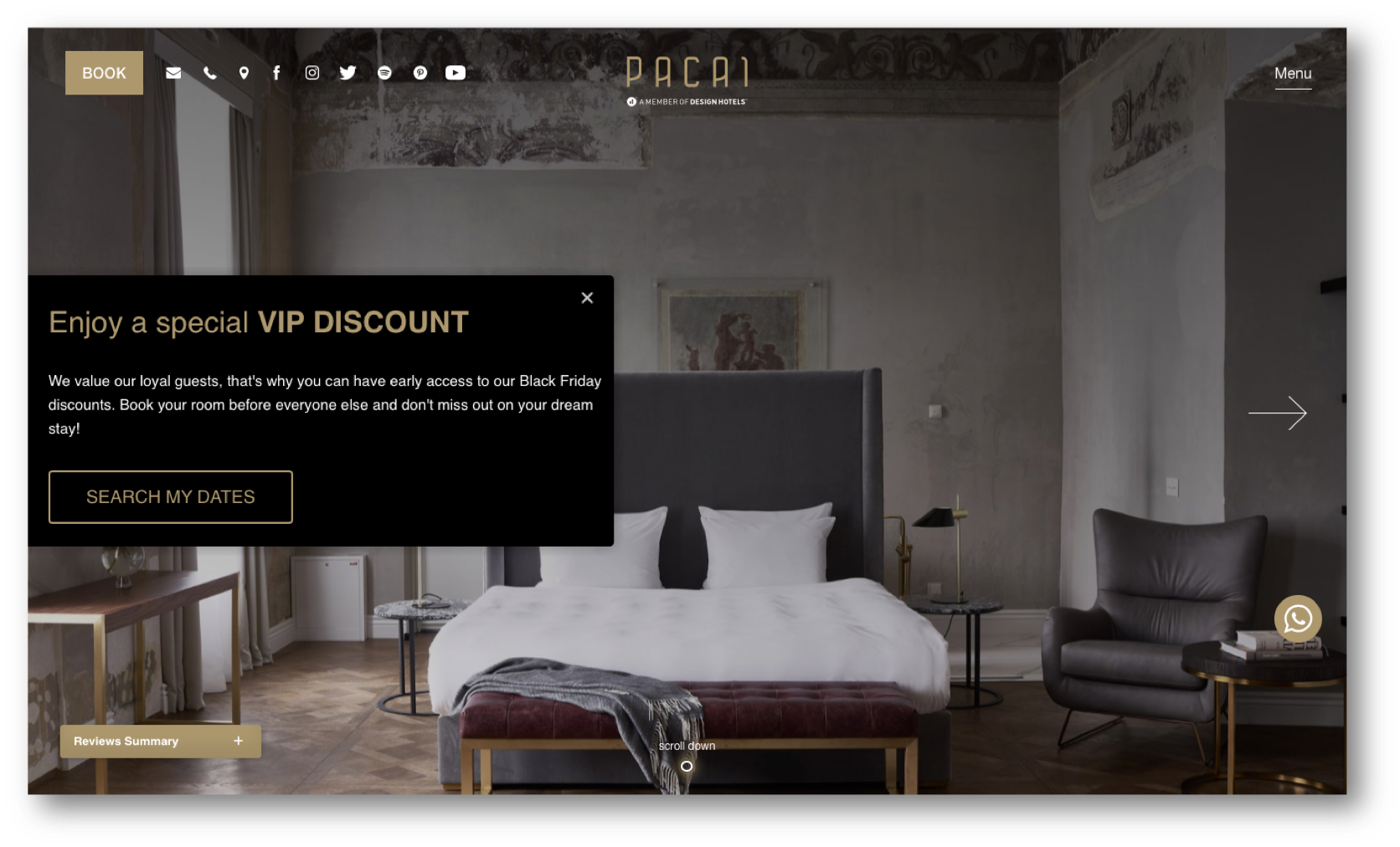 Example of early access to a Black Friday deal
Consumer loyalty is vital and especially on these magical dates where returning customers tend to spend 10 times more than new customers. Capture more sales by offering your loyal customers early access to Black Friday and Cyber Monday deals and special promotions. By making them feel special, you can get ahead of the competition and ensure their holiday budget is spent with your hotel.
Help your visitors remember you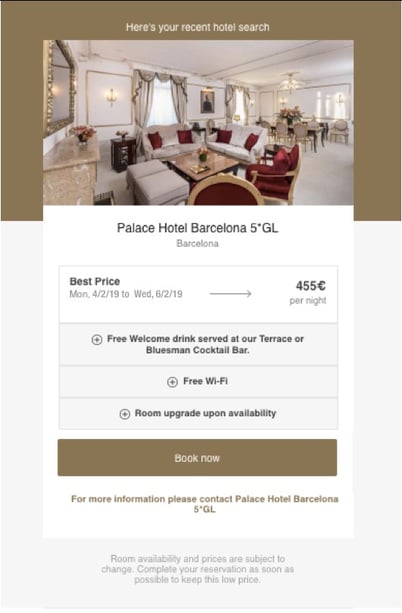 Example of an automatic Save your Search email
Customers search the market before Black Friday and Cyber Monday to find their ideal accommodation but the booking itself is often made on the days with savings. With this in mind, make it easy for users to come back to book by letting them save their hotel search and receive an automatic email with their search preferences. With just one click in the email, they will come back to your website with their previous search options preloaded. It's a great way of making sure people don't forget your hotel amidst the mass of Black Friday offers.
Taking inspiration from these examples will help you get personal with your guests before they have even stepped over the threshold and facilitate the user experience during some of the busiest shopping days of the year.