At THN, we have recently released our first BenchDirect Insights Report, a global direct channel performance report with the aim of sharing the current direct channel trends that have been observed within BenchDirect, our new benchmarking platform for hotels.
In this article, we will focus on the direct booking scene for the Asia-Pacific (APAC) region, comparing the performance of hotels in South East Asia with those in Australasia. To provide a clear understanding of what the current direct channel scene looks like in this region, the analysis looks at Q2 versus Q1 performance in 2021 and covers the main hotel direct booking metrics including website traffic, conversion rates, disparities, and visitor profile.
In the full report, 8 other regions have been included: Middle East & Africa, Eastern Europe, Latin America, North America, Western Europe, Mexico & Caribbean, Northern Europe and Southern Europe. Click here to read the full analysis.
Let's take a look below at what the insights reveal about the direct channel trends for the APAC region in 2021.
1.Website Traffic Evolution: Unique Visitors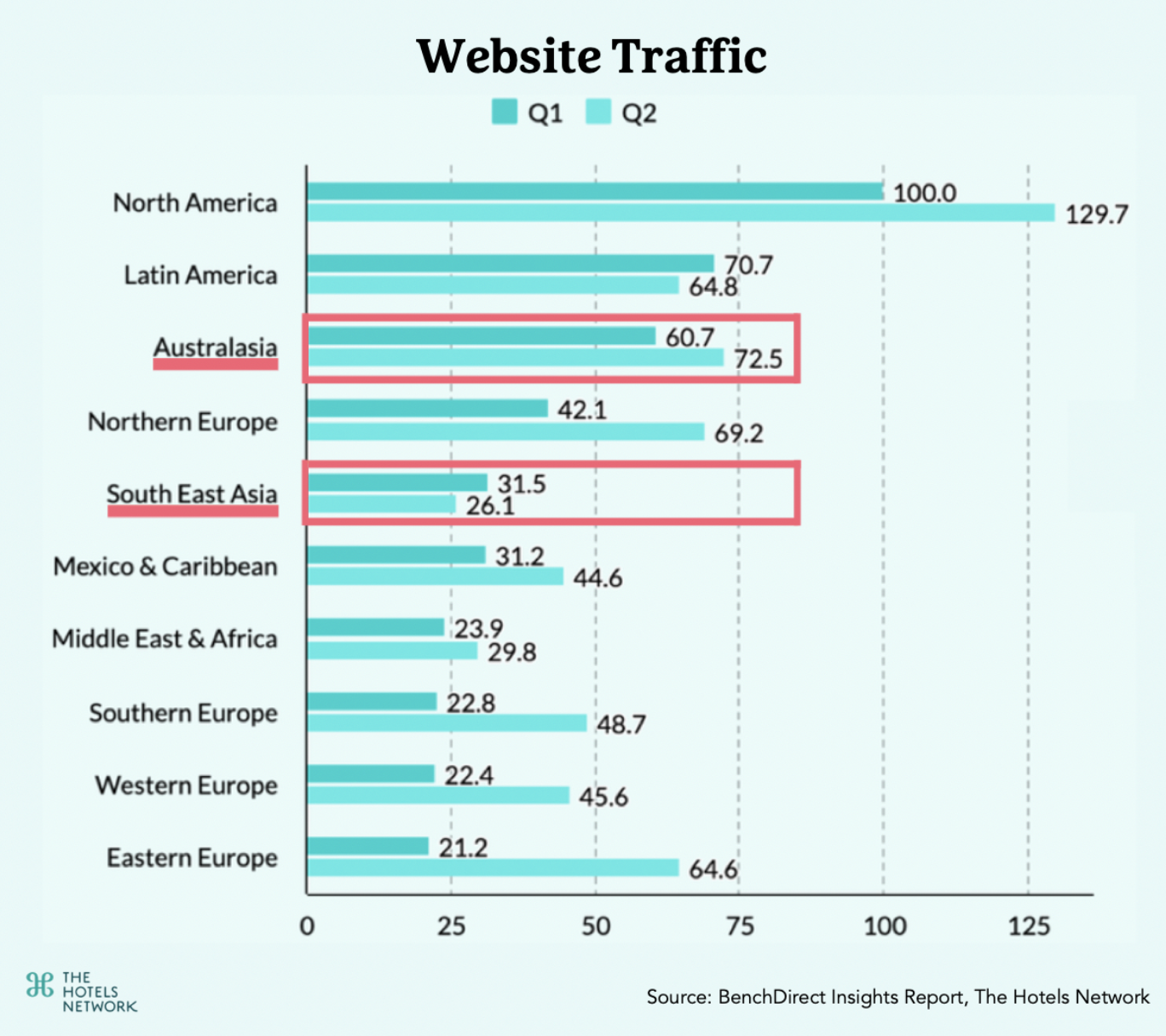 In terms of website traffic, the analysis compares the median number of unique visitors per hotel room landing on hotel websites in Q2 versus Q1 2021, with regions indexed to North America in Q1 set at 100. The results indicate that the volume of unique visitors increased in Q2 vs Q1 2021 in Australasia whereas it decreased in South East Asia.
2. Conversion Rate Evolution: Total Conversion & BE to Booking Conversion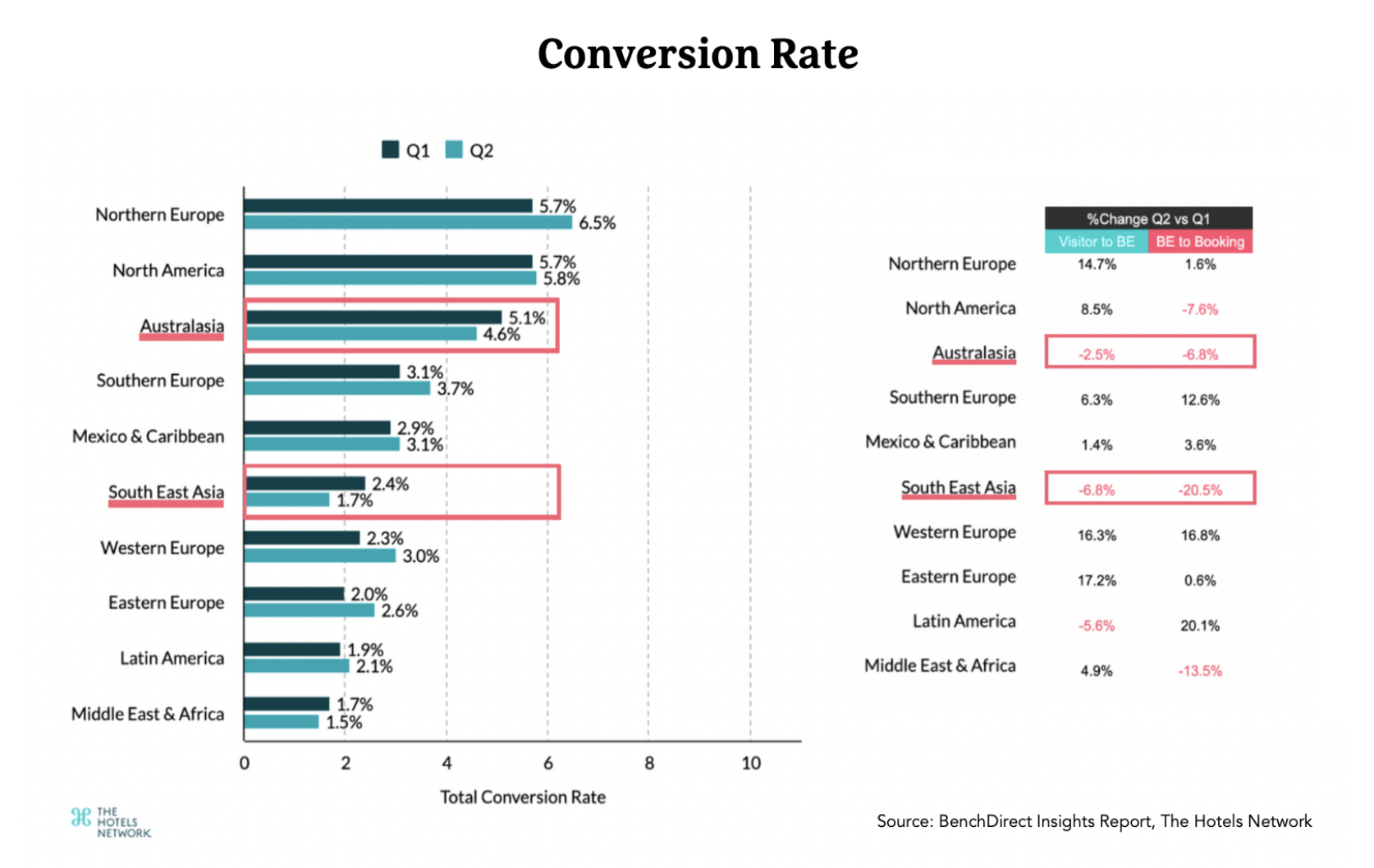 Total conversion rate is the percentage of total unique website visitors who made a booking. Hotels in Australasia had one of the highest website conversion rates in Q2 whereas the rates were extremely low in South East Asia. Despite performance improving in most regions in Q2 vs Q1 2021, in both Australasia and South East Asia total conversion rate decreased during this period.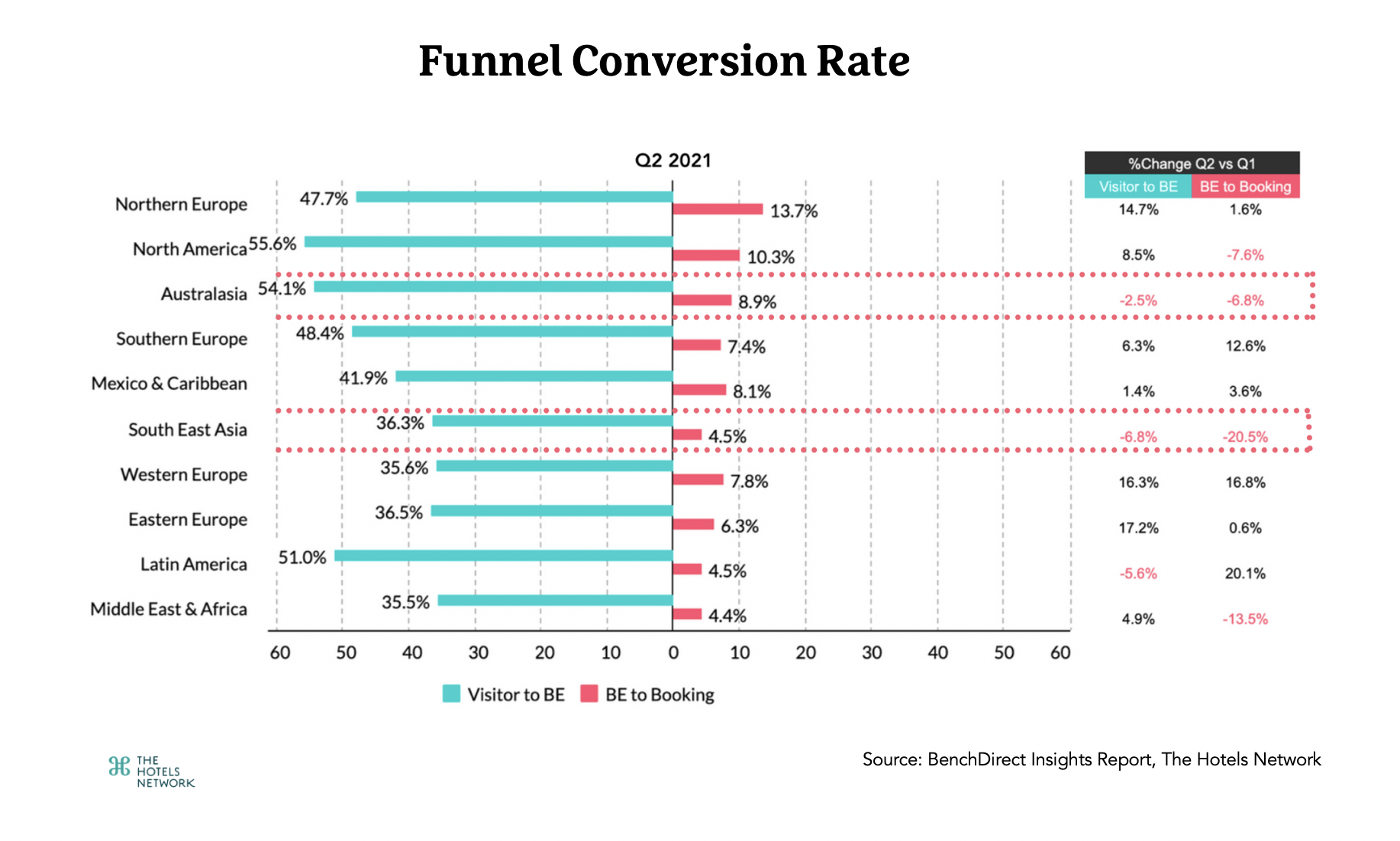 Breaking down the conversion rate at different stages in the booking funnel, it is possible to better understand the drivers of these results. In Australasia, conversion rates decreased slightly throughout the funnel in Q2. The decrease in Q2 in South East Asia, however, was clearly driven by a decrease in the Booking Engine to Bookings conversion rate, which plummeted by more than 20%.
By being able to identify exactly where in the booking funnel hotels are underperforming, hotels are better able to focus their efforts on making changes where they will have the most impact. Hotels in South East Asia have an opportunity to improve the user experience within the booking engine in order to drive more direct bookings in Q3 & Q4 2021.
3. Disparities evolution: Frequency & Amount

For price disparities from OTAs, the analysis looks both at Frequency, how often a disparity occurs, and Amount, by how much the rate is undercut.
Although South East Asia had the highest score in terms of disparities Amount with 12.9%, this is not so significant as the disparities Frequency of this region is one of the lowest. It is interesting to note, however, that the price disparities in the region occurred more often in Q2 than in Q1 2021.
Australasia experienced the highest jump in Frequency of disparities, going from the lowest rate in Q1 to 17.8% in Q2 (+63%). Drilling down on the data, it can be seen that this shift was mainly due to a significant increase in the Frequency of disparities on Hotels.com.
4. Visitor Profile evolution: Top 10 International Source Markets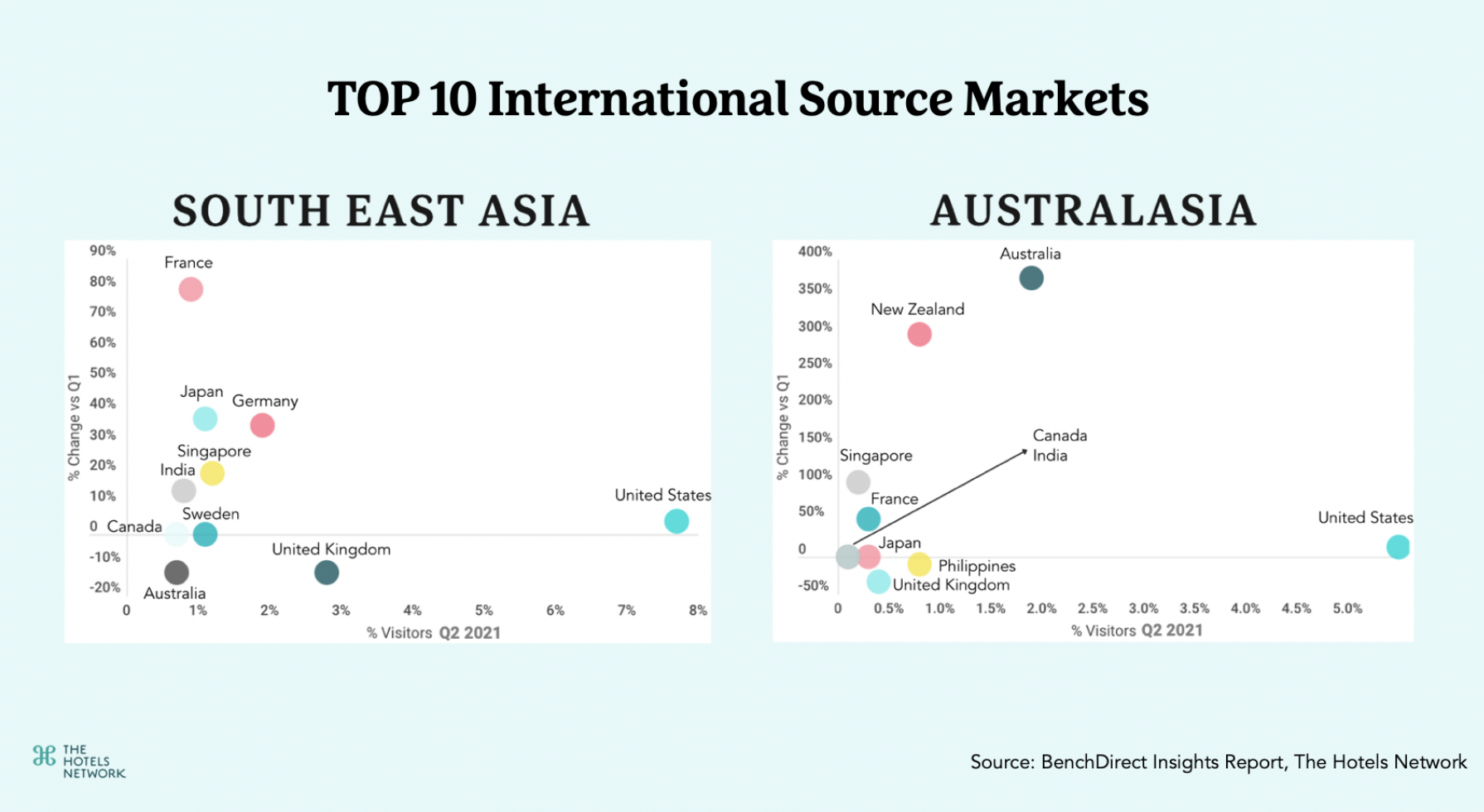 Throughout the pandemic, international travel has been severely restricted, which was reflected in the results of this study. The percentage of international traffic to hotel websites was very low for both South East Asia and Australasia. However, some positive signs of recovery were visible with a slight increase in international website traffic in Q2, most likely due to the relaxation of certain travel restrictions in these regions.
The charts above show the Top 10 International Source markets for hotel website traffic. The X axis is the % of visitors from each source market in Q2 and the Y axis is the % of change vs Q1 for each of these markets.
Looking at the charts, a similar trend can be seen for both South East Asia and Australasia, with the United States as the largest international source market by far. Furthermore, the percentage of website traffic coming from the United Kingdom decreased in both markets in Q2.
5. Visitor Profile evolution: Booking Window & Length of Stay

Looking at the chart, there is no obvious correlation between the booking window and length of stay. In both Australasia and South East Asia, the booking window was shorter than in the majority of other regions and it decreased further in Q2, indicating that more travellers were waiting to the last minute before confirming a booking. Hoteliers in these regions can consider promoting last-minute packages on their website to maximize these bookings but also try to secure more bookings in advance by offering early-bird promotions.
In terms of Length of Stay, both Australasia and South East Asia had a relatively short Length of Stay compared to other regions but there was an improvement of around 5% in Q2 vs Q1. There is a clear opportunity for hotels in APAC to encourage guests to stay for longer at their properties by offering incentives and promoting longer stays on their website.
Key Takeaways
Australasia increased their volume of unique website visitors in Q2 vs Q1 2021 whereas the volume decreased in South East Asia.
Total website conversion rates decreased in both Australasia and South East Asia in Q2 vs Q1 2021.
Compared to other regions globally, Australasia experienced the highest jump in Frequency of price disparities, going from the region with the lowest rate in Q1 to 17.8% in Q2 2021.
In APAC, there was a slight recovery in the percentage of website traffic coming from international markets in Q2.
In both South East Asia and Australasia, the United States was the top international source market in Q2.
Booking windows decreased further in Q2 2021 in both South East Asia and Australasia.
These are just some of the insights that can be found in our BenchDirect Insights Report. A full analysis including more metrics and regions is included in the report. Click here to read the full analysis.
In recent developments, there has been some relaxation of travel restrictions in APAC, making it easier for tourists from other countries to enter. For example, in Thailand, quarantine upon arriving in Bangkok has been reduced from 15 to 7 days and is set to be removed completely from November 1st. The Phuket Sandbox program is allowing vaccinated foreign tourists to visit Phuket without quarantining.
Singapore also started reopening borders in early September, establishing quarantine-free travel for fully-vaccinated visitors from Germany and Brunei. According to the country's transport minister S. Iswaran, Singapore is actively working with a number of countries to establish travel lanes to further open up its borders in the coming weeks and months.
As border restrictions start to gradually ease across APAC, hotels in the region can take advantage of this opportunity to launch campaigns to attract foreign guests and regain their fair share of the international travel market.
Understanding your hotel's performance compared to the market should be an essential part of your direct channel growth strategy, and BenchDirect gives you just that. Our new and FREE (yes, it's free forever!) benchmarking tool provides hoteliers with insights about their direct channel performance compared to the market and competition.
Don't have your account yet? Be sure to request it today and join a unique network of 12,000+ hotels worldwide who are already benchdirecting.