"ChatGPT", "Dall-E", "Midjourney", "Machine Learning"... Welcome to the age of AI! Although there's been a lot of talk about this technology since last December, at THN, we've been using AI in our products for years. In today's fast-paced world, hoteliers need to be able to keep up with the latest technological advances if they want to succeed in the fiercely competitive hospitality industry. Fortunately, existing tools combined with the power of AI are here to help. And wait until you hear about the newest AI innovations.
Below, we'll explore how AI can help hoteliers tailor their messages to specific audiences on their direct channel, boost efficiency, and save time throughout the process. Let's dive in!
1. A New Perspective on Benchmarking
Most hotels gather extensive data from their websites, including conversion rates, website traffic, and frequency of price disparities. But how many hotels actually take the time to analyze data and act on it? The sheer volume of data can be overwhelming, leaving many unsure of where to begin. Fortunately THN's BenchDirect platform simplifies the process. Not only does it enable effortless benchmarking by comparing your data to multiple dynamic compsets generated by AI, but it also provides personalized automated recommendations based on your direct channel performance. Through the power of AI, the platform analyzes your data in real time, identifying opportunities and pinpointing areas to focus your efforts on, while saving you precious time when devising an effective direct booking strategy.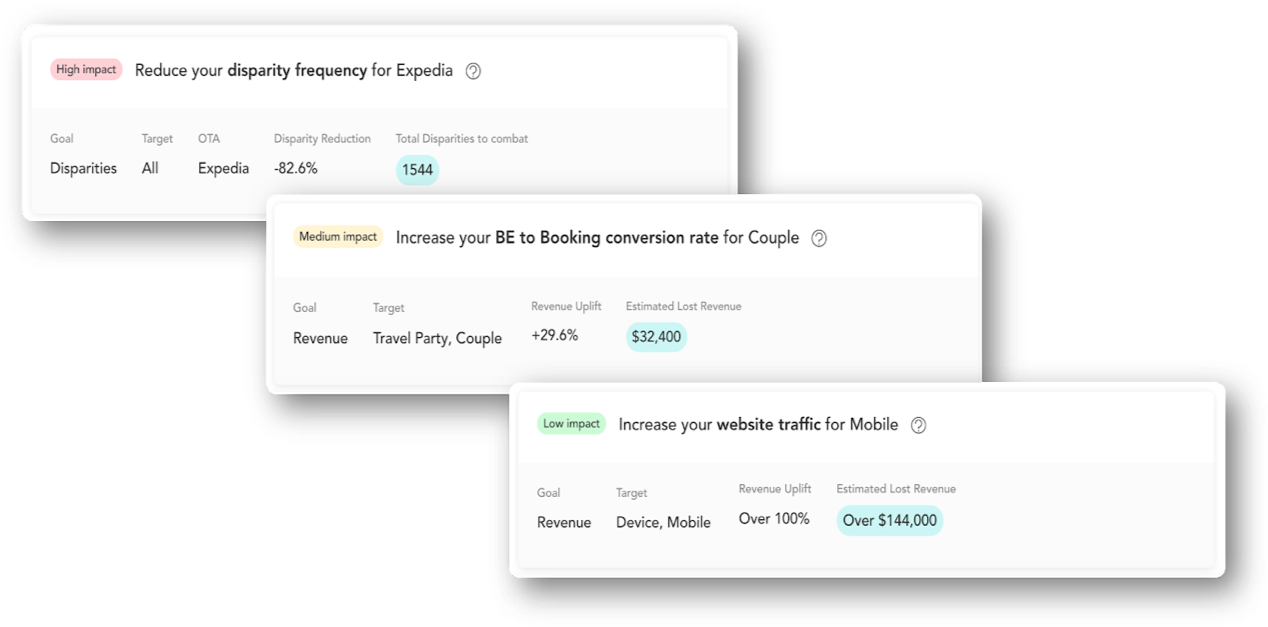 BenchDirect opportunities generated by AI
2. AI-Powered Personalization for Hotels
One of the biggest advantages of the latest technological advances is the ability to personalize messages for each visitor that lands on a hotel's website. Whether it's through targeted welcome messages on the homepage, discounts in the booking engine, or exit messages trying to catch the attention of a user that is about to leave the website, automated personalization can help hotels reach their target market more effectively than ever before. With THN's AI Assistant, hotels can now generate unique messages in a matter of seconds that resonate with guests and encourage them to book directly.
AI-powered messaging can also help hotels establish stronger relationships with guests. By using keywords and choosing the tone of voice on a message builder using AI, hotels can generate tailored messages effortlessly. Whether it's offering a complimentary drink upon arrival or providing a list of nearby attractions based on a guest's interests, AI-powered messages can go a long way in boosting efficiency and saving you time.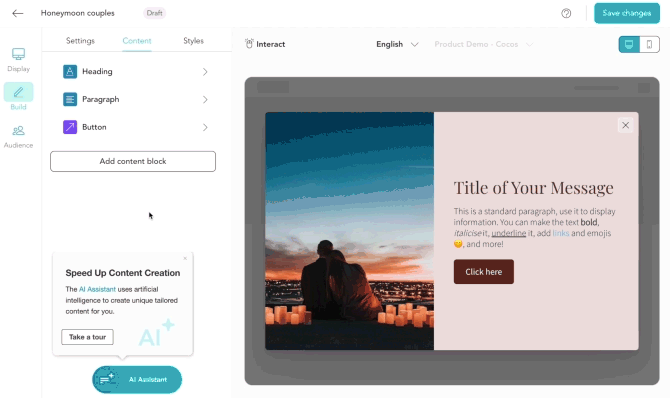 Preview of THN's AI Assistant message generation
3. Predictive Personalization for the Win
AI-powered predictive analytics can also help hotels stay ahead of the curve. By analyzing user data and predicting trends, hotels can anticipate guest needs and preferences, and deliver a more personalized user experience. For example, THN's Predictive Personalization solution can detect whether a user has a low or high probability of booking, and then display the ideal message for their specific situation. For low-intent users, the system presents a discounted offer to help sway them into making a booking. On the other hand, for high-intent users, it presents an upsell offer to encourage them to make a higher-value booking. Impressive, isn't it? If you're interested in learning more about how Predictive Personalization can enhance website conversion rates, take a look at how The Thief achieved a remarkable 25% increase in their conversion rate within just one month.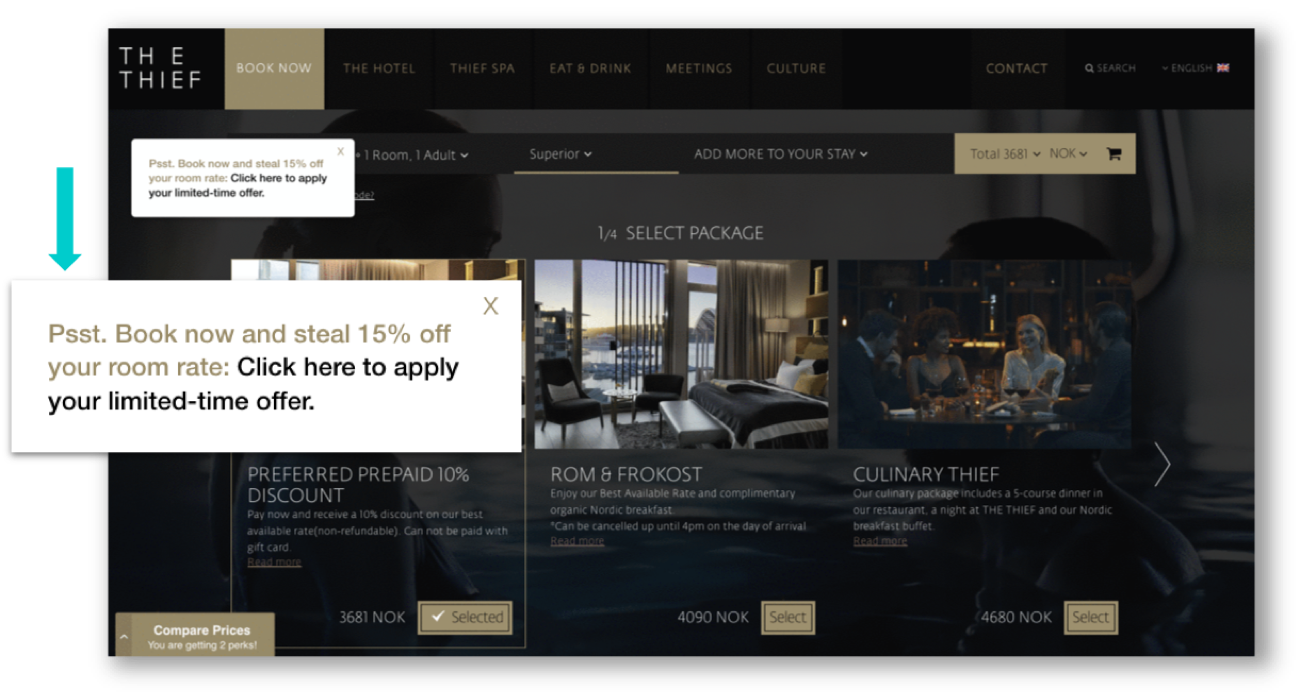 Discount targeted to users detected as having a low probability of booking
4. Predictive Audiences
Exciting opportunities arise as new ways to harness big data and machine learning techniques are constantly emerging. Through our advanced Predictive Personalization algorithm, we can detect high-value users and generate high-value audiences for you to target with your digital marketing campaigns. By adjusting your campaign bidding specifically for these users, you can ensure the optimal online visibility for your hotel and convert a greater number of high-value users into direct bookers. It's a good time to set your imagination free and explore the endless possibilities of leveraging direct channel data in combination with the remarkable power of AI.
The hospitality industry is undergoing a transformative shift with the advent of AI-powered tools like the AI Assistant, which channels the capabilities of ChatGPT. These tools are revolutionizing the way hotels interact with guests and operate their business. By employing personalized messaging, streamlining laborious tasks, and leveraging predictive analytics, hotels can achieve a triple advantage of enhancing direct bookings, saving valuable time, and boosting conversion rates simultaneously. There's no need to wait any longer. Embrace the immense power of AI and begin optimizing your direct channel strategy today!