The day of frantic shopping, incredible deals, and unmatched excitement is on its way: Black Friday is just around the corner. In the competitive realm of the hotel industry, navigating the Black Friday landscape requires more than just slashing prices. This time period demands a well thought out plan of action to capture the attention of potential customers amidst the noise of countless promotions. The best time to start? As soon as possible! Having your strategy set by the end of October is ideal to ultimately execute a flawless plan throughout the month of November leading up to the big day.
As one of the biggest commercial events of the year, Black Friday has the potential to overwhelm marketers from any industry, so let's walk together through every step of the way to a successful hotel direct channel strategy!
Before Black Friday: Implementing Strong Campaign Foundations
Set your campaign goals
Setting your goals in advance is not only a good way to make sure everything will be ready for a seamless promotion leading up to the big day, but also an essential step before establishing your offers. Black Friday doesn't necessarily mean just achieving higher occupancy by lowering your rates. It could also present an opportunity to target new markets, extend your clients' average LOS, or boost your overall direct channel performance. So, make sure your objectives are clearly set before going into the next steps!
Define your offers
Although Black Friday is associated with discounted prices in most industries, the hotel sector has the chance to get more creative when implementing offers.
Not ready to slash your rates? Achieve your campaign goals through value-added propositions instead of cutting prices. This includes F&B packages, complimentary breakfast, free room upgrades, or spa vouchers: the options are countless!
Creating exclusive packages is a key tactic for up-selling your services that are less profitable, while also encouraging the guest to make a direct booking. This way, you can increase the occupancy of your property without having to offer extreme discounts that will cut drastically into your profit margin. This is exactly what the Fairmont Quasar Istanbul accomplished by promoting packages that feature their dining or spa experiences. Black Friday doesn't need to be limited to sales, it's also an opportunity to promote what your on-site restaurant and spa have to offer!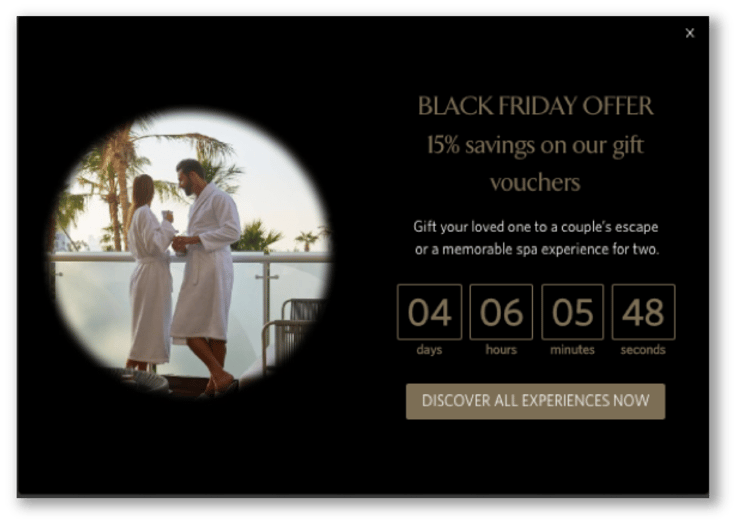 Layer showcasing countdown clock and gift voucher offer
During Black Friday: Optimizing the Campaign
Make your offers stand out with creative visuals
As the holiday season approaches, as hotel marketers it's important to recognize the increasing influx of marketing promotions and messages vying for consumer attention. In this competitive landscape, it's crucial to optimize your communication strategies to ensure that your offers not only stand out but also efficiently save valuable time and resources.
THN's Templates are designed to enhance productivity and creativity, crafted based on the most successful marketing messages from our client base of 19,000+ hotels. What's more, they're fully customizable to align with your brand identity and to ensure that your offers won't go unnoticed.

THN Black Friday template examples


Trigger the visitors' FOMO
Fear Of Missing Out (FOMO) is a concept that describes the feeling one experiences when they are afraid of missing out on an opportunity. To encourage the user to book as quickly as possible, create a sense of urgency in your message by incorporating a countdown clock or by announcing that reservations are going fast and room availability is limited. No one wants to miss a good deal!
H10 Hotels accomplished just that by adding an expiration date to their Black Friday offer, creating a rush around the offer which triggers a sense of urgency for the website visitor to complete their booking as soon as possible.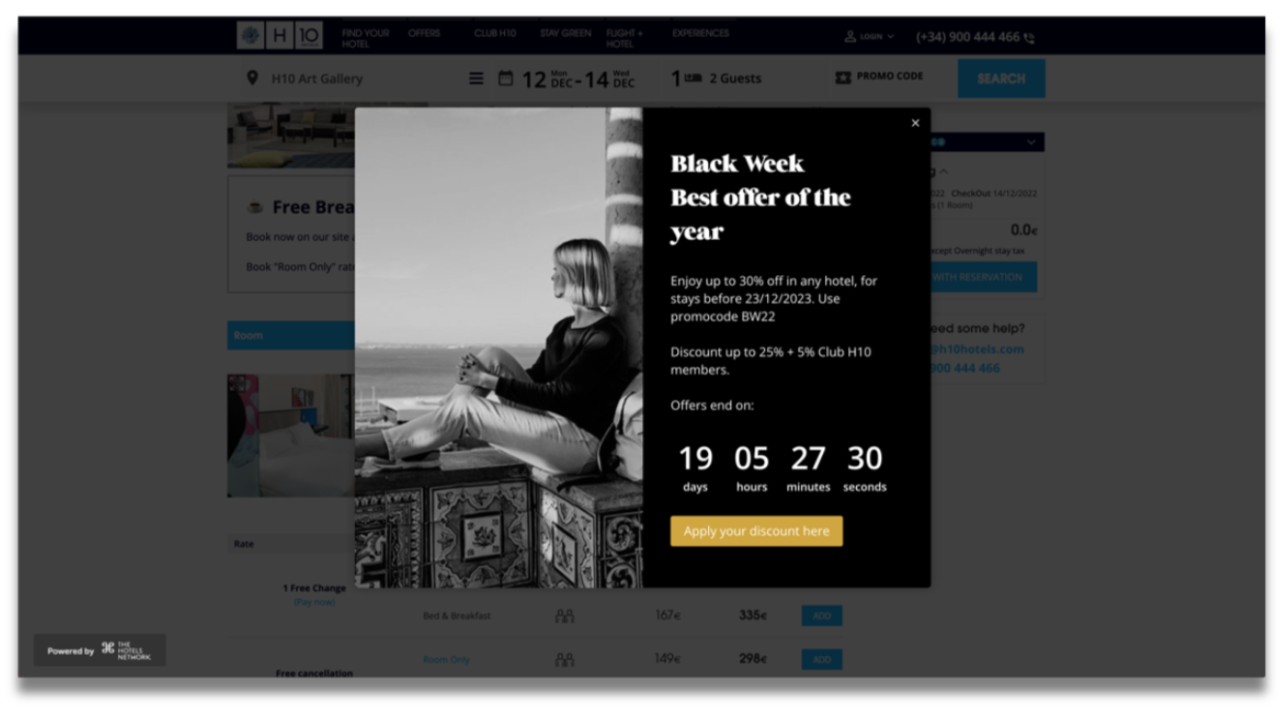 H10 Hotels' Black Friday offer with a count-down clock
Stay strategic about your more persuasive discounts
Enticing discounts are a sure way to boost direct bookings for Black Friday, but it's important to keep an eye on your profit margin as well to ensure your overall revenue reflects the success of your campaign. This is why larger offers should be strategically placed in the online user journey at the perfect moment to stop your visitors in their tracks. Strawberry Hotels uses an Exit Message to display one of their most persuasive offers automatically when the user is detected to be leaving the website.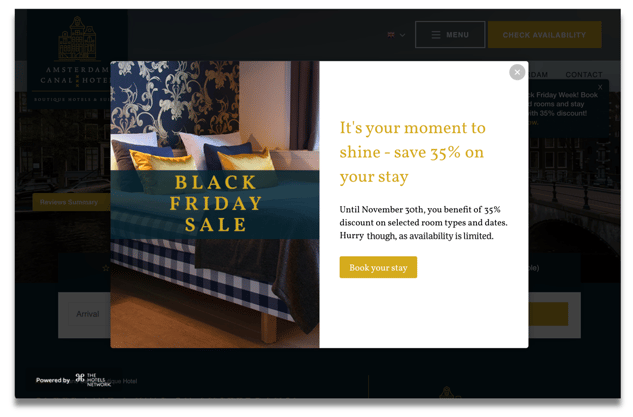 Amsterdam Canal Hotel's Exit message
Use Black Friday offers to grow your marketing database
Encouraging newsletter sign-ups on your hotel website is a win-win for hotel marketers. You're able to entice guests with special Black Friday discounts and ultimately drive more direct bookings, while simultaneously expanding your marketing database! By opening this line of communication with your online visitors, you enhance the potential for additional direct bookings while fostering long-term relationships with users. This is a dual benefit for both your hotel and your guests, bolstering both short-term and long-term marketing success. Not only are you securing more direct bookings, but also creating leads for future reservations!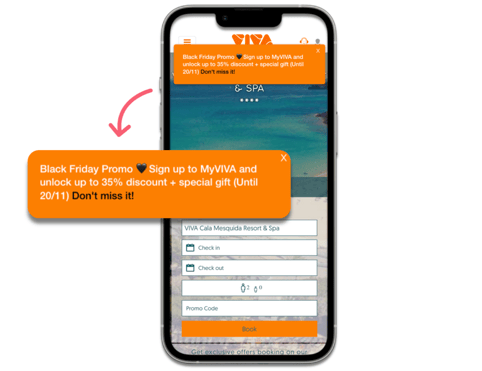 Viva Hotels' Black Friday message
After Black Friday: The Path Forward
Conduct a post-campaign analysis
What worked well during this year's campaign? Where are your areas of improvement for next year? Make sure to keep track of your best practices and opportunities for growth in the weeks following your campaign to track how it performed as this will be precious information to take into account when it comes time to start planning for Black Friday strategy 2024 (it'll be here quicker than you think!).
THN's 2022 post-Black Friday research, which examined direct channel performance data from more than 3,000 hotels worldwide, revealed that a well-managed campaign can increase direct booking conversions by 61% on average. Explore the impact of your campaign by assessing various KPIs such as average length of stay, daily rates, booking value, revenue, and more and use these insights to fine-tune and optimize your campaigns next year.
Black Friday is a golden opportunity to boost your direct bookings, and with this event gaining in popularity every year, it is likely that potential guests will expect to see enticing offers during this period. While it is true that Black Friday was originally a cut-price concept for many industries, the hospitality sector has the flexibility to tailor its promotions to match its campaign's goals. Be sure to go the extra mile in terms of creativity and offer unique deals to stand out from the crowd!
Ready to start planning? Download our Black Friday Success guide and unlock all the secrets to crafting a successful Black Friday campaign!